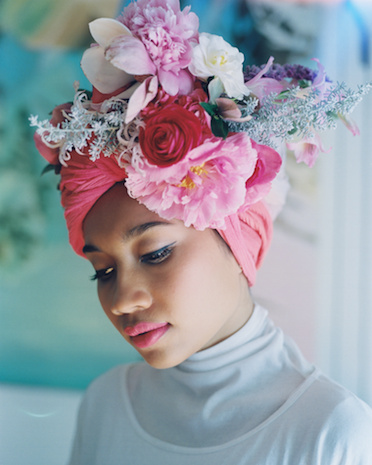 The 29-year old singer-songwriter Yuna, didn't intend on becoming an R&B star. Or, a pop star for that matter. Born Yunalis Zarai, a devout Muslim, quiet and timid as she once described herself, Yuna was raised in a very conservative environment in Alor Setar, Malaysia, by her legal-adviser father and chemistry-teacher mother. She spent her childhood focused on her ­education, with the intent on becoming a lawyer.
As a hobby, in between studying, she taught herself guitar watching YouTube, writing songs in both Malay and English, inspired by her music heroes Lauryn Hill and Feist. Music started taking priority a year before she graduated from college in 2009, when she self-released EPs to local music industry professionals and won second place in a national ­songwriting contest.
Encouraged by her family to leave her native and pursue music in California, Yuna style of wearing her hair wrapped in a hijab and her stylish wardrobe covered from turtleneck on down isn't typically how we see Los Angeles. But it's working out fabulously for the talented Muslim singer with the smooth voice. In fact, she says that she's complimented often about her style.
And as for her music, her mentor is Pharrell Williams, and her label home, is Verve, known for adult contemporary music, under the leadership of 16 time Grammy winner David Foster, who produced and wrote hits for Whitney Houston and Celine Dion.
Her third and most popular studio album, Chapters, is a edgy alternative soul featuring Usher and Jhene Aiko. "Crush" featuring Usher, her first Billboard chart hit, is inspired by a relationship break up and fueled by Yuna's new found confidence.
"Used to Love You," featuring Aiko, who pushed Yuna to come out of her shell. "She's very blunt and direct — she expresses what other girls are feeling," Yuna says of Aiko in an interview with Billboard. "I see her as a big sister.
"Best Love," and upbeat tune with a smooth R&B sound on the Chapters album has remained steady on the Billboard Adult R&B Charts for 17 weeks and peaked at the #3 position.
We say that YUNA's style, grace and of course her music is working out just fine, which is why we love the sound of YUNA.