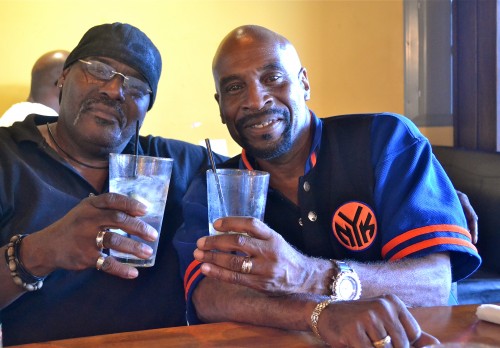 (San Diego, CA) So a couple of weeks ago, The Chocolate Voice met up with musician's and brother's, Bruce "BW" Henderson and, Dave Johnson of The Johnson Project at a popular Southeast San Diego eatery, Felix BBQ with soul.  During our conversation, Bruce, who likes to be referred to as BW, made sure that we are perfectly clear on the groups name. He says humorously, "We are "The Johnson Project" not be confused with the popular seventies group The Brother's Johnson. For those of us old school music lover's, The Brother's Johnson is perhaps best known for hit single's "Strawberry Letter 23", "STOMP," or a party jam that BW reminded us of, "Ain't We Funkin' Now." 
Now that we've come to an understanding about the name, we continued our lively conversation vibing about family,  life, and the groups mission to keep Old School R&B timeless and fresh.
Inspired by the extraordinary sounds of old school R&B and Jazz–The Johnson Project is made up of two brother's and a third member, Mario Melendez fondly known as "Rio."
Rio wasn't present for our conversation, but his name came up often, which clued us in as to how much love and respect the band has for the Puerto Rican Percussionist.
"Rio brings that Latin funk.  He fits perfectly in the group." Says Dave.
The soulful funk trio can be heard on ocaision peforming throughout San Diego County at various venues including Humphreys Backstage Lounge and, a more recent gig as the regular house band Saturday nights at Felix BBQ With Soul.
About the Brothers:
Derwin "Dave" Johnson (birth name given by adoptive parents), and brother Bruce Wayne "BW" Henderson, are biological brother's who were raised apart. Due to family circumstances, Dave was raised by his adoptive family in Pasadena, while Bruce was raised in San Diego with the boy's biological mother.
Growing up in Pasadena, Dave shares that he had an opportunity to take piano lessons, which he gives credit to a great aunt who saw his music potential and found a way for him to train in classical piano.  His music education extended through the intermediate level and from there, he says that his training in counterpoint theory allowed for him to explore the rudiments of music which gave him confidence in composing his own music. The majority of what he's learned in music over the years is self taught, Dave says.
BW,  began playing the guitar at age sixteen. He says that his exposure to music consisted of private lessons, going to concerts, listening to different musical genres including rock bands like The Jimi Hendrix Experience, and being surrounded by a musical family.  He's contributes his love for music as hereditary. Particularly, since their mother sang locally and, sat in briefly with groups from the fifties–The Coasters and The Platters. Adding to that equation, his kid's love music. His son is a rapper and Dave's kid's, sing and rap as well.
While on the subject of Rap and Hip Hop music, both brother's agree that most people consider it as the new R&B sound.
Although the brother's were raised apart, it's transparent that the two know each other far better than one would expect. Ever so often you'll see the two burst into laughter at inside jokes. Finish or even correct each other sentences when sharing stories about family. Or, when reminiscing about their musical journey, which began when Dave, was around 18 years old and, decided to come to San Diego, and reach out to his biological mother, who without hesitation took him in.
After reconnecting with his biological family, Dave learned that BW played the guitar. And, when BW found out that his brother played piano, he went out and bought Dave his first keyboard.  "Ah yes, a Teisco, and a small amplifier!" Dave blurted out. That's when all Hell broke loose, as BW put it.  Which translates to the beginning of the making of a band.
"We would get lost in the music in the canyon of our Emerald Hills neighborhood. We're talking early seventies. This is where our roots began. We would play music by:  George Clinton, Earth Wind and Fire, The Barkays, Commodores and, Ohio Players.  And with my classical training, now, have something to improvise with. R&B is the type of sound that influenced me." Says Dave. 
During the early eighties, the brother's went on to form their own R&B group called "The Chitlin Circuit" and began performing around town locally, at different clubs–The Safety Club, the Sportsmen Club and, the VFW.
The pair continued performing with other local R&B groups including Starfire, an 8 piece strong band. From there,  Bruce decided to go in a different direction, and joined another group called Command Performance. He got Dave to join the group, who eventually became the musical director.
"My brother gets squeamish when he's creating music. When he's in the studio, I just back away, and let him do his thing." BW says.
BW recognizes his brother's musical genius and, Dave proudly praises his brother's talent as an amazing lyricist.
How The Johnson Project Came About:
After being in San Diego for some time and playing with Command Performance, Dave made the decision to move back to Pasadena, to take care of an ailing family member. 

While there, in between taking care of family, he decided to go back to school to study technology keyboards, a skill that involves sequencing.  With those skills under his belt, the self taught composer, took his talents and began performing throughout South Pasadena as a one man band for six months.
To his astonishment, venues where he was performing were selling out and, people were reserving seats to watch his one man show. 
Overwhelmed by the success, he called up his brother and invited him to Pasadena to perform with him. The two became known as the duo who sounded like a full orchestra. That's when Dave, decided to introduce the band as The Johnson Project. 
The duo began performing around the Los Angeles area which led to a booking at B.B. King's Blues Club at Universal CityWalk, a gig which almost slipped through the cracks.
"I remember putting in our resume to perform at the club, but hadn't followed up.  I figured since we hadn't heard anything we didn't get the job. I decided to go ahead and follow up. The booking agent said you're scheduled to go on set tonight for 30 minutes.  We went nuts!  When we arrived, we had our own private Green Room and waitress. We thought we had made it!"  BW says.
Bruce continued telling the story with.
"On the first night of performing at B.B. King's, the announcer introduced us like this: He says, ladies and gentlemen we have the Brother's Johnson!
Both brother's broke out in laughter.
After earning a name for themselves throughout L.A., the duo landed a spot opening for the Rap group Kriss Kross and, performed at the now defunct night club, Glam Slam owned by Prince, that was  managed by Little Richard's granddaughter, who's named Cherry Bush.  At that memory, again, the brother's burst out laughing hysterically.
Although Los Angeles has a vibrant entertainment and music scene, over time, the expense of living that Hollywood life took its toll on two man band.
Return of The Johnson Project to San Diego:
Meanwhile back in San Diego, this time determined to give it another try, the band performed around town.  "I was performing at a club in Encinitas and I watched this dynamic conga player who wasn't actually performing, but he was on the side of the stage jamming on his own. I said to myself, wow! That guy is really good! I invited him up to play, and on that note, that's how I met Rio. I introduced him to my brother, and the rest is history." Explains Bruce.
Without question, the group's favorite music genre: is old school funk and, R&B and soul. But they also love smooth jazz and Neo Soul, which is a style that they'd like to perform more of. "We're always looking to expand our music." Says Bruce.
"It's unfortunate that San Diego really does not have enough venues for R&B, Neo Soul, Funk or, just Indie."
With that being said, the group will often travel to the Inland Empire (Riverside County) to perform at venues who seem to show more support for local artist's performing R&B.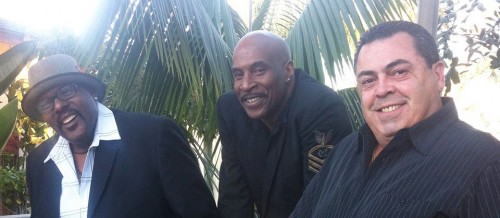 Naturally, with the todays fast times, the subject came up of digital downloads. Dave, the more outspoken of the two, recalls his days as an employee of Tower Records, and feels that technological advances in music allows for more DIY (Do it Yourself) which means more world wide exposure.  "It feels good when you can actually see online that you're music is being played in places you would have never imagined." 
The group has been together since 1996 and really love what they do. With Dave as composer, vocals and on keyboards, Bruce as lead vocalist, guitarist and lyricist, combined with the Latin flair of Rio on conga's, background vocals and intelligent writing skills, the Johnson Project is a "Testimony to a Masterpiece" a quote by Bruce that came up with in our conversation.
As we finish up our conversation, a D.J. begins setting up by playing an Old School favorite Jam, "Funkin' for Jamaica ." Next up he plays Neo Soul artist Jill Scott's, "Golden" We look over at Dave dancing in his seat. His body language says it all.  It's obvious that he loves the fresh sound of R&B, New School and Old School.
The Johnson Project released a new single on iTunes, called "That's What I'm Talking About."
Be sure to check the group out Saturday's, at Felix BBQ with Soul in San Diego.  For more information on the group, reach out to The Johnson Project on FaceBook.