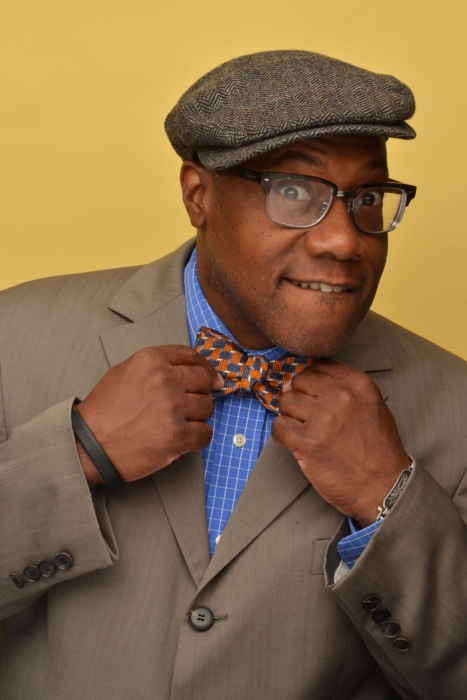 LOS ANGELES – Black. Muslim. Outspoken. Comic Preacher Moss has a lot to say about the Trump Administration. And the comic, lecturer and anti-racism activist plans on getting a lot of stuff off his chest during the live taping of his new comedy show, titled, " Love Supreme: An Anatomy of Gratitude." Preacher Moss in collaboration with Ta'leef Collective will present an evening of hilariously stimulating comedy, social commentary and jazz on Saturday, June 30, 2018 from 6 to 8 p.m. at the HUB 925, located at 5341 Owens Court in Pleasanton, Calif. Doors open at 5:30 p.m. and show time begins at 6:30 p.m.
Inspired by the masterpiece of great jazz musician John Coltrane — "A Love Supreme" — Preacher Moss hopes to enlist the "intellectually-engaged and spiritually-available" to think beyond the headlines in discussing race, religion, politics and gender through a new POV — that is, point of view. A point of view that stimulates the mind, stirs the soul and awakens the spirit. He feels that difficult times call for gratitude and grace in harnessing the ability to laugh while going through life's obstacles.
Plus, he's not one to shy away from bringing his faith into the comedic mix. He routinely shares his experiences of being a black man and Muslim in an effort to address the hot topics of race and religion. With Trump's politically-incorrect rhetoric sweeping the nation, Preacher Moss offers uncompromising honesty and funny insights of being a Muslim convert for more than 30 years in an effort to fight the anti-Muslim sentiment festering across the country. His message is simple: Just say no to Islamophobia.
"Understanding diversity and multi-culturalism requires that we eliminate or reduce the anxiety of our ignorance and how to speak honestly when we can't," said Preacher Moss.
A conscious comedian and lecturer, the Preacher Moss is the founder of the "Allah Made Me Funny" – the Official Muslim Tour, which included a 30-city national tour with international engagements in Canada, Europe, Malaysia, New Zealand and the Middle East. The award-winning standup comic became widely recognized for his "End of Racism" Comedy and Lecture Tour, voted "Best Diversity Act" and "Best Diversity Artist" on college campuses, and recognized as a brilliantly funny voice on the conversation of race and diversity.
Mentored by the late civil activist and comedian Dick Gregory, Preacher Moss uses his brand of comedy to poke fun at bigotry and racism, and offer social commentary on race relations in America. Through comedy, he has found the perfect way to fuse his intellect and knowledge with a gift to provoke and educate audiences while eliciting side-splitting laughter.
As a stand-up comic, Preacher Moss' career spans more than two decades, and he's worked as a writer for such Hollywood comic heavyweights as Damon Wayans and George Lopez as well as Darrell Hammond on NBC's "Saturday Night Live" – just to name a few. He also appears in the 2013 documentary, "The Muslims Are Coming," co-directed and co-starring Negin Farsid and Dean Obeidallah, which follows the comedians touring various parts of the country, engaging audiences to combat Islamophobia and change negative perceptions of Muslims in America.
Ticket prices are $20. For ticket information, visit Eventbrite at https://www.eventbrite.com/e/live-taping-of-comedy-special-love-supreme-with-preacher-moss-tickets-46851430891
A portion of the proceeds will benefit ALS research.