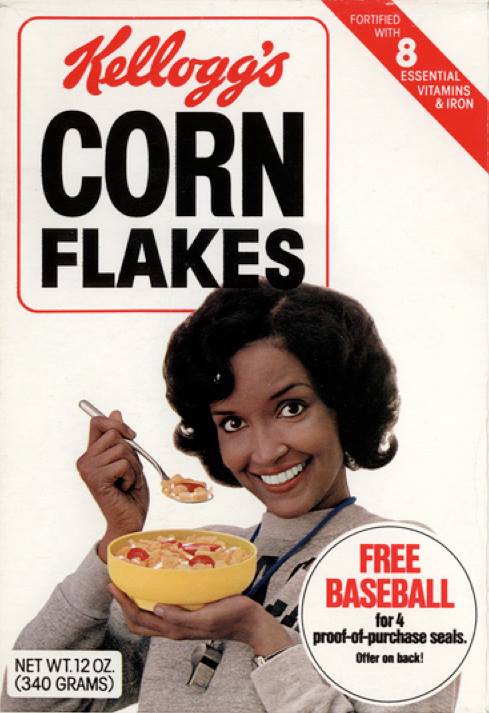 What we like best about having so many national days is the resurgence of "Unsung" heroes. Well, today is Nationa Cereal Day and it's our pleasure to re-introduce you to DeLores "Dee" Todd, first Black woman to appear on the Kellogg's Corn Flakes Box. Oh, and it's Woman's History Month.
Read on learn more about amazing trailblazer, Dee Todd and her list of firsts.
On May 4, 2005, DeLores "Dee" Todd made a significant mark in the history of North Carolina A&T State University by becoming its first female athletics director.
The Washington DC native and Winston-Salem State University grad and Hall of Famer Dee Todd has spent her storied career blazing a trail for African American women. Todd was the first female and minority to serve as Assistant Commissioner of the Atlantic Coast Conference (ACC). There Todd supervised, directed and coordinated officiating programs for baseball, and planned and directed cross country indoor/outdoor track and field and baseball championship events.
Todd also chaired the United States Olympic Committee's (USOC), Minorities in Sports Task Force and was co-founder of Project GOLD. In the 1996 Olympics, Todd assisted the USOC in the coordination of all track and field events and served as an assistant coach for the US team. In September 2006, Todd became the first female to serve on the NCAA Division I Baseball Committee.
From her diversified career in interscholastic and intercollegiate athletics, Todd brings a wealth of experience to the athletic arena. In 1987, she was named the ACC Coach of the Year for women's outdoor track after guiding the Lady Jackets to a fourth-place finish in the outdoor championships after only the school's second year of competition. While at Georgia Tech, Todd was a three-time State Coach of the Year, winning the Georgia State Intercollegiate Championships in 1985, 1986 and 1987.
Todd graduated with honors from Winston-Salem State University with a degree in health and physical education, and received her Master's in human relations and psychotherapy from Governor's State University in Park Forest, Ill. In March 2001, Todd was inducted into the Central Collegiate Intercollegiate Athletic Association (CIAA) Hall of Fame. In September 2002, she was inducted into the Winston-Salem State University Hall of Fame.
For the past 30 years, Todd has also dedicated herself to community service. Currently she is a member of The North Carolina State Bar Association, Board of Legal Specialization. Todd also serves as a speaker for InterAct, an organization that educates and supports awareness for victims of domestic violence and s*xual assault. She currently stays active in intercollegiate athletics as a panelist, guest speaker or presenter at numerous conferences and workshops. Now retired, Todd is a substitute teacher in Wake Country Co., N.C. She recently came out of retirement to coach high school track and field. She is now the director/head coach at Heritage High School in Wake Forest, N.C.
So amazing!
Other Black women to earn coveted spots on cereal boxes include: Jackie Joyner Kersee on Wheaties and Gabby Douglas on Cornflakes.