When the D.J. played the music for the electric slide, ninety-one-year-old Laura Banks-Reed, Ed.D abruptly dropped her cane "like it was hot," and headed for the dance floor to join the rest of her green and pink Soror's for the popular line dance. As her guest, I happened to sit at the same table as the seasoned beauty and nearly fell out of my chair watching her step from side to side without missing a beat.
This all took place back in December of 2011, when my daughter Shanda, and I joined the retired educator in Los Angeles for her sorority, Alpha Kappa Alpha, Theta Mu Omega chapters 45th birthday celebration. Banks, having served as the Far Western Regional Director from 1966-1970, flew in from Texas to be a part of the program.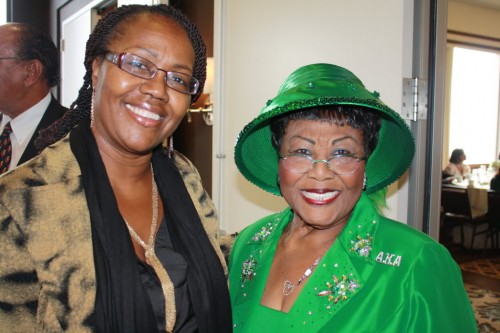 Today, Laura Banks-Reed, who just had a birthday in July, is ninety-one and still going strong.In fact, so strong that she is a member of several high profile organizations including: Alpha Kappa Alpha, Inc., NAACP, YWCA and Urban league. She's a frequent traveler for business and social engagements, and she is President/Owner of LNB Enterprises, an educational consulting firm.
One place she often travels to is her birth place and mine, Tucson, Arizona, a city that holds the esteemed educator in the highest regard. In fact, in 2003 Tucson Unified School District named one of their schools Laura Nobles Banks Elementary, in her honor. The Barrio Anita Association of Tucson honored Dr. Banks-Reed's achievements and community service by including a 15-foot portrait of her in glass mosaic tile in a 400-square foot mural. Most recently in February 2012, Banks-Reed received the 2012 legacy award at the dedication at the African American Women's Arch at the University of Arizona.
In Tucson, Laura, and her late husband Jack Banks, are iconic. For 43 years, the couple owned and operated Jack's Original Barbecue, one of the few successful African American owned businesses, and a local "hot spot" for the community.
As a former Tucsonan, when I learned that Banks-Reed was coming out to California for a celebration with her sorority, I called her on the phone and made plans to join her in Los Angeles. We talked for hours at her home in Helotes, TX where she now lives with her current husband, war veteran Eugene Reed.
As we began to catch up, the excitement in her voice could be heard loud and clear as she spoke candidly about how in the face of racial discrimination, she spent the majority of her years working towards her goal of becoming an educator, and giving children the foundation they need to become successful adults. Clearly, educating youth is her passion.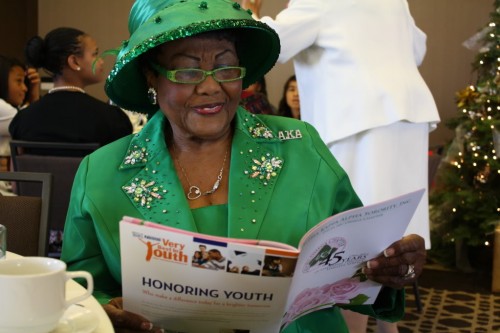 Banks-Reed shares that prior to 1964, while she was working on gaining her qualifications to become a physical education teacher at the University of Arizona, She was required to take a methods class in each sport. One of the required sports was swimming, and she was not allowed to swim in the pool because the teacher did not want an African American participating in the class. After telling this outrageous fact to her mother, who wanted to stage a march around the university campus, they both consulted with Ms. Giddings, who worked at the school. Ms. Giddings, who liked Laura quite well, went straight to the methods class and asked the students if they would mind having her join the class. The other students did not mind at all, exposing the fact that it was the teacher who had the problem with Banks joining the class.
Laura went on to receive four degrees from the University of Arizona. She received a bachelor's degree with a double major in elementary education and physical education, a master's degree in elementary education, and a doctorate in education.
Along with running her restaurant with her husband, Dr. Banks-Reed was a teacher for 39 years, including about six years as a physical education teacher. She later became the Assistant Superintendent of her district. She taught through the Civil Rights era, and she experienced the extreme segregation between African American and white schools. She recalls,
"African American schools were treated as second class, and they only received hand-me-down textbooks."
She taught at Tucson and Dunbar High School, high schools that were all African American prior to 1964. She is now in Tucson High's Badger Hall of Fame, which recognizes graduates who have gone on to achieve success in their professional careers, and every year she attends the Dunbar (now a cultural arts center) reunion.
Throughout her ninety-one years, Dr. Laura Banks-Reed has experienced both the hardship of discrimination, and the triumph of professional success in her outstanding career in education. She has seen her country transform from one filled with segregation, to one whose people elected the first African American president. She says President Barack Obama's election is the best thing that ever happened to her. Her vivid memories of the discrimination she faced when she was younger made her believe she would never see an African American elected President of the United States.
She explains, "The key to Barack Obama's success was both an accepting nation, and an outstanding education that would have been impossible without numerous dedicated teachers. America's future depends on an educated youth."
At the conclusion of our phone interview, I felt privileged to learn about Dr. Banks-Reed's remarkable life's experiences. She's a perfect example of how hard work and determination can lead to outstanding success. I'm proud to say that the community in which I grew up was graced by the presence of Dr. Laura Banks-Reed, a woman who cared about the education of our youth.
Co-Written by Gwen Pierce and Emily Kohlheim