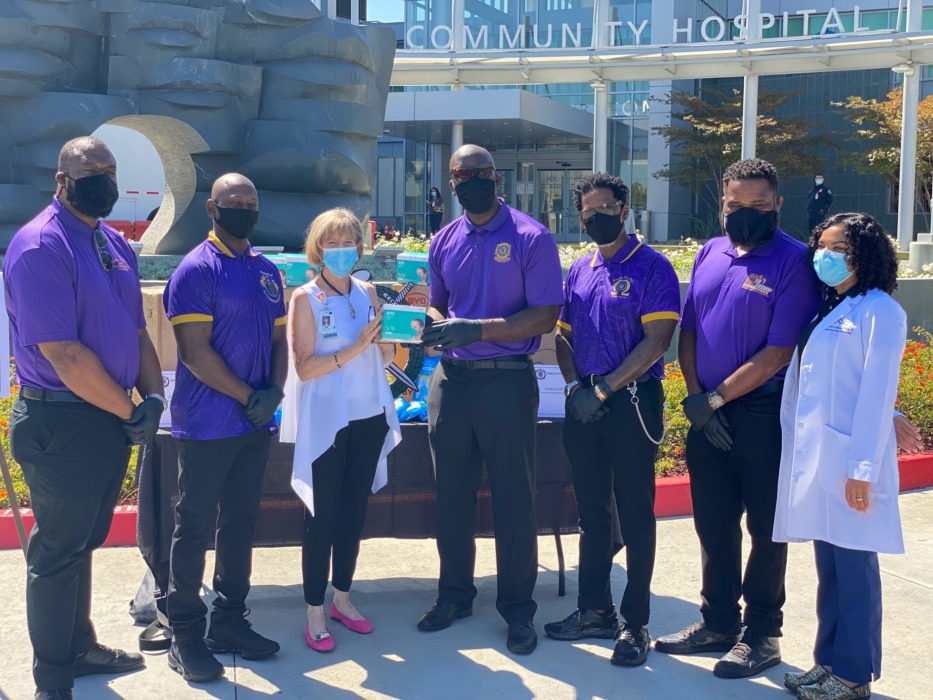 By: D.L. White
On Friday, July 31st, Operation Omega Relief was effectively executed in Cities/regions across the massive 12th District of the Omega Psi Phi Fraternity, Inc.
Omega Operation Relief involved the distribution of over 8,000 items of hospital grade Personal Protective Equipment (PPE) to hospital staffs and first responders in underserved communities throughout Omega's 12th District. Kwame Dow, the 34th District Representative in a statement to the brotherhood of Omega confirmed that "as the members desired and approved during the historic virtual 75th Annual 12th District Meeting in May.
The brotherhood agreed and voted unanimously that profits from the District Meeting would be used to purchase high-grade PPE equipment for hospitals and 1st responders across the 12th D.

"In these unprecedented times, we are all challenged to do the best we can to keep our families and ourselves as safe as possible."


"I commend the members of the Mighty & Massive 12th District who inspite of everything happening around us, for their consideration of those on the frontline in this ongoing battle against COVID-19," Dow stated.
Dow continued, "This effort was to ensure that those on the front lines have the critical protection needed to win this battle against COVID-19."
The distribution of Omega Operation Relief took place in Compton, CA, Phoenix, AZ, San Francisco, CA, and Tacoma, WA.
1st Vice District Representative Andrew Davis and members of Phi Iota grad Chapter made the distribution in Phoenix, AZ.
In Northern California Area Representative Duane Thomas executed the plan in San Francisco, and in the Pacific NW Area Representative Lew Brinson and local grad Chapters delivered the PPEs in the Seattle Area.
Dow also acknowledged immediate past District Representative, Dennis R. Martinez, for his vision and coordination along with the 75th District Marshal, Ed Young.
"Without the vision, insight, and support of Brothers Martinez and Young this effort would not have been as effective and far-reaching," Dow concluded.

Notable: The Omega Psi Phi Fraternity, Inc., was founded on Nov 17, 1911, on the campus of Howard University, thus becoming the first Black Greek letter Fraternity to be founded on a predominantly Black College Campus by three undergraduates and a distinguished member of the schools science faculty.
Today Omega has graduate and undergraduate Chapters across the US and around the world, committed to inspiring and uplifting their communities.