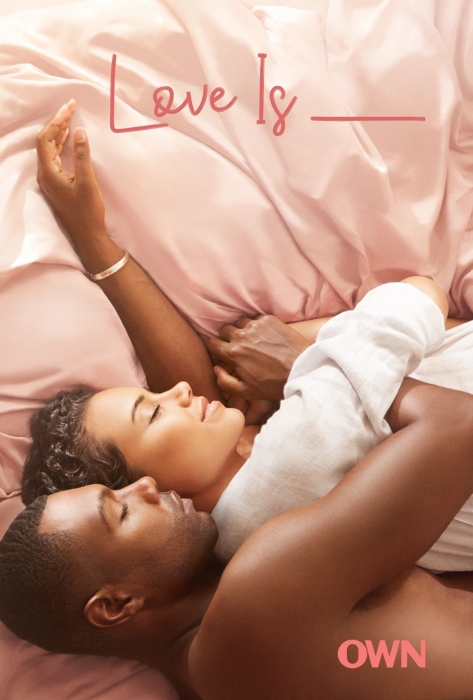 OWN: Oprah Winfrey Network announced today it has renewed for a second season its hit romantic drama series "Love Is___" from award-winning producers Mara Brock Akil ("Being Mary Jane," "The Game," "Girlfriends") and Salim Akil ("Black Lightning"). The Akils created and executive produced the series through their company Akil Productions, in association with Warner Horizon Scripted Television. Brock Akil serves as the series' showrunner, as well as director for the pilot and upcoming season finale episode (Tuesday, August 21 at 10 p.m. ET/PT).
"Love Is___" (Tuesdays at 10 p.m. ET/PT) premiered June 19 with 1.2 million viewers and a 1.2 W25-54 rating (L+3) and was the night's #2 telecast on all of television among African American women. The July 17 telecast achieved a series high across all key demos and total viewers with 1.4 million viewers and a 1.51 W25-54 rating. On average over its series run, "Love Is___" ranks as the #1 show on cable in its time period with W25-54.
"Mara and Salim have brought their heart and soul to this passion project working with our friends at Warner Horizon Scripted Television and we couldn't be more thrilled to renew the show for a second season," said Erik Logan, president, OWN. "This series is an important part of OWN's scripted programming lineup and to see the ratings grow as the Akils' love story unfolds each week is truly exciting."
About "Love Is___"
Set primarily in 1990's Los Angeles against the backdrop of Black Hollywood, "Love Is___" follows Nuri (Michele Weaver) and Yasir (Will Catlett), a couple from seemingly opposite worlds, as they chase their dreams and learn to follow their hearts. Told from the perspective of the couple's present-day selves, the romantic drama also revisits the social issues and vibrant black culture of that time reflecting on how it all aligned to shape the couple they have become nearly 20 years later — a power couple navigating a complex set of social codes while also balancing successful careers and a beautiful family. Drawing inspiration from creators Mara Brock Akil and Salim Akil's own relationship journey, the series explores the highs, the lows, and the magic of falling (and staying) in love.