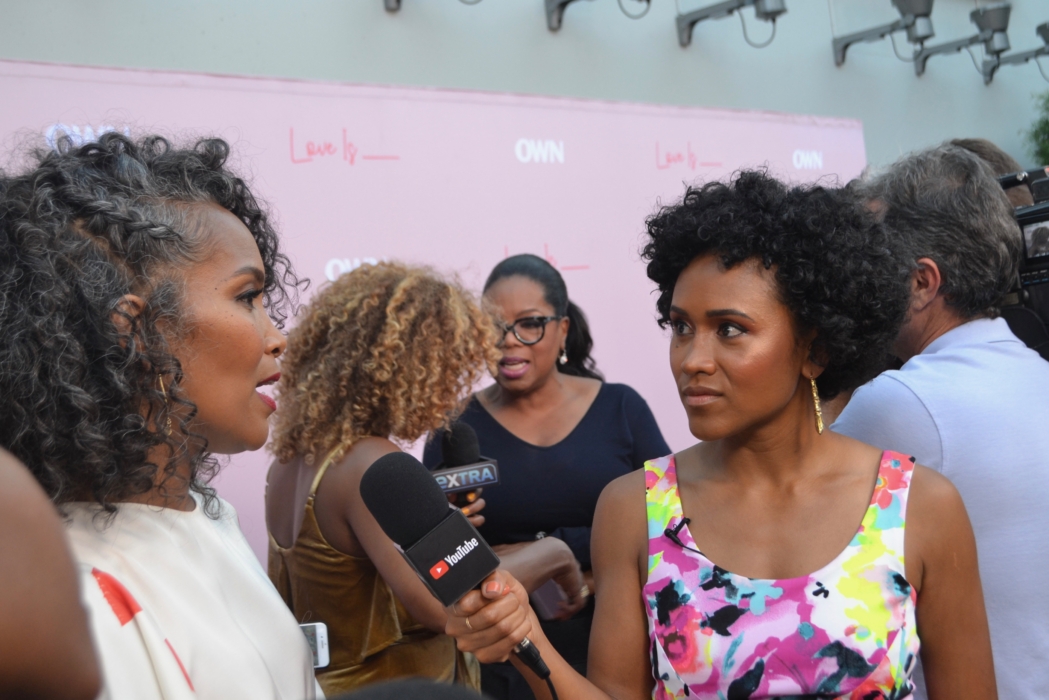 Pictured:  Mara Brock Akil creator of "Love Is_____."
On Monday, June 11, OWN:  Oprah Winfrey Network hosted a pink carpet pre-screening of "LOVE IS____, " OWN's new original 10-episode series premiering on Tuesday, June 19th, from award-winning producers and power couple Mara Brock Akil ("Girlfriends," Being Mary Jane," "The Game") and Salim Akil ("Black Lightning"). 
The cast and creators of "Love is______" including surprise guest, Oprah Winfrey,  arrived at NeueHouse Hollywood, walked the carpet and fielded questions from press regarding their thoughts on  what LOVE is.
Here's what "Lady O" had to say about Black love and what "LOVE Is____" means to her.  
"Well, #1 We love so deeply, so powerfully and so strongly.  When we love, we GO ALL IN. And from what I've seen that's been missing from Black love stories, is the level of complexity. You learn what it means to be disappointed, upset and angry without having  to curse someone out.  You learn to build and gain trust because, that's what's real. And then, finding your way back to each other. You learn what real intimacy is, not just sex. Although my 'God, in scene 107 if you don't have somebody, you're going to want to get somebody that day. I think, the intimacy, the tenderness, the true affection, the real trust, and most important wanting you to be the best you can, that is what real love is. I want the best for you no matter what.  People get to see it played out literally in a way that they'll recognize."
Set primarily in 1990's Los Angeles against the backdrop of Black Hollywood, "Love Is_____" follows Nuri (Michele Weaver) and Yasir (Will Catlett), a couple from seemingly opposite worlds, as they chase their dreams and learn to follow their hearts. Told from the perspective of the couple's present-day selves, the romantic drama also revisits the social issues and vibrant black culture of that time reflecting on how it all aligned to shape the couple they have become nearly 20 years later — a power couple navigating a complex set of social codes while also balancing successful careers and a beautiful family. Drawing inspiration from creators Mara Brock Akil and Salim Akil's own relationship journey, the series explores the highs, the lows, and the magic of falling (and staying) in love. Other cast members of the series include Loretta Devine as Rose, Kadeem Hardison as Norman Reynolds, Tyrone Marshall Brown, plays Yasir's friend Sean, Yootha Wong Loi Sing as Ruby, Tammy Townsend as Carol and Tosin Morohungola as Keith.
Following the screening, OWN: Oprah Winfrey Network hosted a rooftop reception, with food, 90's music and with Oprah leading the celebratory toast to "LOVE IS______."
Also to add, the soundtrack is amazing!  Please visit Oprah.com for the list and to listen on your favorite music services beginning, June 12. Click here for a first listen to the official 90's playlists from Oprah and Mara Brock Akil
"LOVE is____"  premieres on OWN Tuesday June 19th.
Click here to keep up with us.  Subscribe with The Chocolate Voice!