As fans feverishly wait for the season three premiere of the OWN network hit series Greenleaf, an exciting bit of casting news should tide them over for the next few months. It has just been announced that music legend and actress Patti LaBelle has signed on for a recurring role on the drama series.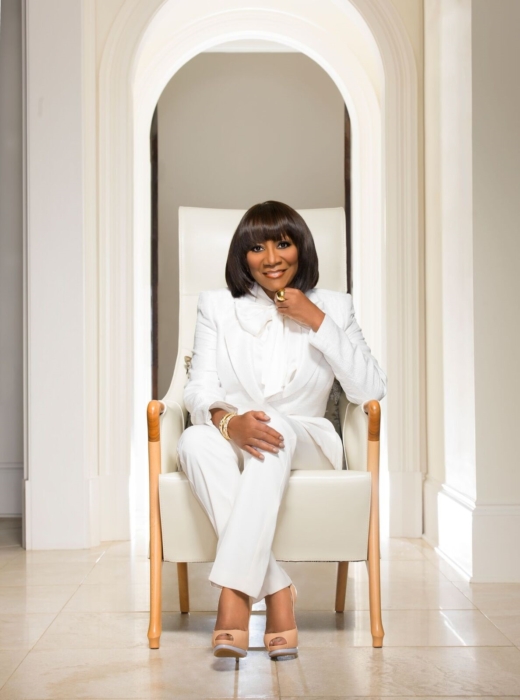 She will play a famous motivational, Christian speaker named Maxine Patterson, and the CEO of a global Christian self-help empire. An old friend of Mae's from college days, Maxine will be Lady Mae's sounding board and greatest ally as Mae attempts to consolidate her power at Calvary. GREENLEAF Season 3 is currently in production in Atlanta and returns to OWN this summer.
It's a small wonder that Patti has time for anything else in between recording and touring, but she makes time and the world is oh so happy that she does!  She has written six books, Don't Block the Blessings, LaBelle Cuisine: Recipes to Sing About, Patti's Pearls, Patti LaBelle's Lite Cuisine, Recipes for the Good Life and her most recent, Desserts LaBelle. Several years ago, she introduced Patti's Good Life, a successful product line that includes a variety of sauces, sweet potato pie, cobblers and cakes. She stars in her own highly rated cooking show, Patti LaBelle's Place, which premiered its second season on the Cooking Channel in 2017.  Additionally, Patti released her first jazz album, Bel Hommage, and a holiday album, Patti LaBelle and Friends – Home for the Holidays, in 2017.
World renowned for her dynamic career as an entertainer and entrepreneurial success, Patti's work as a humanitarian is just as legendary. She remains an advocate for adoption, diabetes, cancer, HIV / AIDS and many other causes and non-profit initiatives.  While she has reached the heights of success throughout her 50-plus year career, Patti has also endured and survived personal strife. Within a ten-year period, she lost her mother, three sisters and best friend to diabetes and cancer. In 1994, she was diagnosed with diabetes and shortly thereafter became a spokesperson for the American Diabetes Association.
"Greenleaf" takes viewers into the unscrupulous world of the Greenleaf family and their sprawling Memphis megachurch, where scandalous secrets and lies are as numerous as the faithful.  The series centers on the journey of estranged daughter and disillusioned preacher Grace Greenleaf (Merle Dandridge, "The Night Shift") who has returned home after 20 years on the occasion of the mysterious death of her sister, Faith.  As she reenters the world of Calvary Fellowship World Ministries, the Memphis megachurch run by her powerful parents Bishop James Greenleaf (Keith David, "Community") and Lady Mae Greenleaf (Lynn Whitfield, "The Josephine Baker Story"), it becomes evident that things are not as virtuous as they seem and that the family's outward display of faith hides sin and misdeeds.  The series also stars Deborah Joy Winans ("Whitney"), Kim Hawthorne ("Switched at Birth"), Tye White ("The People Vs. O.J. Simpson"), Rick Fox ("Dope"), Desiree Ross ("Falling Skies") and Lovie Simone.
"Greenleaf" is produced for OWN by Lionsgate in association with Harpo Films and Pine City.  Executive producers are Oprah Winfrey ("Selma"), Craig Wright ("Lost," "Six Feet Under") and Clement Virgo ("The Book of Negroes").
GREENLEAF was one of the top 5 original scripted series on ad-supported cable for African American women and total viewers and a top 10 original scripted series for women 25-54 in 2017.