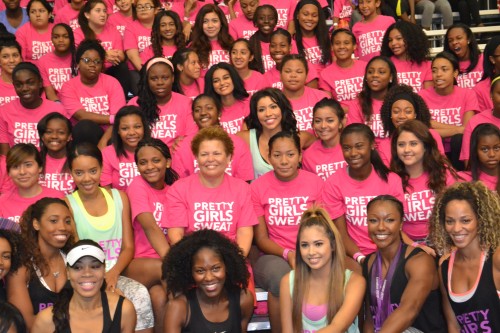 On Sunday, June 29th at the Los Angeles Convention Center, President of The Hollywood Trainer, Jeannette Jenkins, Business Woman Vanessa Simmons (daughter of Reverend Run, Run DMC) and CEO of BET, Debra Lee joined the Pretty Girls Sweat movement for a cardio kick boxing party at the 2014 BET Experience.   
The Pretty Girls Sweat movement is a sisterhood promoting young women to live active lifestyles and participate in organized sports.  The goal of the organization is to make exercise fun, by encouraging teen girls to acknowledge their inner and outer beauty.
The organization highlights non-traditional workouts, group activities, delicious recipes and oodles of SWEAT-spiration for high school and college students who LOVE or HATE to exercise.
Pretty Girls Sweat was founded in 2011 by Aeshia Devore, writer, producer, and radio host  who helps teenage girls transition into adulthood through her multi-media company Teen Diaries LLC.  For more information visit prettygirlssweat.com.