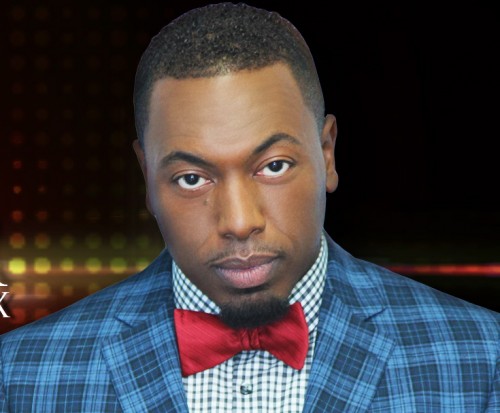 Michael J.T. Fisher of Greater Zion in Los Angeles is not only a pastor of a church with more than 5000 members—seventy five percent of whom are under the age of 30, he is also a spiritual force to be reckoned with.
Pastor Fisher, who is known throughout the Gospel music industry as JKingdom, recalls his love for music as early as age 10. His passion for serving the community and creating music has led him to expand his ministry to greater heights by getting radio air play for his nontraditional style of gospel music. JKingdom's new single, "Wanna Be Close," is now in rotation on more than 60 gospel radio stations. Additionally, his popular KJLH radio show-of which he is the creator and producer-entitled "Whassup Wit That?" will soon be televised on the Hosanna Broadcasting Network on Thursday mornings beginning on June 5 at 7:00 am.
In the midst of all of JKingdom's excitement, The Chocolate Voice caught up with the busy pastor, who let us in on his spiritual path to success.
TCV: Your style of music is considered to be nontraditional gospel music. Have you ever felt any pressure to conform to traditional gospel?
JK: Of course. It's just that God is not is calling me to fit inside of that box. However, every now and then I can pull out an old hymn to let everyone know I'm aware of where I came from.
TCV: What is the most challenging part of being a pastor and a musician?
JK: I would have to say scheduling. It's fun but it is challenging, because as a Pastor you have to be hands-on for your members.  While I'm flying across the country, performing on shows and doing radio interviews-people die, they get sick and they get married.
TCV: Under your leadership in 2010, the choir "Voices of Destiny," now "Destiny 24," competed and won the "Verizon How Sweet the Sound" contest, earning the group national recognition.  What has it been like since that victory, and what was it like to see your ministry reach beyond the Christian market and touch so many lives?
JK: It's been great! The reason we changed our name to "Destiny 24" is that, that name is more hip and will appeal more to their generation (people 18-30 years old).  It's easier to make it a "Hashtag" (Laughs). They're just as strong as ever-in fact, they just performed to a standing room only audience at Disneyland and, we landed a spot in a multinational Audi A3 commercial featuring comedian Ricky Gervais.
TCV: How do you connect with youth, and what can you tell us about your experience connecting with youth?
JK: We have to realize that this generation comes from mothers who are not being mothers and homes with no fathers. The youth of today are having to teach themselves through Google, Youtube and Wikipedia. With that being said, they want someone to be the adult in their life.  They may be resistant, but they appreciate it when someone tells them, 'I'm not your friend. I'm going to tell you what you need to hear and not what you want to hear.' That's what is attracting the youth to Greater Zion Baptist Church in Compton. So many people think I attract the youth by doing something cool: i.e. 'Lets have a Jean day or a jersey day.'  I tell them the truth. I tell them that here, you can't wear what you would wear to a club. I teach them how to conduct themselves in the real world.  While sometimes they will cop an attitude, they keep coming back because I'm the adult factor. Young people want someone who's going to be the disciplinarian. The key to getting through to our youth is: truth, keeping it real and telling them what they need to hear and not trying to be their best friend.
TCV: You are also the host of a L.A.'s popular KJLH radio show with over 500,000 listeners called ""Whassup Wit That?", which is going to be televised soon. What is the format for the show?
JK: Our last radio show was a month ago.  Our partnership with KJLH opened up an opportunity that allowed us to partner with Hosanna Broadcasting Network.  Starting the first Thursday in June, you can see us taping the show live on Thursday mornings at 7:00 am all over the country. We discuss current events from a Christian perspective on the show. It's a great show!
TCV: Your new single, "Wanna Be Close," has an upbeat, nontraditional, pop vibe to it. Tell us what your inspiration was in recording the song.
JK: I do a tour called "Parish Without Knowledge," which goes to high schools and junior high schools to promote self-esteem and anti-bullying. In between speeches, we have people perform inspirational songs. We incorporate the message of Jesus Christ into these really hip beats that the young people can bob their heads to. The young people are listening to pop now, and I have learned to reflect that. "Wanna Be Close" is from my new album, "Complete Deliverance," which will be available this summer. The message of my new album is overcoming challenges within ourselves. "Wanna Be Close" reflects that message. The song is available on iTunes and Amazon.com.
TCV: Who would you say are the most successful nontraditional Gospel artists?
JK: I think every generation has its pioneer. Within our generation, it still has to go to Kirk Franklin. He still holds it because everyone remembers when all of a sudden he came out with "Stomp." The whole world went crazy. I was a preacher's kid, and my father was outraged. Now, Kirk's music is considered traditional. None of us would be able to do what we are doing without Kirk.
"Whassup Wit That?" can be seen nationally on television providers: Dish Network and Direct TV. Check your local listing for more information.