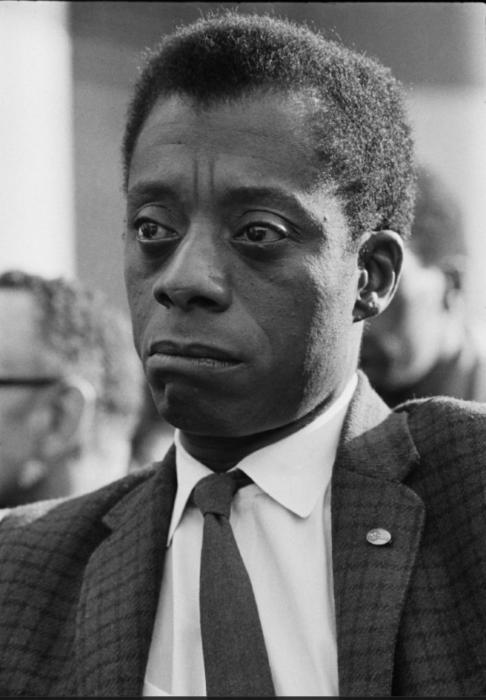 Today, legendary prolific writer and activist James Baldwin would have been 93.  The pioneering author known for his novels "Native Son", "Another Country," and "Go Tell It on the Mountain", and his essay collections "Notes of a Native Son" and "The Fire Next Time," was born in New York on August 2, in 1924.
Baldwin grew up in Harlem, with his mother Emma Jones and, abusive stepfather David Baldwin, a Baptist minister and his eight younger half siblings. "I began plotting novels at about the time I learned to read," Baldwin reminisced in an autobiographical essay that served to introduce his first collection of essays, "Notes of a Native Son" (1955).  Baldwin served as a youth minister as an adolescent and was recognized by his teachers in school for his gift for writing.One of those teachers was Countee Cullen, a poet who gained fame during the Harlem Renaissance of the 1920s, taught Baldwin in junior high and later became a mentor to the young writer.
In the early 1940s, Baldwin moved to Greenwich Village and fell in with artists and writers, including Richard Wright. At 24, sick of the racism he experienced in America, coming to terms with his homosexuality and with a literary fellowship, Baldwin moved to France. For the rest of his life, he called France home, apart from stints in the U.S., where he was frequently invited to teach.
Baldwin discussed his decision to leave the U.S. in a 1984 interview with the Paris Review.
Although he lived outside the U.S. for much of his life, Baldwin's writing remained focused intently on the American experience. He became a leader of the U.S. civil rights movement and on May 17, 1963, Time magazine featured Baldwin on its cover, stating, "There is not another writer who expresses with such poignancy and abrasiveness the dark realities of the racial ferment in North and South."  In the Oscar nominated film, "I Am Not Your Negro," Baldwin tells the story of race in modern American with his unfinished novel, "Remember This House."
"It wasn't so much a matter of choosing France — it was a matter of getting out of America," he said. "I didn't know what was going to happen to me in France, but I knew what was going to happen to me in New York."
James Baldwin died on December 1, 1987, at his home in France.  Happy birthday James Baldwin, we are forever empowered by your words!