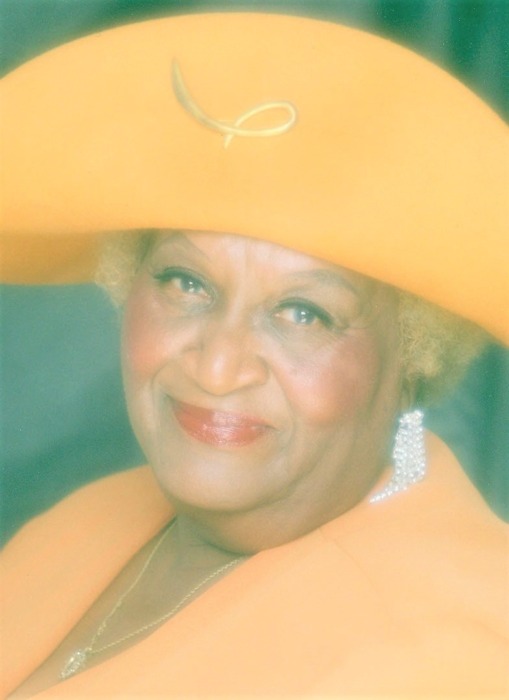 Sister Argusta "Ann" Murray was born on October 13, 1932, in Richmond, Arkansas, to loving parents Thomas and Julia Dunn-Parker who nurtured her, a sister Mary Ponder, and brothers Travis and Charles Montue into becoming strong, independent, loving, dedicated and inspiring individuals.
Sister Murray showed signs of leadership early in her life. She attended school with dedication and excitement. She assumed assigned responsibilities of the farm on which they lived and showed great interest in singing in school talent shows and the church choir. She was always ready and eager to share her God given gift of singing whenever the opportunity presented itself.
Sister Murray moved to San Diego, California in the early forties where she joined the Mount Zion Baptist Church and sang in its Youth Choir. Later she married Clennon Murray who served as a career Chief Petty Officer for 21 years in the United States Navy. Together Clennon (now deceased) and Sister Murray raised a family of 8 children, consisting of 5 girls and 3 boys. In the fifties, she joined Mount Erie Baptist Church located in the old Frontier Navy Military Housing area of Point Loma. In the sixties, she joined Second Baptist Church in Linda Vista while residing in the Linda Vista Navy Military Housing area.
As a single parent some years later, Sister Murray relied on her faith in God to sustain her and the values she learned in childhood to get her through the tough times. With life unfolding at a rapid pace, 8 children to feed, clothe, educate and guide, she reaffirmed to herself and God that she would accept the challenge. Through her faith she realized that God had not brought her this far to leave her. She reared all 8 of her children, who today are pursuing their own successful careers and endeavors in life. Sadly, David L. Murray, third born son, preceded her in death in 1993. David was an anointed and gifted singer, musician and choir director in his own right, who ministered throughout San Diego County and beyond, teaching, mentoring, singing and Praising the Lord!
While solely rearing her children, Sister Murray worked for the San Diego Unified School District as a yard guard for a number of years. She was subsequently accepted and participated in a special pilot parent-to-teacher program and completed over a 10-year period an AA in Child Development at San Diego City College, a BA in Early Childhood Education and a BA in Liberal Arts and African American Studies at San Diego State University and Alabama University. Additionally, during the time she worked toward acquiring her degrees, she held a Teacher's Assistant position for 15 years at Ocean View/John F. Kennedy Elementary School and worked tirelessly with the PTAs at Ocean View/John F. Kennedy, Samuel Gompers Junior High School and Abraham Lincoln High School where all her children attended school. In subsequent years, after obtaining her teaching credential, she worked with the San Diego Unified School District and Mead Child Development Center as a highly respected and sought-after lead teacher for another 15 plus years.
Sister Murray always found time to volunteer in the schools, she willingly gave many hours during the walk-out at Lincoln High in 1969. She worked with the redevelopment of Abraham Lincoln High School and walked the halls of the school encouraging students to attend class, counseling those students who were angry, discouraged and depressed. She showed special attention to those students who exhibited social, psychological, and/or emotional problems.
As a steadfast community/social activist, Sister Murray continued her community work in and with the Urban League, Eastern Star, NAACP, Neighborhood House, Lincoln High Booster Club, Senior Citizens Christmas activities and the Supplemental Food Exchange Program to those in need.
Sister Murray never compromised her religious affiliations. She rejoined in the mid-sixties and continued to work faithfully for many years as a member of the Mount Erie Baptist Church congregation and choir. She is also known as one of the first female African American Gospel radio announcers in San Diego for 92.5 FM and KMJC AM Radio. She was also a member for many years of the Radio Announcers Guild and held the office of secretary for that organization as well. Additionally, she worked for years with the Gospel Music Workshop of America, founded by Dr. Reverend James Cleveland. She was a member and State President of the National Singing Quartets of America, Inc.
Sister Murray is one of San Diego's and this nation's greatest African American role models. On October 13, 2017, the San Diego City Council issued two awards in Sister Murray's name. The first award was a "Special Accommodation for Community Service". The second award was proclaimed "October 13th Ann Murray Day" in America's Finest City of San Diego, California". She was a true servant who was a trailblazer and mentor, who was thankful, prayerful, committed, giving, humble and devoted. She tremendously touched everyone's life that she came in contact with and will be greatly missed forever.
The journey from this life to heaven was completed by Sister Murray on Sunday, March 28, 2021, at 3:50 p.m. where she transitioned peacefully to be with her Lord.
Preceding Sister Murray in death was her mother Julia Dunn-Parker, father Thomas A. Parker, brother Charles Montue, sister Mary Ponder, husband Clennon Murray and son David L. Murray.
Sister Murray leaves to cherish her memories, children C. "Wayne" Murray (wife, Rhonda Murray), Thomas O. Murray (wife, Kate Murray), Brenda J. Murray, Deborah L. Tavasti, Linda J. Murray, Renae C. Murray, Mary L. Murray, brother Travis Montue, aunt Margaret Dunn-Robinson, uncle Leonard Dunn, grandchildren Jamilah, Amanisha, LaReena, Tanasha, Gabrielle, Danielle, Jonathan, Brandon, Sierra, great-grandchild Christopher, and a host of nieces, nephews, cousins and other family and friends.
As Sister Murray would say in her signature MC greeting "Praise the Lord Everybody", we say farewell to a good and faithful servant until we meet again! Amen!
---