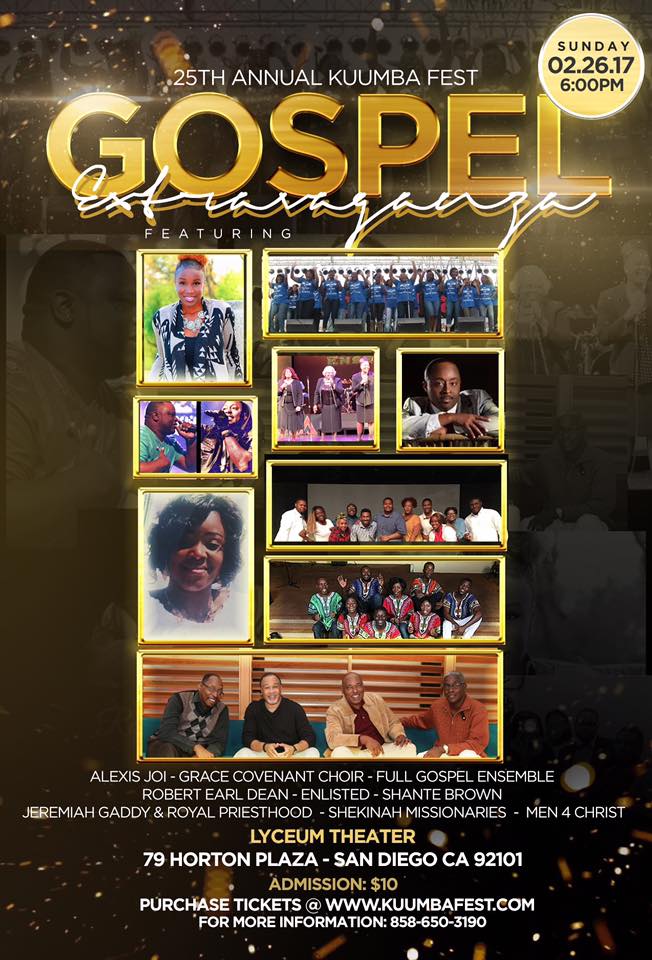 (San Diego, CA) This years' Kuumba Fest celebration marks a new benchmark as they celebrate 25 years of recognition, entertainment and cultural awareness for the African-American community during Black History Month.
The 2017 Gospel Night performances will feature artists from far and nears such as Men 4 Christ, Enlisted, Shekinah Missionaries, Robert Earl Dean, Shante Brown, Full Gospel Ensemble, Grace Covenant, Jeremy Gaddy and Priesthood and Alexis Joi.
The annual event is the longest running festival in San Diego bringing together local artists who entertain crowds of over 5,000 guests with music, dance and spoken word performances during the four-day celebration starting on Thursday, February 23rd to Sunday, February 26, 2017.
By week's end countless numbers of participants will have witnessed every art form from gospel to hip-hop and theater to dance. In addition to the theatrical offerings, guests can enjoy the open-air market with local businesses and entrepreneurs selling unique and "one-of-a-Kind" arts and crafts and attend educational workshops throughout the festival.
San Diego's Kuumba Fest was founded in the early 1900's as an offshoot of the San Diego Urban Warriors' gang diversion program. Founder Dajahn Blevins taught arts to at-risk youth as a means of social development, cultural enrichment and self-empowerment.  Come celebrate, "Black to Power" at the San Diego Repertory Theater's Kuumbafest 2017.
Related links for tickets:  www.mandaterecords.com or San Diego Rep.