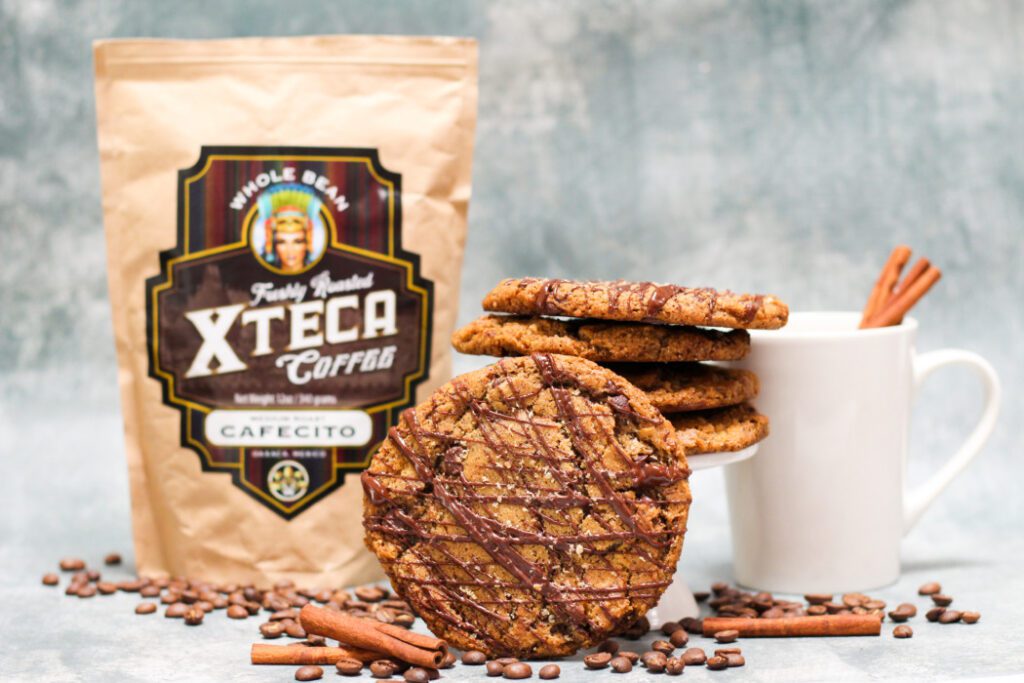 SAN DIEGO, Calif. – Oct. 4, 2021 San Diego favorites XTECA Coffee and Maya's Cookies are celebrating Hispanic/LatinX Heritage Month with a new cookie showcasing flavors that honor Hispanic Culture. The collaboration has resulted in the Café de Olla cookie. Café de Olla is a traditional Mexican spiced coffee, lightly sweetened and served piping hot. Adapting this flavor profile to a cookie began by using smooth and bold XTECA Coffee sourced from Oaxaca, then adding cinnamon and piloncillo in Maya's classic brown sugar dough. It wouldn't be a Maya's Cookie if she didn't add a little extra flair, and this cookie is no exception. Each cookie is then finished with a beautiful, decadent, dark chocolate drizzle and sprinkled with piloncillo.
"Maya's Cookies has been wanting to collaborate with XTECA Coffee for quite some time, as we are both committed to excellence, authenticity, and the craft of our products. We hope our customers will taste that quality in every bite. We were so excited to finally find the right time and the right recipe," Maya Madsen, Owner and Founder of Maya's Cookies said. "It is so important for the black and brown communities to come together and lift each other up, sharing the joys of our culture with others."
"We have been fans of Maya's Cookies from the beginning and are so proud to bring this cookie to market. We admire the commitment that Maya's Cookies has for community involvement and contribution as we at XTECA Coffee share that mindset. We are eager to partner with likeminded companies to continue to make an important social impact. We hope that customers taste the warmth of heart and richness of culture in the flavors," remarked President and CEO of XTECA, Fred Sotelo.
The Limited Edition Café de Olla cookie will be available in store until October 15th at Maya's Cookies, 4760 Mission Gorge Place, Suite G, San Diego, CA 92120, as well as online at MayasCookies.com Store hours: 11:00 am – 4:00 pm Wednesday – Friday. 10:00 am – 4:00 pm Saturday & Sunday
About Maya's Cookies
Founded in 2015 by Maya Madsen, Maya's Cookies is America's #1 Black-Owned Gourmet Vegan Cookie Company. As a vegan with a sweet tooth, she had not been able to find that perfectly delicious, soft-baked gourmet vegan cookie, so she spent years crafting her award-winning and crowd-pleasing recipes. From the classic to unique and forward-thinking flavors such as "Chocolate Chip S'mores" and "Marble Fudge", every flavor has a story grounded in Maya's travels, memories, and experiences. Alongside providing the highest quality product that appeals to everyone, Maya's Cookies is committed to superior customer service and community engagement, with a focus on youth and underserved communities. Maya's Cookies ships nationwide- simply order as a treat for yourself or as a gift at MayasCookies.com. Learn more about Maya's Cookies and share the love on their Instagram, Facebook, and Twitter pages.
About XTECA Coffee
XTECA Coffee is a Latino owned and operated company that specializes in small batch craft coffee roast, based in San Diego, CA. Started in the midst of the Covid 19 pandemic with a simple idea, "We wanted to roast ethically sourced coffee that was smooth, flavorful, and easy to drink." stated Fred Sotelo Co-Founder
XTECA Coffee used for this collaboration is an organic medium roast from the region of Oaxaca, Mexico.
Cupping Notes:
Sweet fruit , rich, smooth, clean, crisp, complex, juicy, cocoa.