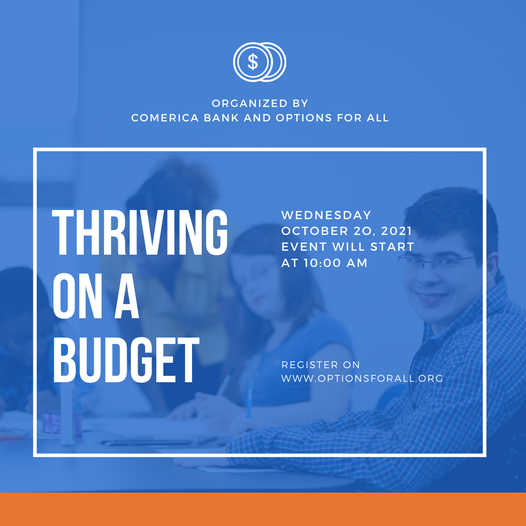 Options For All (OFA) believes in an inclusive world, providing innovative and quality services to empower individuals with intellectual and developmental disabilities (I/DD) toward becoming fully participating members of their communities. Whether it's to experience community acceptance, living independent and self-sufficient lives, gaining a sense of purpose, responsibility and independence through gainful employment, or to experience the pride of accomplishment in pursuing individual goals, Options For All is here to create opportunities to enrich their lives and impact those who have yet to experience the wonders of inclusion. Continuing to be a trailblazer for disability services in the San Diego, Inland Empire, and Silicon Valley regions, Options For All is excited to partner with Comerica Bank to offer financial education lessons and resources to their community.
OFA partnered with Comerica Bank last October to help protect and educate adults with intellectual and developmental disabilities, so that they may thrive financially as well as physically through its Money $ense program. Options For All and Comerica Bank are building on the success of last year's program to launch a Money $ense program series focused on key financial topics to help empower participants.
The program kicks off on Wednesday, Oct. 20 at 10 am PST and registration is available by visiting https://optionsforall.org/webinars-events/thriving-on-a-budget-webinar.
"We know that all adults benefit from healthy budgeting and access to financial resources, and it's no different for individuals with I/DD. Their circumstances have unique impacts on financial planning, so we are thrilled to bring this series, along with new financial resources, to the entire I/DD California community" says Brian Zotti, Options For All VP and Board Member of The Special Needs Trust Foundation.
Webinar offerings include:
Thriving on a budget
Planning for your financial future
Financial resources you need to know
Wills and estate planning
Protecting against financial abuse
CAL-Able, SSI/SSDI benefits and its impact from earned wages