Academy President Cheryl Boone Isaacs,  Producer DeVon Franklin, Comcast's Ken Maxey and Brotherhood Crusades' Charisse Bremond Weaver, Honored at the SCLC-SC's 2016 Martin Luther King, Jr. Legacy Awards & Benefit Gala
By:  Terri Fowler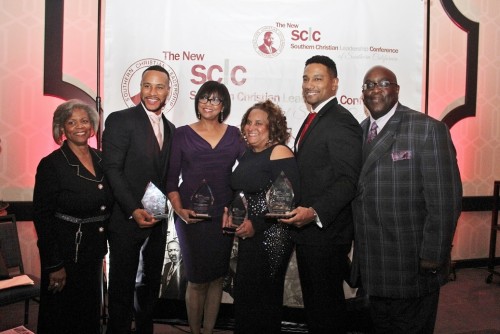 LOS ANGELES, CA – In a star-studded evening, the 2016 Dr. Martin Luther King Jr., Legacy Awards & Benefit Gala, was a triumphant affair. The event was held at the Sheraton Gateway Hotel on January 18, 2016, in honor of the Southern Christian Leadership Council's (SCLC) first president. As in Kings' day, the present-day SCLC is the fertile ground that nurtures leaders, and produces trailblazers who embody its founding president's vision of equality and justice.
William Allen Young of "Code Black," served as host for the evening. There were appearances and presentations from Hollywood's elite including: Antwone Fisher (screen writer, author and co-producer for the movie of the same name), David Oyelowo (actor who portrayed Dr. King in "Selma"), Common (rapper, actor who portrayed James Bevel in "Selma").
Charisse Bremond Weaver graciously accepted the SCLC's Chairman's Award and recalled the sacrifice and threats her family faced as the originators of the Brotherhood Crusade,(formerly called the Black Knights), a multi-million dollar, community-based social service agency that mentors and teaches youth life, and work skills. "Thank God for using me for His work," she began. My father, Walter Bremond, organized the Black Knight's in the 60's, our house was fire bombed much like King himself and we were threatened and attacked. But, we must retain the power to forgive." She added, "There is some good in the worst of us, just like there is some bad in the best of us."
Comcast Director of External Affairs, Ken Maxey was garnered the Emerging Leader Award for his leadership role, advocacy for youth, equality in the workplace, and for his strong community ties and involvement in local government.
"We must continue to work towards King's dream. There are many who say the SCLC is no longer needed. But if it weren't for organizations like SCLC we might not have had our first Black president." Ken Maxey.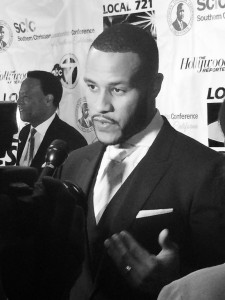 The Rev. Thomas Kilgore Jr. Prophetic Witness Award was awarded to DeVon Franklin, president and CEO of Franklin Entertainment. His accomplishments have been recognized by secular and sacred organizations alike; he was listed as one of the "Most Influential Christian's under 40 by Ebony Magazine. Franklin has a regular show on OWN Network advocating for Christian marriage called, "Help Desk." Among his many accomplishments include:  Author, preacher and producer. He advised others to, "Always operate in excellence, it never goes out of style. Service and treat where you are in life now, like it is where you want to be, it prophetically it will come to pass," he added.
The Rosa Parks Awards was presented to Cheryl Boone Isaacs, President of the American Motion Pictures of Arts and Sciences, (AMPAS). Isaacs is the third women and only African-American to hold this title making her a trailblazer and dynamic innovator/architect in the entertainment industry.
"Without Rosa Parks' contributions none of this would be possible; from the Presidency of Obama to the development of a leading role of an African-American characters named, Finn, to reach a galaxy far, far away." Cheryl Boone Isaacs.
Boone-Issacs compared her appointment to AMPAS, with the selection and presentation of the SCLC's Rosa Parks Award and acknowledged it as being one of the greatest accomplishments of her life.
The common bond that the awardee's share is their recognition of the struggles that are still prevalent in the African-American community, and the dedication and strength required to make a positive change despite all odds. Pastor William Short Jr., President /CEO of SCLC, acknowledged the realities of our community today as in Kings' day, requires us to "make dreams a reality for those who are locked out and left out. The SCLC has a long history with civil rights struggles."
The award show is the crowning finish to a week-long celebration of events that included oratorical and art contest for youths, a voter registration drive, interfaith prayer breakfast, an original stage play, "Martin: Duty Calls" and a free concert, "A Celebration of the Life of Dr. Martin Luther King, Jr.
For more details and highlights of this annual event go to Twitter at #mlklegacyaward.