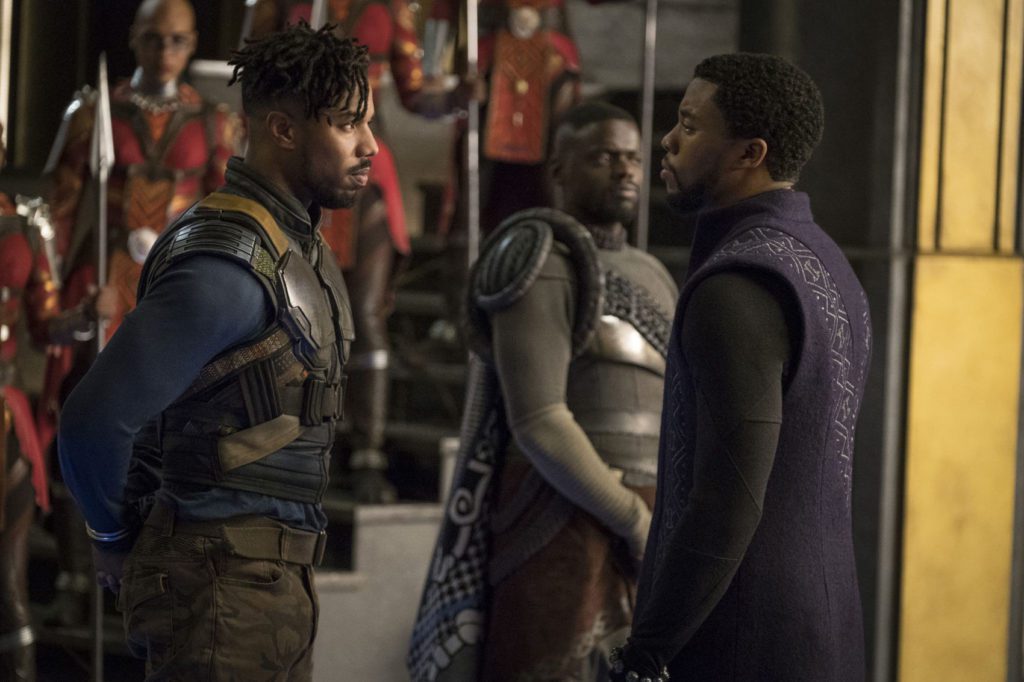 Pictured: Chadwick Boseman as T'Challa Aka Black Panther and Michael B. Jordan as the villain Erik Killmonger.
For full disclosure, I'm in no way a Marvel comics aficionado. As a matter of fact, it's rare that you'll catch me running out to see any film that has anything to do with super heroes with super powers. Don't judge me, but, I never saw "BLACK PANTHER" in "Captain America: Civil War."
Again, I'm just letting ya'll know my film preferences.
That said, there was nothing, and I mean nothing, that was going to keep me from seeing BLACK PANTHER, which was by the way AMAZING!
I saw it twice. And, I wasn't the only one.  Social Media was all of the buzz over the week-end.  #WakandaForever.
"BLACK PANTHER" delivered one of the largest opening weekends of all time.  And, it's currently the #1 movie in the world.  In the United States it grossed $192 million for the 3-day week-end.  "Black Panther is expected to have a total gross of approximately 218 million for the entirety of the 4-day holiday week-end.  BLACK PANTHER delivered the 5th largest 3- day domestic opening in history and the has delivered the 5th largest 3-day domestic opening in history.
As previously stated, I'm just not that into comics. However, you'd better know, that I and the rest of the world understood the importance getting out and of seeing the first Black comic book superhero hit the big screen, featuring a predominately Black cast: Chadwick Boseman as T'Challa Aka Black Panther, Lupita N'Yongo (Nikiya), Michael B. Jordan as the villain (Erik Killmonger) Danai Gurira (Okoye), Angela Bassett (Queen), Forest Whitaker (Zuri), Sterling K. Brown (N'Jobu) and Letitia Wright as (Shuri), with a brilliant Black Director, Ryan Coogler ("Fruitvale Station" and "Creed".)
Casting aside, the symbolism and direct messages regarding globalism, imperialism, technology and wealth building were on point.
The fierce woman are portrayed in the film as: Scientists, Warriors, Queen (Mother) and Spy's. And get this, none of them are fighting over a man, or needing one to save them. They are fierce, proud, intelligent and capable.  Danai Gurira's character strength was evident while protecting the nation of Wakanda at all cost.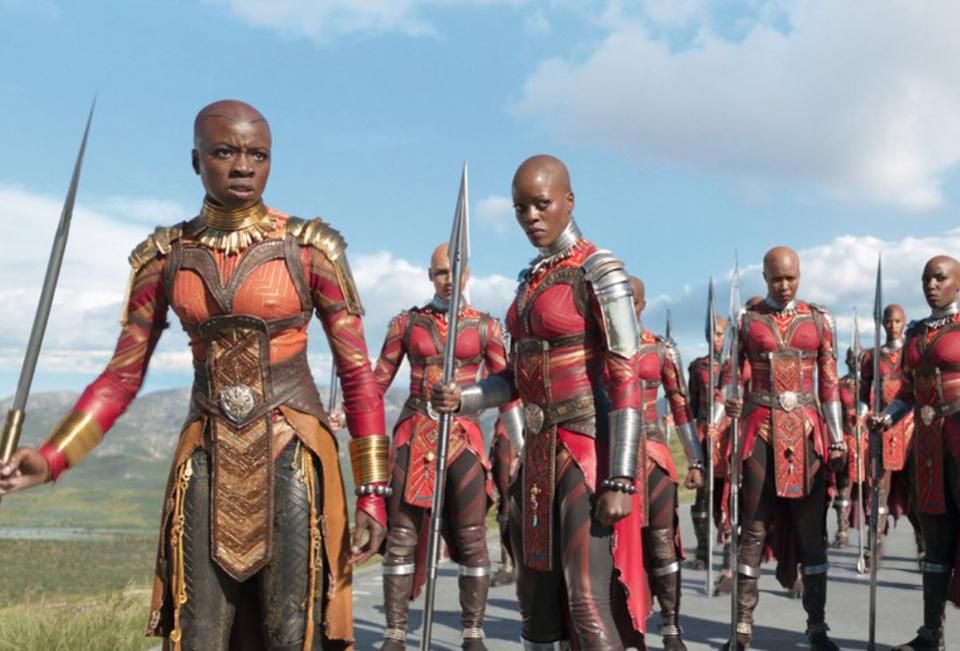 What was also on point is how, the film has us ("Black Folks") talking.  In fact, it has started a movement. In support of Black Hollywood, we hosted BLACK PANTHER parties, bought out theaters and came dressed in African attire. And, we purposely looked for Black businesses to support. We did that ya'll.  The Black community alone supported this film like no other.  Now that's a question…How many dollars did the Black Community alone spend on this film?  We know for sure that the entertainment industry earns billions. We'll find out and let you know.
I was concerned that I would fall asleep because of the glass of wine at dinner before the film and the length of the movie…But, watching the brilliant cast of beautiful actors, inspirational, powerful and relevant storyline, costumes, cinematography, all of it kept me glued to the screen. BLACK PANTHER is thoroughly captivating from start to finish.
Go see BLACK PANTHER!  See it twice. It's worth it.
#WakandaForever