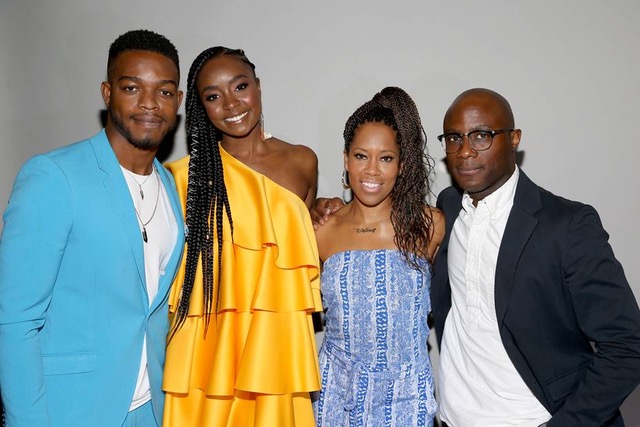 On the last evening of Comic-Con 2018, my daughter and I decided to grab a bite to eat at a cozy rooftop bar in downtown San Diego.
As we got off the elevator, I found a spot for us to sit, while she went to the bar to grab us menus. When I sat down, I glanced over at my daughter and saw her smiling and chatting it up with a few folks at the bar.  Then — I noticed another black woman at the opposite end of the bar, wearing box braids in a top bun.  Her back was turned and I couldn't see her face but I knew she was working on an iPad, which was sitting in front of her.
My daughter came back over with the menus, grinned and said, "I'm pretty sure that lady over there is Regina King." "How can you tell?"  I asked, to which she replied, "I saw her when we first stepped off the elevator."  
Keep in mind that in that moment there were visibly only three black people on that rooftop, so of course we noticed her.
My daughter calmly nudged me and said, "Why don't you go over there, order our food and see for yourself."  
So I did just that. I curiously headed over to the bar and stood right next to the woman, who we thought was Regina King. I caught a glance of a side view of her face, and saw a glimpse of her iPad screen – which looked like a script or a book. Yep — it was definitely Regina King! I thought, 'Wow! She's in great shape! She looks so young!!!'
I got lost in my thoughts, and straight up struck. You see, I've followed this woman's career since she was a child actor on 227 with Marla Gibbs, to BOYZ IN THE HOOD, POETIC JUSTICE, STELLA GOT HER GROOVE BACK, JERRY MCGUIRE, THIS CHRISTMAS, FRIDAY, RAY, SEVEN SECONDS and AMERICAN CRIME, which she won an Emmy for, TWICE!  And it shouldn't have been cancelled by the way. Damn, I loved that series!
As hard as it was, I chose not to bug her for a photo.  In fact, I couldn't even make myself make eye contact with her. Her focused and relaxed body language was giving me a deep thinking, unbothered kinda vibe. So, I ordered our food and headed back over to our relaxing spot.
As we took sneak peeks of King as she continued to work at the bar, my daughter and I focused on our conversation in our own world. Yet, I couldn't help but wonder if anyone else on that rooftop besides us two black women realized that a Golden Globe nominated, two time Emmy Award winning actress was sitting alone and out in the open there in San Diego!  Perhaps they didn't care or, maybe they didn't know who she was. Nonetheless, it was kinda strange to me. 
Then all of a sudden, King grabbed her jacket and packed up her belongings like she was leaving. Immediately I thought, 'I've got to get over there and acknowledge this iconic, brilliant woman, even if the rest of these folks don't know who she is.'  
Now, I'm sure you're wondering why this is so important to me especially since I've interviewed many celebrities on The Chocolate Voice.
For one, she's a former child actor, let alone a black child actor who's accomplished so much.  For crying out loud, she's Brenda from 227!  Years ago I recall reading an article about her life after the 90's sitcom.  The article talked about how her mom wisely invested her earnings from the show that set her daughter up in a good financial position as a back up to her show biz career — a lesson we can all learn from no matter what industry we work in.
King's career has been stellar.  As far as I'm concerned, she is a hard working black woman who's the epitome of #BlackExcellence.  She is #BlackGirlMagic. So, it was only natural for me to be excited to be in her presence. 
That said, I got up and started to go over to her to tell her how much she means to me.
But instead of leaving, King walked over to an empty lounge couch, much closer to where we were sitting. She put her stuff down, laid down, started reading and then fell asleep!
On one hand I thought, 'I just can't bother her, she's tired'. While on the other, I remembered the time I met Oprah, and partied on another rooftop with Miss O.  I recalled the toast she made when she gleefully shouted, "Here's to taking your shot!"
Nonetheless, I decided to let her sleep.  Still, I was not leaving that rooftop without taking my shot at acknowledging Ms. Regina King, who let me reiterate—has been nominated for a Golden Globe, won two Emmy's, and has six NAACP IMAGE Awards to name a few.
I already knew what I was going to say to her. I was going to tell her that it was an honor to meet her, and how proud I was of her body of work and that she was a blessing to our community.
As she continued to peacefully sleep, another group of black folks stepped off the elevator and onto the rooftop. 
I wondered if they would recognize the actress/director/producer and at first, from the looks on their faces, I didn't think they did.  Or perhaps, like me they were living life in their own world.  
And then, that look changed. They knew exactly who she was. But like me, in the moment, they chose not to bother her. Although from time to time, I would catch them sneaking glimpses of her, just like us.
As Regina was peacefully sleeping—one of the waitresses, a perky young blonde, bent down and appeared to wake her up.  And that's when Mama Gwen (aka me) came in to full effect. I sternly clapped, and told my daughter, "I know they are not getting ready to mess with Ms. Regina King! This better not become another hashtag! Or #BlackWomenSleepinOnRoofTop!"  
So, I leaned up out of my seat and tilted my head to see if I could hear what was being said. But by the calm look on King's face, it appeared all was good.  Again, she packed up her computer and bag as if she was leaving.  
I thought, 'Ok Mama Gwen, this is really your chance now!' 
As I started to get up out of my chair and move towards her, I froze. I don't know what the hell was wrong with me! I've taken a photo with Oprah for Christ's sake!  So, what was it about Regina King?  Maybe it's because it was in San Diego of all places – where we rarely see celebrities. Or maybe it was also because in San Diego we are often in spaces where we are the only chocolate faces. It wasn't at a Hollywood event—it was simply on a roofop bar. She somehow felt like family, like the feisty, cool confident cousin, who's doing very well in life.  She's just so relatable.
Thank God Regina didn't leave, she parked herself under one of the covered cabanas and fell right back asleep. 
I kept eyeballing the waitress, and was feeling a little perturbed as to why the waitress asked her to move. Mama Gwen was still in full effect and I was about ready to get stank with her for interrupting Ms. King's sleep.  
So, when the waitress came over to ask us if we needed anything else, I couldn't resist. I bluntly asked, "Did you know that was Regina King?"  The waitress's eyes lit up and she joyfully replied, "Are you kidding me?! I sure do!!  You don't know how hard it has been for me to contain myself, I love her work!" 
I cooled down after that, sighed and thought,  'What a relief. So the White people DOOO know who she is.'  Whew!
What happened next was hilarious. One of the guys from the group of black folks that came in after us, walked right past us, went over to the cabana and asked for a photo. 
Just.Like.That.
It happened so fast, and I was all in my feelings because here I was trying to be "nice" and "respectful" in not wanting to disturb her, while he casually bounced over to her like nothing, and she agreed to give him the picture!
It was starting to get late and we had to head home shortly, so I had to make moves quickly.
I looked over at my daughter and said, "I'm taking my shot, now."
Finally, I got up enough nerve to walk over to her cabana, and she was still awake!
I took a deep breath and said, "Hi Regina, I'm so sorry to bother you. I know that you're tired.  I've been sitting here this entire time, even before the gentleman who just left asked for a picture. I wanted to let you sleep but I'm getting ready to leave and I just couldn't get out of here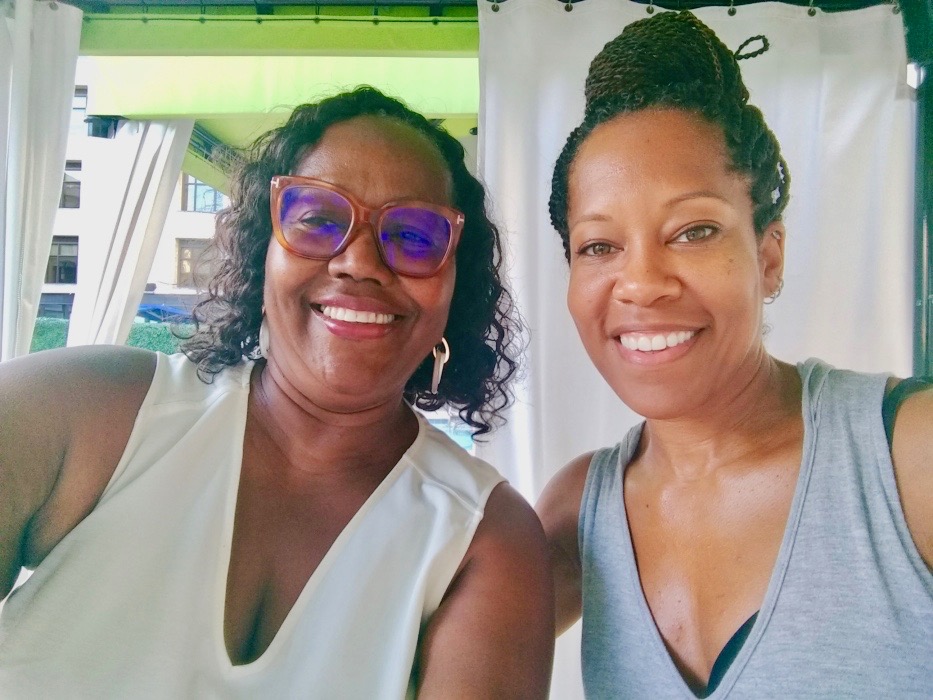 without telling you that you are a blessing to us and to the world. The impact that you have had on our community is enormous. It's an honor to be able to share this space with you, if even just for a minute." 
Then I asked if she wouldn't mind taking a selfie. She looked at me with that big smile and that sweet, sweet demeanor and said, "Sure."
I wanted to ask her more about her upcoming project, IF BEALE STREET COULD TALK which is based on the novel by James Baldwin, but in that moment I chose not to. I decided to let her do what writers do—work, write and sleep, repeat.
Now that I had my chance to speak briefly to and take a selfie with Regina King, my daughter and I hung out for a few more minutes before we left. As we were leaving, the man who got the picture with her first, called us over to his table of friends. We got to know each other better, laughed, chatted, shared stories and became a few black folks bonding on a rooftop restaurant over the brilliant actress.
Not only did I learn something about myself that night, but I got the chance to make new friends, and of course meet Regina King. 
Her latest film, IF BEALE STREET COULD TALK, comes out in theaters on November 30.
( Pictured above (L-R) "If Beale Street Could Talk" cast members Stephan James, KiKi Layne, Regina King, and the film's Academy Award-winning, director Barry Jenkins in the Essence.com press room (photo credit: Bennett Raglin /Getty Images).
---
By:  Gwen Pierce
Click here to keep up with us.  Subscribe with The Chocolate Voice!