"The success of life is determined by where you end, not where you start." Dr. Steve Perry
Dr. Steve Perry is on the fast track to becoming a household name.   World-renowned educator and the host of TV One's powerful new docu-drama, "Save My Son," Perry says the show is not just a television show, it's a movement!
Founder and Principal of Capital Preparatory Magnet School in Hartford, Ct. Perry currently travels the country working closely with families who are in desperate need of saving their troubled sons from the perils of street life.
Perry's no nonsense in your face approach addresses the truth that Black America is fighting an epidemic that has been plaguing our community for years.  Needless to say, far too many of our black and brown young men are locked up in prison, or even worse, dead from poor choices and bad influences.
In the series, Perry invites influential celebrity figures who have overcome struggles to help serve as mentors to young men who are on the edge of self destruction—who's families have done all but given up.
Among those who have made guest appearances on the show are: Steve Harvey, Ruben Studdard, Derek Anderson, Jalen Rose, Pooch Hall, Charles Barkley and Michael Jai White.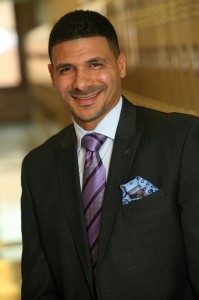 TCV: What inspired the creation of the powerful new series "Save My Son" on TV One, and what can viewers expect to take away from watching the show?  
SP: My participation in this series is due in large part to the fact that it was presented to me as an opportunity for us to do something bigger than television.  My interest has never been in doing more T.V. It's doing more good. When TV One and Powerhouse Productions presented me with an opportunity to do a show that would show people how to save their children, I jumped at it.
TCV: How has it been working with the network's approach to pairing male celebrity figures who have had similar challenges in their lives as mentors to young males?
 SP: It's a lot of fun because it provides the community and country the opportunity to meet people they feel they already know.  To watch Charles Barkley talk about his murdered brother is something that most people don't know about.  The episode featuring Michael Jai White is coming up next, and viewers are going to be blown away by what he shares.
TCV: Do you believe the public school system is doing enough to support all students, particularly African American males? 
SP: Nope, because public schools are designed as a group to prepare children for the nineteenth century, and so if we are going to send kids into the fields or factories, the current system would be adequate.  Four percent of the population makes its money off of agriculture, and a much smaller proportion makes its money off of manufacturing, therefore, school systems are outdated and under performing.
TCV: The Connecticut Collegiate Awareness Program you founded in 1998 was able to send 100% of its graduates to four-year colleges during the first six years of the program's existence.  What were some of the challenges in accomplishing this goal? 
SP: There is only one challenge and it's the adults.  It's the parents who didn't want to keep their kids in the program during the summer because they wanted to go to Florida for a couple of weeks instead of having them into a college preparatory program.  In addition, it's the adults in schools who are supposed to be Guidance Counselors, but the only guidance they seem to be providing is toward a lower trajectory for kids who are in a minority and poor.
TCV: That's really sad.
SP: Sad but true. The trouble with truth is when you get it, it makes everything else seem like a lie.
TCV: How would you say that your background has shaped you into who you are today?  
SP: Well, the opportunities that I've had to improve my life have all been rooted into education. I've seen too many people with whom I've grown up still struggling, earning high school wages, doing high school jobs all because they didn't have a good high school education. What separated me from them is that I was in the upward bound program which made it possible for me to go to college.  My mother didn't know how to get me into college, get me financial aid or support me once I got there.
TCV: So you are a first generation college student?
SP: Yes and third generation poverty that I know of.  My mother had me on her 16th birthday.
TCV: Would say that you are a self-motivated individual or is there someone that you would like to give credit to for helping you achieve your success?
SP: I don't know if there's anyone who truly self motivates, I think motivation comes from all over but for me, I primarily hated being broke.  Poverty was my motivator.  I grew up in an integrated community and I hated that black people were too often seen as inherently broke just because we were black.  I hated feeling like people thought they were better than me.
TCV: What advice would you give to a struggling student who has not received the help he or she needs at school or at home?
SP: Find someone who's in a position of authority who you can trust and do just that.  Many of the challenges that so many of our students face stem from the fact that they don't feel like they belong to anyone who they can trust and the people who they do trust aren't trust worthy.
TCV: You have been quoted as saying, "Seeing so many people give up based on circumstances of their upbringing inspired me to transform the lives of poor and minority students."  Any thoughts on the Prison Industrial Complex?
SP: The "Save My Son" series is about saving our sons, so in large part it's helping to keep our sons out of prison.
TCV: Headlines everywhere read, "Four more years!" Relating to President Barack Obama's second term in office, how would you say having an African American President in office for a second term will change the perception of those who perpetuate negative images of black males?  
SP: Well, I don't know if that in itself does, but I think it adds to the conversation.  I think having one more very positive image of the black community can help.  We all have to do our part.
Dr. Perry is founder and principal of Capital Preparatory Magnet School in Hartford, CT. The CPMS is designed to send children to college, and since its inception, 100% of its students have gone on to four-year colleges. His uncompromising, no-excuses approach to designing the ideal educational experience for children led to his being featured on CNN's documentary "Black in America" and from there to an official role as a weekly education contributor to the network.  Dr. Perry is also a contributing writer to Essence Magazine, and is the author of best selling books Man Up! and Push Has Come to Shove, and a highly sought after speaker for colleges and education forums around the country.
"Save My Son" airs on TV One Wednesdays 9/8 PM CT