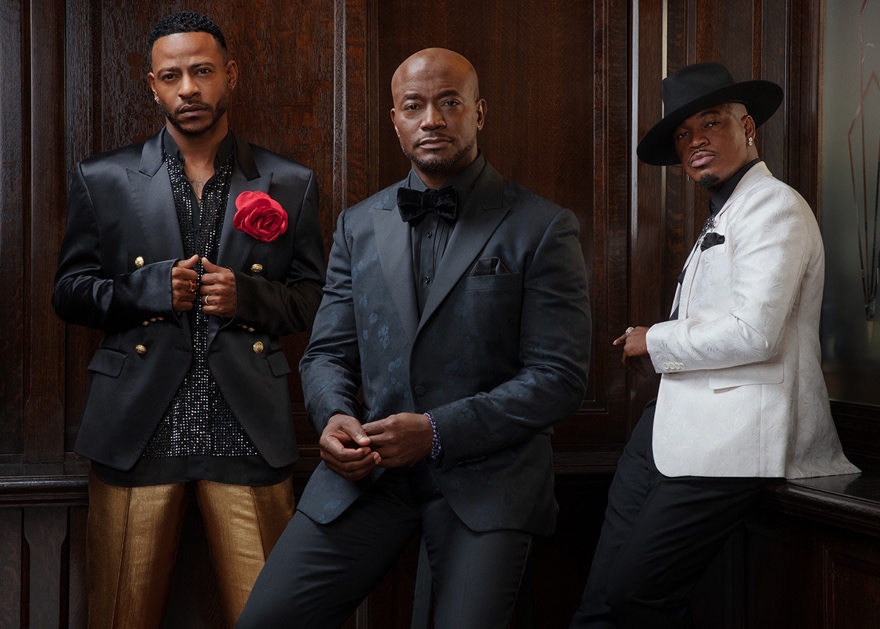 October 28, 2021 (Burbank, CA) ─ The CW Network announced today two original variety specials, THE BLACK PACK: WE THREE KINGS and THE BLACK PACK: EXCELLENCE, featuring the many talents of acclaimed film, television, and stage star Taye Diggs ("All American"), GRAMMY Award® winning singer/songwriter NE-YO and GRAMMY Award® winning R&B singer/songwriter Eric Bellinger as "The Black Pack." The multi-talented trio will be joined by a wide array of special guests and well-known personalities including Bre-Z ("All American") as well as singer/songwriters Tank, Sevyn Streeter and Jordin Sparks. THE BLACK PACK: WE THREE KINGS is set to make its debut on Monday, November 29 (8:00-9:00pm ET). The premiere of THE BLACK PACK: EXCELLENCE will be announced at a later date.
THE BLACK PACK: WE THREE KINGS and THE BLACK PACK: EXCELLENCE are tip of the hat to the enduring talent of the Rat Pack while remaining modern and full of joy. "The Black Pack" celebrates excellence and camaraderie through varied musical performances and lighthearted repartee while inviting audiences to snuggle close to those they love, laugh and sing along with classic music.
THE BLACK PACK: WE THREE KINGS is a holiday extravaganza of music, comedy and dance. "The Black Pack" hosts this celebration and exploration of this special time of year through a colorful and timeless lens. Classic holiday music, both new and old, is brought to life on a stunning stage as the audience is transported to the room where it is all happening to enjoy a new spin on an old fashioned Christmas.
"The Black Pack" returns to host their second special with THE BLACK PACK: EXCELLENCE. Celebrating Black excellence and culture with an irresistible blend of musical and dance performances, THE BLACK PACK: EXCELLENCE will feature a star-studded list of special guests commemorating Juneteenth as "The Black Pack" explores how to celebrate America's newly acknowledged national holiday while glorifying those that came before. "The Black Pack" also pays tribute to the iconic Sammy Davis Jr. and features a newly penned Juneteenth anthem.
THE BLACK PACK: WE THREE KINGS and THE BLACK PACK: EXCELLENCE are both produced by Magic Lemonade and executive produced by Taye Diggs, Shannon Stoeke and Rikki Hughes, who also serves as the showrunner of both specials.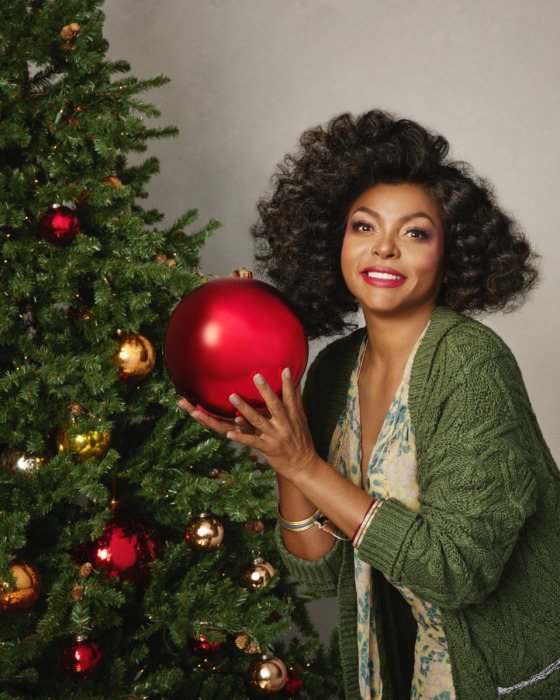 About Annie Live!
"The Sun'll Come Out Tomorrow" this holiday season as NBC has found its next live musical event: the beloved seven-time Tony Award-winning hit "Annie Live!"

Robert Greenblatt will executive produce the telecast along with Neil Meron, who has served as executive producer on all of NBC's live musicals since 2013's "The Sound of Music Live!," and most recently the Emmy Award-winning "Jesus Christ Superstar Live in Concert."

Robert Greenblatt brought live musicals back to NBC when he was Chairman and is responsible for some of the biggest hits on television over the last two decades. He is also an award-wining television and Broadway producer, the recipient of the Golden Globe and Peabody awards, two Tony awards, and two Olivier awards.

Neil Meron is the most prolific producer of musicals with former partner Craig Zadan, including the Oscar-winning "Chicago"; he received the Emmy for "Jesus Christ Superstar Live In Concert" and produced all of NBC's live musicals. He also produced "Gypsy" starring Bette Midler and a series of musicals for ABC/Wonderful World of Disney including the groundbreaking "Cinderella" starring Whitney Houston and Brandy.

Alex Rudzinski will once again take on the role as Live Television Director and Executive Producer as he did with "Hairspray Live!" and "Jesus Christ Superstar Live In Concert." His live musical credits also include "Grease Live!" and "Rent: Live," for which he won 3 Emmys.

"Annie Live!" will be directed by the award-winning Lear deBessonet. Artistic Director for New York's revival series, Encores, she is the recipient of an Obie Award and she created the popular Public Works program at the Public Theatre which produces community-engaged productions with as many as 200 performers.

Veteran choreographer Sergio Trujillo will choreograph the production. Recipient of the Tony award for "Ain't Too Proud" and the Olivier award for "Memphis," his credits also include hits "Jersey Boys" and "The Addams Family."

Paul Tazewell will design the costumes and Jason Sherwood the scenery. Tazewell is a veteran of two NBC live musicals, "The Wiz Live!" (Emmy award) "Jesus Christ Superstar Live in Concert" (Emmy nomination). He recently designed costumes for film Steven Spielberg's remake of "West Side Story" and is the designer of the iconic "Hamilton." Jason Sherwood is a two-time Emmy-winning production designer for "Rent: Live" and the 2020 Oscars, having worked extensively in television, in the live music space, and in all facets of theatre.

Stephen Oremus, two-time Grammy- and Tony-winning music supervisor and orchestrator, will head the music department for "Annie Live!" as he did for "The Wiz Live." His blockbusters credits include "Wicked," "Frozen," "The Book of Mormon," and Kinky Boots."

The live event is being produced by Chloe Productions.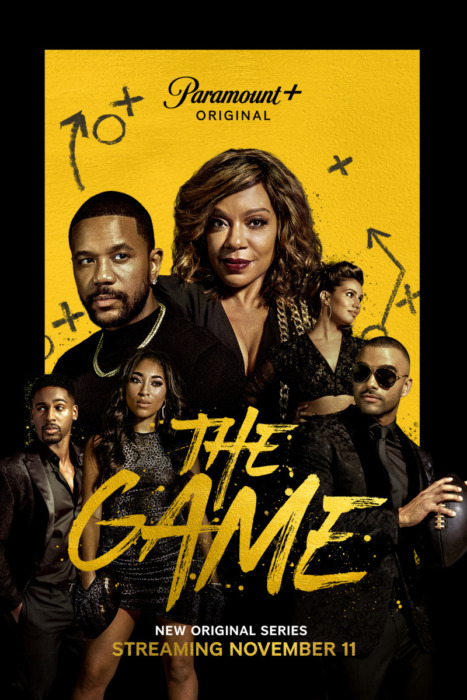 Paramount+, the streaming service from ViacomCBS, has just released the official trailer for its upcoming revival of the groundbreaking series THE GAME, debuting with a two-part premiere episode on Thursday, Nov. 11. Subsequent episodes of the 10-episode first season will drop weekly on Thursdays, exclusively on Paramount+.
Relocating from San Diego to Sin City, THE GAME returns with a mix of new players and original cast to offer a modern-day examination of Black culture through the prism of pro football. The team will tackle racism, sexism, classism and more as they fight for fame, fortune, respect and love – all while trying to maintain their souls as they each play THE GAME.
THE GAME stars Wendy Raquel Robinson ("Insecure") as sports agent Tasha Mack; Hosea Chanchez ("Black Lightning") as footballer Malik Wright; Adriyan Rae ("Chicago Fire") as Brittany Pitts, the daughter of Jason and Kelly Pitts; Vaughn Hebron ("Tyler Perry's The Oval") as Jamison Fields, an undrafted free agent; Analisa Velez ("Sneaky Pete") as Raquel Navarro, Brittany's best friend; and Toby Sandeman ("Power Book III: Raising Kanan") as Garret Evans, the top football player in the league.
THE GAME is executive produced by original show creator Mara Brock Akil, showrunner and writer Devon Greggory ("American Soul"), Salim Akil ("Black Lightning"), and original executive producer Kelsey Grammer ("Girlfriends") and Tom Russo ("Black-ish") of Grammnet NH Productions. Kevin Bray ("Insecure") will direct the first two episodes of the inaugural season. The series is produced by CBS Studios, Akil Productions and Grammnet NH Productions.
All nine seasons of THE GAME, which originally aired on The CW then BET, are also currently available to binge on Paramount+. The series will be distributed internationally by ViacomCBS Global Distribution Group.
Click HERE to Watch Official Trailer.
---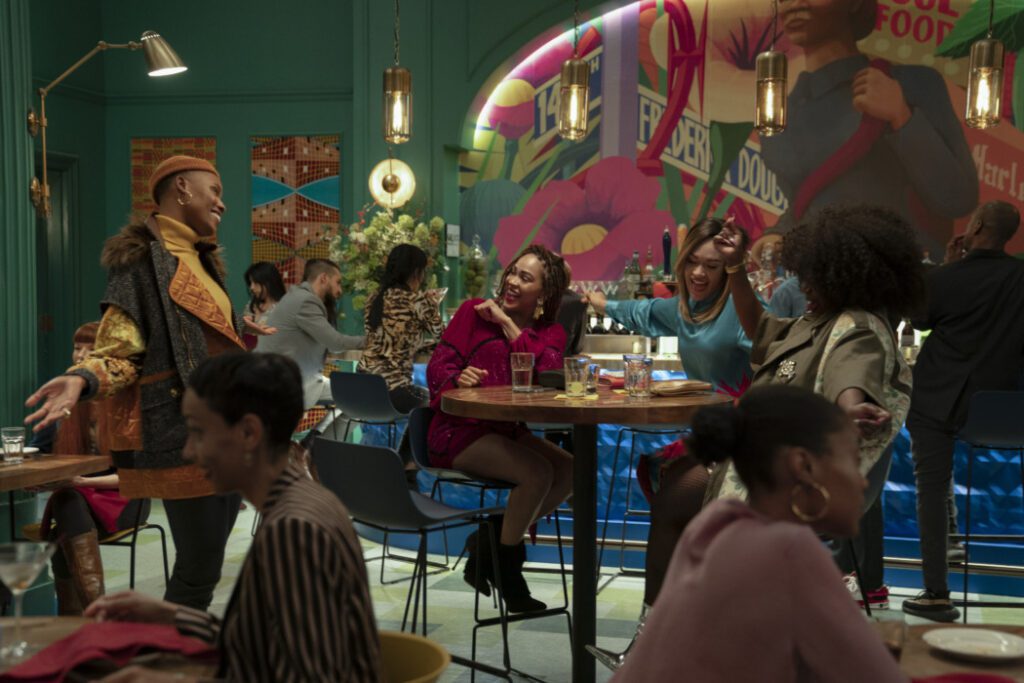 CULVER CITY, California—October 20, 2021—Season One of the comedy series Harlem, from Girl's Trip creator Tracy Oliver, will premiere Friday, December 3, on Prime Video, with the official first-look images out now. The 10-episode Amazon Original series will be available exclusively on Prime Video in more than 240 countries and territories around the world.
Created, written, and executive produced by Oliver, Harlem is a new single-camera comedy following four stylish and ambitious best girlfriends in Harlem, New York City: a rising star professor struggling to make space for her love life; a savvy tech entrepreneur always dating someone new; a no-filter singer; and a hopeless romantic fashion designer. Together, they level up into the next phase of their careers, relationships, and big city dreams.
The series stars Meagan Good as "Camille," Grace Byers as "Quinn," Shoniqua Shandai as "Angie," Jerrie Johnson as "Tye," and Tyler Lepley as "Ian." Additional recurring guest stars include Jasmine Guy as "Patricia," Whoopi Goldberg as "Dr. Elise Pruitt," Andrea Martin as "Robin," Robert Ri'chard as "Shawn," Juani Feliz as "Isabela," Kate Rockwell as "Ana," and Sullivan Jones as "Jameson."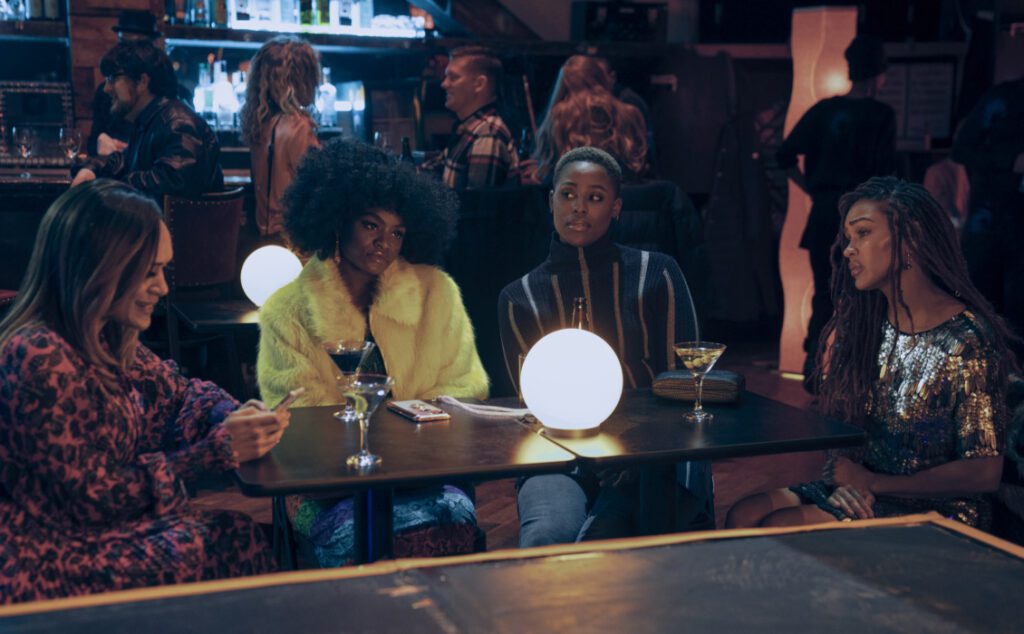 Harlem is produced by Amazon Studios and Universal Television, a division of Universal studio Group, in association with Paper Kite Productions. In addition to Oliver, Paper Kite's Amy Poehler (Russian Doll) and Kim Lessing (Moxie) also serve as executive producers alongside 3 Arts' Dave Becky (True Story) and 13-time Grammy Award-winner Pharrell Williams (Hidden Figures) and Mimi Valdés (Roxanne Roxanne) from i am OTHER. Malcolm D. Lee (Girls Trip) directed the first two episodes.
---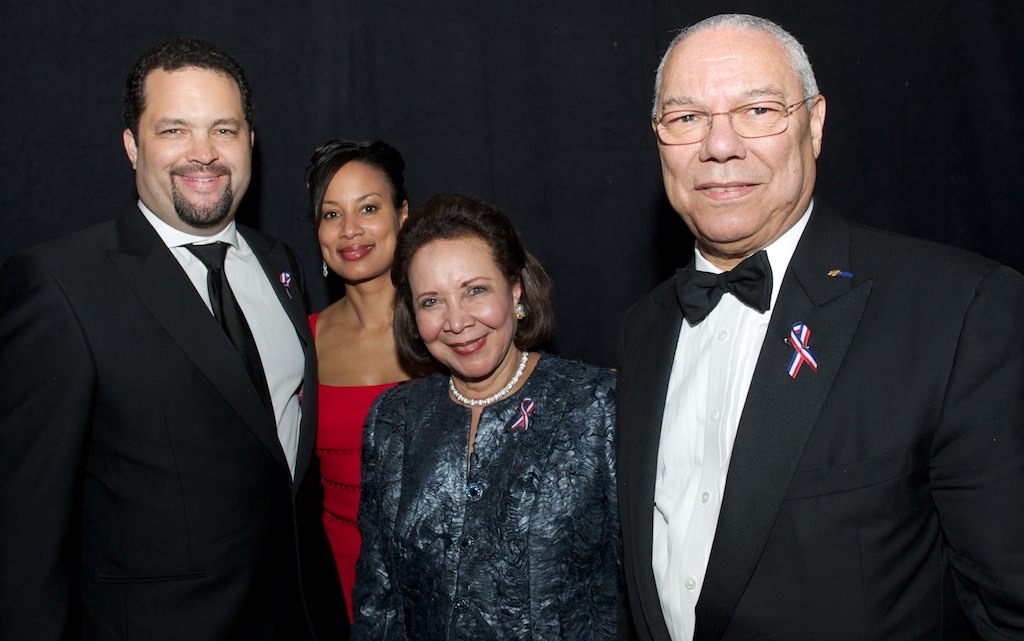 Colin Powell, a former secretary of state and retired four-star general, has died of COVID-19 related complications, his family said in a statement on Facebook.
Powell, 84, was born in New York City on April 5, 1937, in Harlem, a borough of Manhattan, to Jamaican immigrants, Maud Arial (née McKoy) and Luther Theophilus Powell. Hejoined the Army after graduating from the City University of New York. He died Monday at Walter Reed National Medical Center. His family said he was fully vaccinated against COVID-19.
"We have lost a remarkable and loving husband, father, grandfather and a great American," Powell's family said in its statement.
Mr. Powell was a trailblazer serving as the country's first African American national security adviser, chairman of the Joint Chiefs of Staff and secretary of state. He grew up in the South Bronx and after graduating from City College of New York, he joined the Army through the Reserve Officer Training Corps program. From a young second lieutenant commissioned in the dawn of a newly desegregated Army, Mr. Powell served two decorated combat tours in Vietnam. He later was national security adviser to President Ronald Reagan at the end of the Cold War, helping negotiate arms treaties and an era of cooperation with the Soviet president, Mikhail Gorbachev.
As chairman of the Joint Chiefs, he was the architect of the invasion of Panama in 1989 and of the Persian Gulf war in 1991 that ousted Saddam Hussein from Kuwait but left him in power in Iraq. Along with then-Defense Secretary Dick Cheney, Mr. Powell reshaped the American Cold War military that stood ready at the Iron Curtain for half a century. In doing so, he stamped the Powell Doctrine on military operations — armed with clear political objectives and public support, use decisive and overwhelming force to defeat enemy forces.
Once retired, Mr. Powell, a lifelong independent while in uniform, was courted as a presidential contender by Republicans and Democrats, and became America's most political general since Dwight D. Eisenhower. He wrote a best-selling memoir, "My American Journey," and flirted with a run for the presidency before deciding in 1995 that campaigning for office wasn't for him.
He returned to public service in 2001 as secretary of state to President George W. Bush, whose father Mr. Powell had served as chairman of the Joint Chiefs a decade earlier.
But in the Bush administration, Mr. Powell was the odd man out, fighting internally with Mr. Cheney, then vice president, and Defense Secretary Donald H. Rumsfeld for the ear of President Bush and foreign policy dominance.
He left at the end of Mr. Bush's first term under the cloud of an ever-worsening war in Iraq, and growing questions about whether he could have and should have done more to object to it.
He kept a lower profile for the next few years, but with just over two weeks left in the 2008 presidential campaign, Mr. Powell, by then a declared Republican, gave a forceful endorsement to Senator Barack Obama, calling him a "transformational figure."
Mr. Powell's backing drew sharp criticism from conservative Republicans. But it eased the doubts among some independents, moderates and even some in his own party, and allayed some voters' concerns about Mr. Obama's lack of experience to be commander in chief.
In 2019, he argued the party needed to "get a grip" of itself and change course. He said last year he would vote for Joe Biden in the 2020 election.
Our thoughts and prayers go out to the Powell family.
Powell is survived by three children, two grandchildren and his wife, Alma. 
---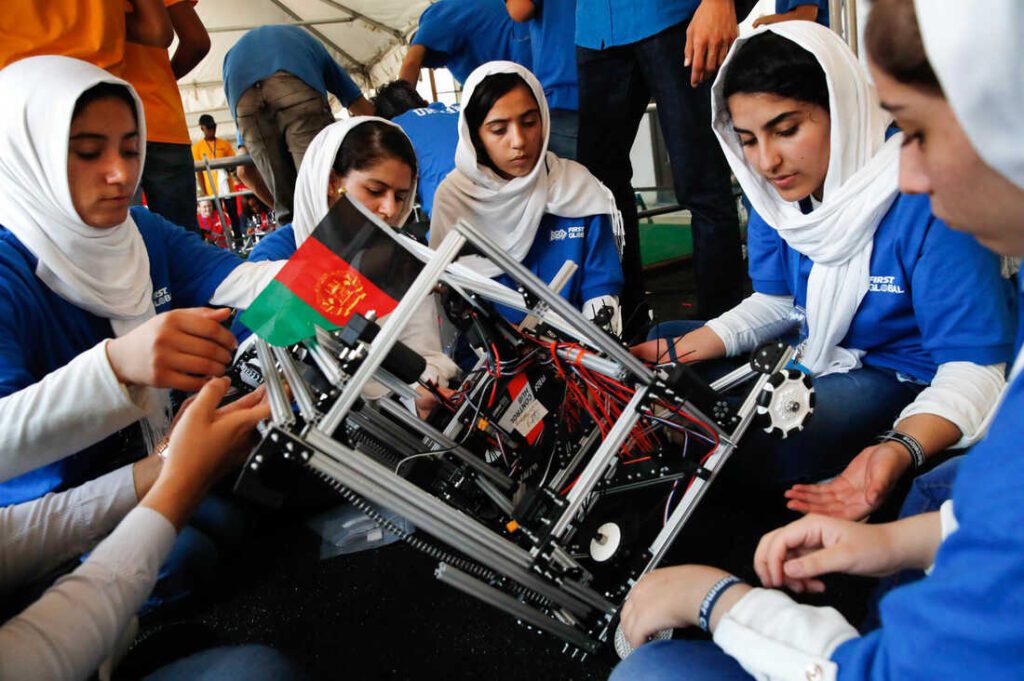 ‍NEW YORK – NowThis, the no.1 news brand on digital [Tubular Labs, March 2021], OWN: Oprah Winfrey Network and Vital Voices Global Partnership announce the return of the successful event franchise NowThis NEXT. This year's event, NowThis NEXT Presents: Yes We Did! The Vital Voices of 2021, will shine a spotlight on the critical role women leaders play in creating a more equitable and just world for us all. The second annual NowThis NEXT will touch on the most pressing issues women are facing right now, including: mental health, racial justice, climate justice, women and girls' rights around the world with a special focus on Afghanistan. The show, hosted by NowThis Producer and Correspondent Luria Freeman will feature legacy changemakers, celebrities, and thought leaders including Secretary Hillary Rodham Clinton, Oprah Winfrey, actress and activist Eva Longoria, actress Kristen Bell, Vital Voices Global Partnership President and CEO Alyse Nelson, actress Nicole Maines, singer, dancer, and actress JoJo Siwa, actress Garcelle Beauvais, actress and singer Skye Dakota Turner, author, podcaster, and purpose coach Jay Shetty, and singer-songwriter MILCK as they amplify the voices of inspiring women in the Vital Voices global network who are solving the world's greatest challenges.
The special will be opened by Oprah Winfrey and will feature remarks from Secretary Hillary Rodham Clinton, as well as a powerful interview with Clinton and an Afghan woman leader who will share her story. This year's honorees include poet and activist Amanda Gorman, racial justice activist Chelsea Miller and youth climate activist Xiye Bastida. The Afghan Girls Robotics Team will also address attendees in a very special moment and call to action.
NowThis NEXT Presents: Yes We Did! The Vital Voices of 2021 will premiere on Monday, October 25 at 8PM ET on OWN and simultaneously on nowthisnext.com, and live on NowThis' Facebook, Twitter, YouTube, Instagram, and TikTok channels, with P&G serving as the special's presenting sponsor. Additional partners include Barbie in support of their Dream Gap Project initiative, Sephora, and Moderna. Alongside NowThis, the special's executive producers are Frank Garritano of Show Shop, Marta Ravin, and co-executive producer Wendy Shanker.
"Innovative coverage of women's rights and equality continues to be incredibly resonant for the passionate and socially engaged NowThis audience," said NowThis president Athan Stephanopoulos. "Following the success of last year's event, we are thrilled to not only partner again with Vital Voices to connect our audience with inspiring new women leaders, but to also build on our partnership with OWN and bring this program to an even wider audience."
"Vital Voices and its mission, to invest in women leaders solving the world's greatest challenges, has never been more important — especially as we are watching the rights of women and girls in Afghanistan evaporate," said Alyse Nelson, president and CEO of Vital Voices Global Partnership. "We value this collaboration with NowThis and OWN that illuminates the Vital Voices network of 18,000 change makers across 184 countries, each of whom are daring to reimagine a more equitable world for all."
"Our work with Vital Voices supports women leaders who are working to solve great challenges and create a more equal world," said Marc Pritchard, Chief Brand Officer, P&G, and member of Vital Voices' Board of Directors. "Renewing our partnership with NowThis and Vital Voices and welcoming OWN, who's joined in for this outstanding event, will help us support the next generation of leaders and continue to uplift women changemakers and their communities."
"NowThis NEXT has become NowThis' premier franchise thanks to P&G's presenting sponsorship and Vital Voices' decades-long work to empower women leaders," said Group Nine Chief Revenue Officer, Geoff Schiller. "The power of NowThis' influential platform has grown exponentially with each passing year, and will undoubtedly continue to be a destination for brand partners who want to connect with our massive global audience, in 2021 and beyond."
NowThis' wide-reaching platform racks up billions of monthly views. The inaugural NowThis NEXT celebrating women's thought leadership garnered over 12M views. In addition to featuring speakers on issues like COVID-19, the climate crisis, women's rights, and racial injustice, this year's special will once again call on NowThis' large audience to participate in donating to Vital Voices and social calls to action.
About NowThis:
NowThis is the #1 mobile news brand in the U.S. [Nielsen DCR, June 2020]. They have a singular mission: to make news engaging and relevant for young adults by humanizing our complicated world. By providing insightful context from a youth perspective, NowThis has revolutionized how news is consumed today. Launched in 2012, NowThis' entertaining, inspiring and informative videos are created for a mobile generation and receive over 2.6 billion monthly views [platform analytics, June 2020]. In December 2016, NowThis joined forces with Thrillist, The Dodo and Seeker to form Group Nine Media — the #1 video publisher on mobile in the U.S. [Nielsen DCR, June 2020].
About OWN: Oprah Winfrey Network:
OWN: Oprah Winfrey Network is the first and only network named for, and inspired by, a single iconic leader. Oprah Winfrey's heart and creative instincts inform the brand and the magnetism of the channel. OWN is a leading destination for premium scripted and unscripted programming from today's most innovative storytellers. OWN connects with its audience wherever they are, inspiring conversation among a global community of like-minded viewers on social media and beyond. Launched on January 1, 2011, OWN is a joint venture between Harpo, Inc. and Discovery, Inc. The venture also includes award-winning digital platform Oprah.com. Access OWN anytime on Watch OWN and discovery+ across mobile devices and connected TVs.
About Vital Voices:
Vital Voices Global Partnership invests in women leaders who are solving the world's greatest challenges. We are "venture catalysts," identifying those with a daring vision for change and partnering with them to make that vision a reality. We scale and accelerate impact through long term investments to expand skills, connections, capacity and visibility. Over the last 22 years, we have built a network of 18,000 change makers across 184 countries who are collectively daring to reimagine a more equitable world for all.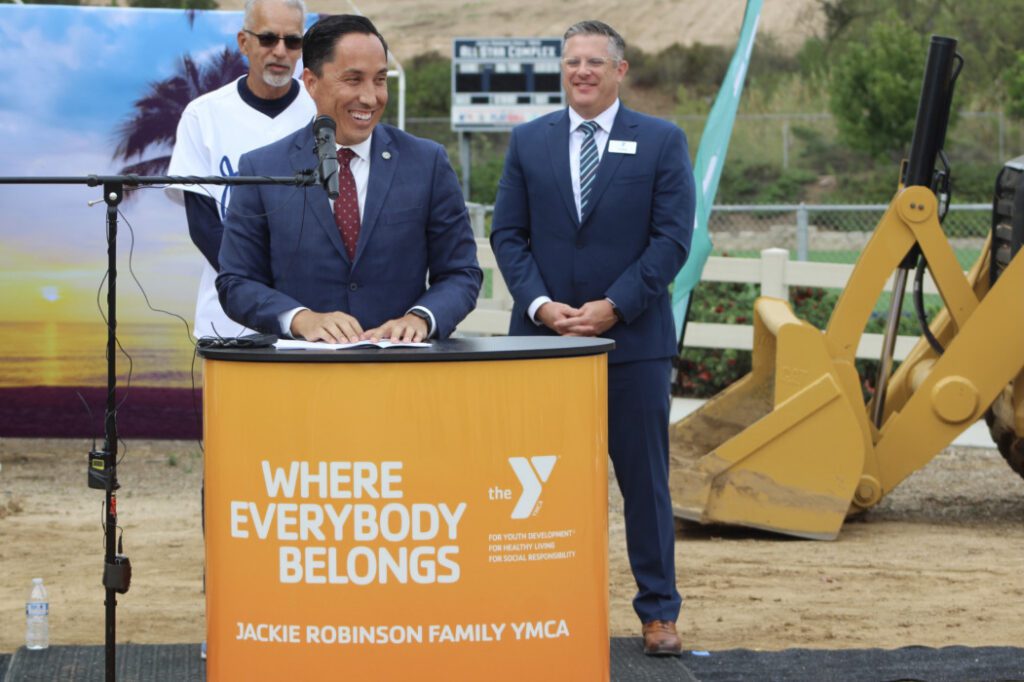 (San Diego, CA) The highly anticipated second phase of the total renovation of the Jackie Robinson Family YMCA, which will include an aquatic center with a 6-lane, 25 yard pool and a family splash pad, area took a giant step closer to reality on Thursday, October 7, with a groundbreaking ceremony at 151 YMCA Way in Southeastern San Diego.
A crowd of approximately 75, community donors, elders and YMCA supporters gathered to hear representatives talk about the benefits of having an aquatic center in the community that will offer— swim lessons and water safety, family swimming, rehabilitation and fitness, competition and all around fun.
Key community leaders that joined in the celebration included—Master of Ceremonies, Michael Brunker, Anna Arancibia, Executive Director, Jackie Robinson YMCA, YMCA CEO Todd Tibbits, California Secretary of State, Dr. Shirley Weber, Mayor Todd Gloria, City of San Diego, Assemblymembers, Lorena Gonzales, Dr. Akilah Weber, Councilmember, Monica Monica Montgomery Steppe, Dee Sanford, Board Member, Greg Hunter, Chairman of the Board, Jackie Robinson Family YMCA, Bevelynn Bravo, Member of the Jackie Robinson Family YMCA , and Amos Johnson, Rev. Pastor Emeritus of New Creation Church and Member of the Jackie Robinson Family YMCA.
Also in attendance to celebrate the momentous event in celebration of the new community asset was longtime San Diego public servant Leon Williams, who recently turned 99 years old.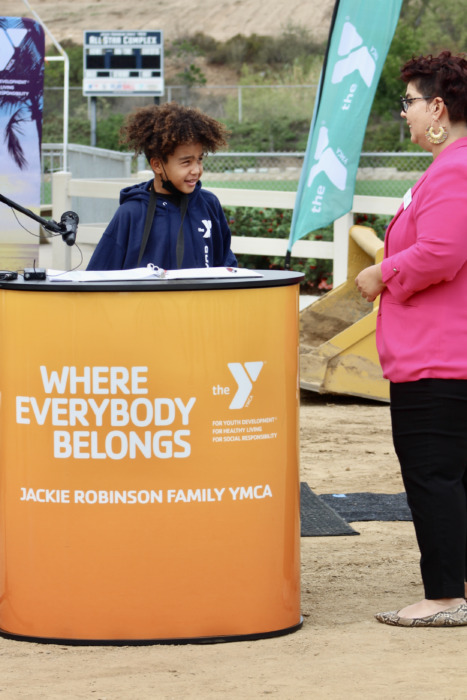 "We can create something that we don't really have here in San Diego, which is a diverse swim team. The ability to go to a swim meet and see other people that look like you, is rare. And I can say that from experience. This is really going to be a life changing thing in our community." Said Dr. Akilah Weber
Phase One of the 19-month, from-the-ground-up 28 million renovation was completed in the fall of 2017.
---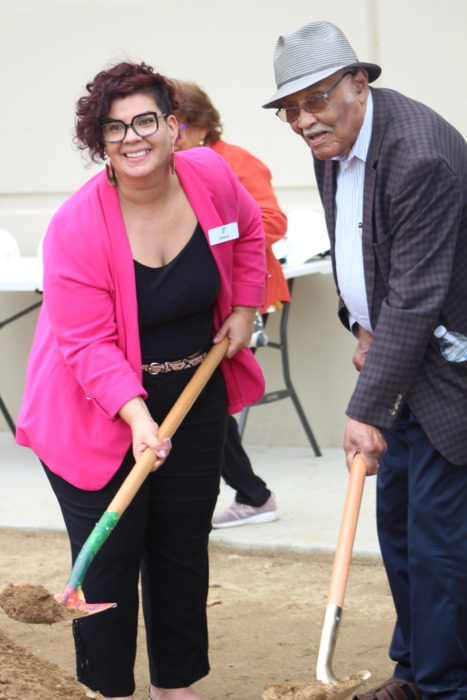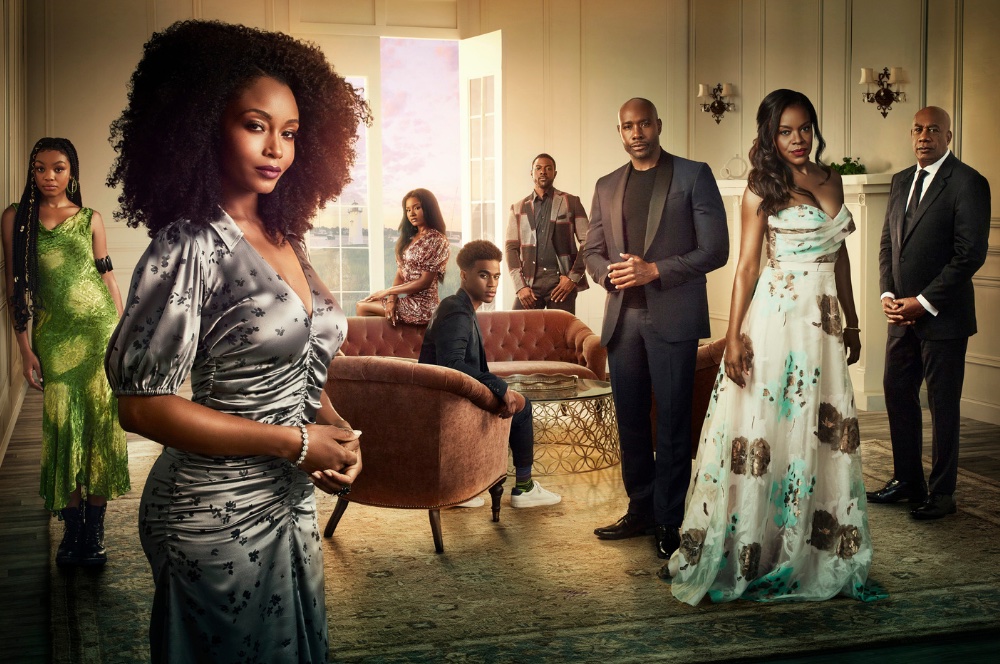 "Chocolate, does, melt in the summer?"
That line in episode one is quite fitting considering that gorgeous cast in Fox's juicy new drama, "Our Kind of People."
Aside from all of the chocolaty goodness and eye candy on screen, the series gives out "Inkwell" (Matty Rich) and Greenleaf (Craig Wright) vibes which explores Black Excellence in all of its ups and downs, blended with deep dark family secrets, revolving around classism, money, legacy, power, generational wealth, historical struggles, all from a vantage point of the Black elite.
What makes "Our Kind of People" work, is that it explores the Black experience not as one-dimensional, as we as Black folks are often portrayed.
Social status groups with exclusive memberships i.e., Jack & Jill, Black Greek Organizations, Black Boule are all highlighted in this new series by writing team Karen Gist (Mixed-ish) and executive producer Lee Daniels (Empire).
The writers do a great job as they set out to allure audiences into a world of social status amongst the bourgeois, in the Martha's Vineyard town of Oak Bluffs.
Episode one starts out with a family in mourning over the death of Evelyn Vaughn, a single mother and hair entrepreneur who instilled a sense of pride in her daughter, Angela Vaughn (Yaya DaCosta), who's relocated from Boston to Oak Bluffs with her daughter Nikki (Alana Bright), and aunt, Patricia aka Piggy (Debbi Morgan), with plans to open up a pop-up shop and settle into the house that was left behind in Evelyn's name and transform it into a natural Black hair mecca.
The edgy new series centers on the Dupont and Franklin legacy driven families, old Black money, the upper class of the community, who's main goal is to remain in power, no matter what cost.
Business entrepreneurs, Raymond Dupont (Morris Chestnut) is married to Teddy Franklin's (Joe Morton) daughter Leah, played by (Nadine Ellis), are characters that are all key to the development of the series. Morton as he did as Papa Pope in the hit show Scandal adds so much to the storyline. The series also stars Lance Gross as Tyrique Freeman, Angela's love interest.
The show is an adaptation of Lawrence Otis Graham's 1999 novel Our Kind of People: Inside America's Black Upper Class.
Audiences, Black audiences in particular will see that representation does matters.
---
"Our Kind of People" will debut on Fox on Tuesday September 21, 2021 at 9 p.m. ET (8 p.m. CT), and the show will then air weekly on the channel until October 19.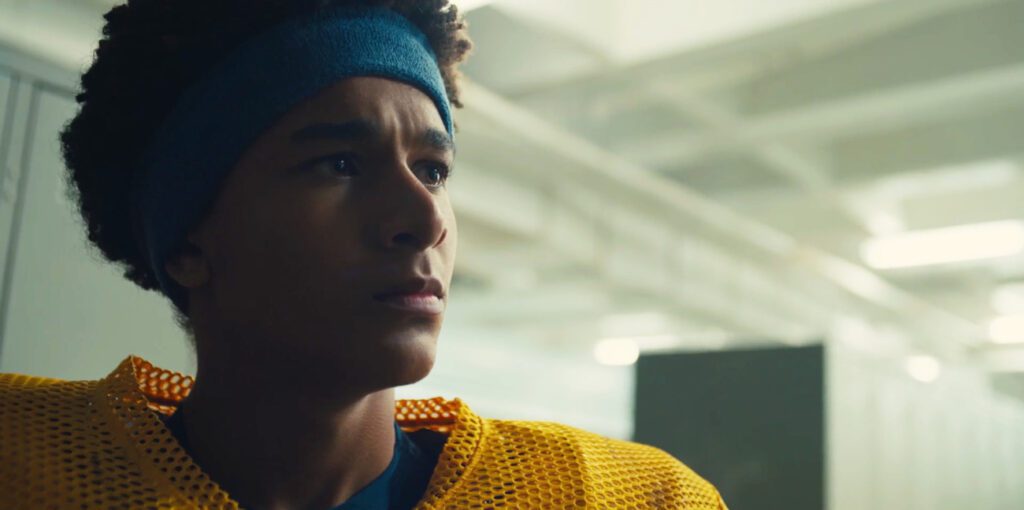 From co-creators Ava DuVernay and Colin Kaepernick comes Colin in Black & White, a bold new limited series that chronicles Kaepernick's coming of age story, tackling the obstacles of race, class and culture as the Black adopted child of a white family.
Colin in Black & White stars Jaden Michael as Young Colin before reaching the highest levels of American football as an NFL quarterback and becoming a cultural icon and activist; Nick Offerman and Mary-Louise Parker as his well-meaning parents Rick and Teresa; and Colin Kaepernick himself, who appears as the present-day narrator of his own story, guiding viewers through a robust and colorfully presented array of historical and contemporary contextual moments.
You don't know Kaepernick until you know Colin.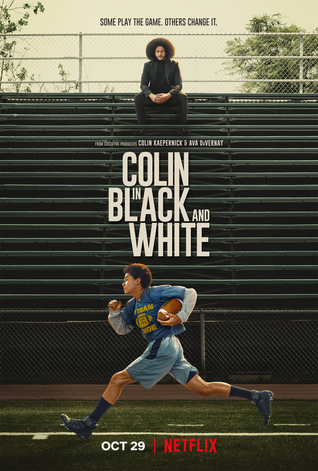 Limited Series Launch Date: October 29, 2021
Format: 6 x 30 minute episodes
Co-Creators: Ava DuVernay & Colin Kaepernick
Directors: Ava DuVernay (Episode 101 and all of the present-day Colin Kaepernick scenes), Sheldon Candis (Episode 102), Robert Townsend (Episodes 103 and 104), Angel Kristi Williams (Episode 105), Kenny Leon (Episode 106)
Executive Producers: Ava DuVernay, Colin Kaepernick, Michael Starrbury
Cast: Jaden Michael, Mary-Louise Parker, Nick Offerman, Colin Kaepernick
Watch & Link to Teaser Trailer Here.
---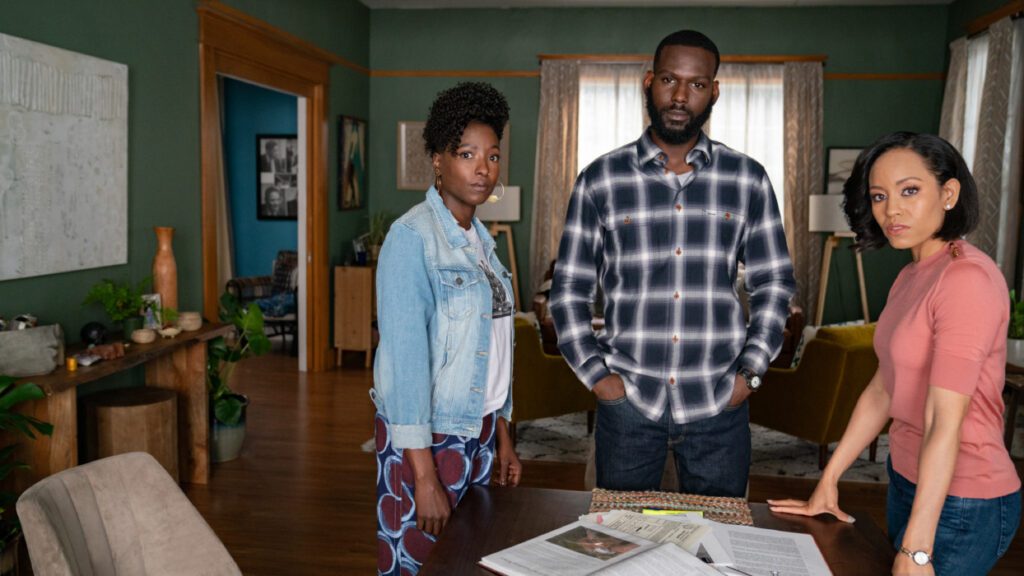 OWN: Oprah Winfrey Network announced today the acclaimed contemporary drama series "Queen Sugar," created and executive produced by filmmaker Ava DuVernay ("When They See Us," "Cherish the Day"), returns Tuesday, September 7 at 8 p.m. ET/PT on OWN.
In anticipation for the series return, the season six trailer was unveiled, showing glimpses of the Bordelon family reclaiming their lives coming out of the pandemic. As Ralph Angel (Kofi Siriboe) and Darla (Bianca Lawson) plan the arrival of their new baby, Nova (Rutina Wesley) continues to speak out against political corruption and Charley (Dawn-Lyen Gardner) faces a life-altering decision. Throughout the season, we witness the joy amid the struggle and humanity's ability to persevere through whatever life may bring.
In continuing the creative vision DuVernay established in season one of hiring an entirely female directorial team, season six includes five filmmakers making their television directing debut. The "Queen Sugar" season six directorial line-up includes: Bertha Bay-Sa Pan, Carmen Marrón, Cierra Glaude, Keisha Rae Witherspoon, Marie Jamora, Shari L. Carpenter, Shaz Bennett and Stephanie Turner, with Lisa France upped to serve as producing director. This upcoming season marks 42 female filmmakers the series has hired since 2016, 39 of whom are first-time television directors.
"Queen Sugar" was recognized by the Television Academy Honors for its powerful portrayal of an African-American family in the Deep South that sheds light on complex issues and challenges facing our society. This year, Emmy Magazine featured the series as the cover of the March 19 issue, and the African-American Film Critics Association (AAFCA) honored the series with the 2021 Impact Award for tackling the Covid crisis in the Black community, proving how television can be both compelling while also serving the greater public good, along with awarding the series with both Best TV Drama (for the fourth consecutive year) and Best Writing. Additionally, the series has been awarded the NAACP Image Award for Outstanding Drama Series and nominated as Television Show of the Year by the American Black Film Festival (ABFF). During its most-recent season, "Queen Sugar" ranked #1 in its Tuesday 8-9 p.m. time period across broadcast and cable with African-American W25-54, W18+, Households and total viewers.
"Queen Sugar" is produced for OWN by ARRAY Filmworks and Harpo Films in association with Warner Bros. Television. The season six executive producers are Ava DuVernay, Oprah Winfrey, Paul Garnes and Anthony Sparks. The series is based on the book by Natalie Baszile.
The first four seasons of "Queen Sugar" are available to stream exclusively on Hulu. 
Check out trailer below:
About "Queen Sugar" Season Six
From award-winning filmmaker Ava DuVernay ("When They See Us"), the contemporary drama "Queen Sugar" returns as newlyweds Ralph Angel (Kofi Siriboe) and Darla (Bianca Lawson) prepare to welcome a new baby while struggling to make financial ends meet. Nova (Rutina Wesley) reaches her breaking point while continuing to expose police and political corruption, and finds unlikely support from a new neighbor, Dominic (McKinley Freeman). Charley (Dawn-Lyen Gardner) explores political opportunities on a national scale as she navigates reconnecting with ex-husband Davis West (Timon Kyle Durrett), while her son Micah (Nicholas Ashe) grapples with college life amid the lasting effects of PTSD and growing confusion over a relationship with his new fraternity brother (Marquis Rodriguez).
The expansive cast also includes the family's matriarch Aunt Violet (Tina Lifford), who finds herself keeping a secret from her family as her husband Hollywood Desonier (Omar J. Dorsey) opens a space for Black men to come together and talk about more than just surface level topics. Meanwhile, longtime family friend and local farmer Prosper Denton (Henry G. Sanders) has an altercation with cops that lands him in the hospital, spurring his daughter Billie (Tammy Townsend) to return home for the first time in 20 years, creating explosive tension among the Bordelon family as long-held resentments are brought to light.