Get Ready for Thanksgiving meal with a sweet potato recipe.
This recipe is from personal chef, Shawn Kramer-Sisson. The Indian spices in this dish may add an interesting flavor to this holiday favorite. I recommend adding allspice as a substitute for Garam Masala because it might not be sold in all supermarkets, and allspice is an ingredient of the spice mix:
Curried Baked Sweet Potatoes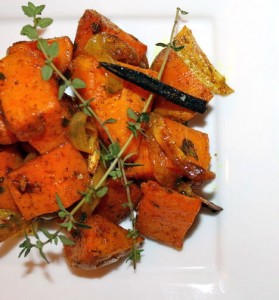 1 lb. Sweet potatoes, washed but not peeled
1 tbs. Curry
½ tbs. Garam Masala or Allspice
6 tbs. Butter or margarine, 2 reserved
4 tbs. Cream
1 tsp. Baking powder
2 tbs. Brown sugar, agave, Splenda, or maple syrup
Directions: Preheated oven to 350 degrees. Chunk potatoes into 1′ cubes, and place into a large pot. Cover with cold water, and bring to a boil over high heat. Cook potatoes until tender, about 30 minutes. Drain water. Add curry, garam masala, 4 tbs. Butter or margarine, cream, and baking powder and mix with stick or hand blender until smooth. Put mixture into a square, 3″ deep baking dish and spread evenly. Mixture should come about ½ inch from top of dish. In separate small bowl, melt remaining butter and mix with desired sweetener. Spoon over potato mixture, and place in oven at 350 degrees for 30 minutes or until golden brown.
Stay tuned for more sweet and savory holiday dishes with a twist.
Recipe contributed by Charles DeJesus, formerly a culinary specialist in the United States Navy.
Charles DeJesus is a student at Southwestern College in Chula Vista, CA. Charles developed a passion for good food while serving time in the Navy.  Charles is a recording arts major, who says he's excited to work on his two passions:  Food and Music.