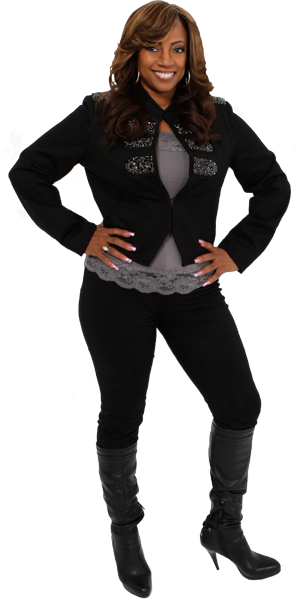 The original "It Girl" Thelma of Good Times, featured on TV-Ones Life After.
BernNadette Stanis warmed her way into the hearts of Americans as Thelma, on the popular African American family sitcom Good Times. Millions tuned in weekly to watch the beautiful girl with the sassy personality and the infectious smile—the middle child of James and Florida Evans.
Stanis, all grown up, will soon be featured on TV-One's popular series Life After in which she will reveal some of her personal tragedies and triumphs and life after her work on the ground-breaking series Good Times.
In a phone interview with The Chocolate Voice, the vibrant Brooklyn native spoke candidly about being a part of one of the longest-running and first African American sitcoms in history.
_____________________________________________________________
How did you get your start into acting?
 I was always a dancer first.  I performed in a lot of dramatic dances while taking classes at my local community center in Brooklyn, which eventually sparked my interest in acting.
Tell us how "Good Times" came about?
I was in a beauty pageant when a manager approached my mother and said to her, that I look like I would fit the part for a show they were creating and asked permission for me to audition.  She agreed, and I went on the audition where there were 1,000's of young girls auditioning.  Norman Lear and Jimmy Walker were both there.  It was my first audition. I got the part of Thelma, which was my first role and, "Good Times" became the first sitcom with an all black cast. Everything was a first.  From there, I went on to audition for school at Julliard, and got in!
What was your experience like at Julliard?
Oh, it was awesome!  I learned a lot and was thrilled to be apart of that experience. I was taught under the guidance of John Houseman (founding director of the Drama Division at Julliard) who was wonderful! At Julliard they emphasize diction, speech and so many wonderful things! Everyone who goes there is talented so, they're not easily impressed.  They are more so impressed with developing the character, which will then carry the talent. 
What was your experience like working with "Good Times?"
Another wonderful experience!  All the actors on set were professionals. I was the rookie. I learned a lot from both John Amos and Esther Rolle.  Originally, the writers wanted Florida's (Esther Rolle) character portrayed as a single black mother with no father figure in the home.  She spoke up to the writers by saying that was not an accurate portrayal of black family life. She refused to do the show unless a father figure was written in.  She told the writers that, she was raised in a household with both parents as well as many black families around the world. That's what she fought for and, that's what she made sure happened. We owe our thanks to Esther, for insisting on "Good Times" as a show that reflected a positive black family image. 
God bless her soul.  Do you still keep in touch with your fellow actors from "Good Times?"
Yes, I still keep in touch with everyone.  About a week ago, Jimmy Walker and I did a book signing in Brooklyn for his new book, "Dynomite."
Did you have any idea that the show would have such an impact on television? 
I had no idea that the show would turn into what it has become today. People love it!  To this day, many people say to me, "I'm turning my children and my grandchildren on to '"Good Times."' I figured the show would last for a little while and, then go away.   It was a ground-breaking material. We were the first black family show that so many people could identify with and, that's why it's so amazing that 30 something years later it's still popular.
What differences do you see in current black sitcoms that you didn't see during the 70s?
Well, what I see now is stereotypical. Everything is on the surface and, more slapstick.  Back then we developed the character.  We built our characters around solving problems.  We dealt with real issues and strong subject matter: Hypertension, child abuse, drug dependency and pregnancy.  We never shied away from the real deal. Today, story lines are predictable and not well written.
Most would describe Thelma's character as innocent but sexy. How do you feel about the images of black females being portrayed on Reality TV?
 I think it's sad that we have to go through such extremes to get an audience.  I see and hear what they say about each other and how they treat each other and, it's just so sad that such pretty women tear each other down like that.  The content is just sad and unnecessary.  Why don't we have reality shows out there about, young black women going through law school or medical school instead of what's currently being promoted out in the world.
Sounds like a great pitch to make to television executives.  What types of shows do you currently watch?
I love any kind of home makeover shows; I like King of Queens and I.D. A show about real criminals who get caught. (Laughs)
You're also an author. In your book Situations 101 Finances: The Good, the Bad and the Ugly, what advice would you give to today's up and coming actresses in the business?
Well, that's so touchy because, in our world when you're waiting around for acting jobs, it's not consistent.  I say, always have something else that you can do during down time; whether it's a teacher, a painter or a writer do something else.  It's very difficult to live your life waiting for a call.  You need a lot of support to be an actor these days.
Did you have any role models in the entertainment industry?  No, not really.  I used to dream about "That Girl." I love her (Marlo Thomas) and I love the character! I talk more about that on the upcoming episode of Life After. 
BernNadette Stanis shared that she loves everything about the arts. She is currently performing in the two-act, two-character comedy stage play Willie & Esther in Birmingham, Alabama.  She is the author of three books entitled: Situations 101: Relationships The Good, The Bad & The Ugly and, Situations 101 Finances: The Good, the Bad and the Ugly, and For Men Only, a collection of her poetry dedicated to all the men who showed her "love" throughout her career.
BernNadette is married to her husband of 31 years, Kevin Fontana.  They are the parents of two daughters ages, 17 and 25.  In her spare time, she enjoys painting and singing.
Be sure to catch BernNadette Stanis, in the season premiere of  TV-One's "Life After" on Monday, October 8, 9 p.m. EST.