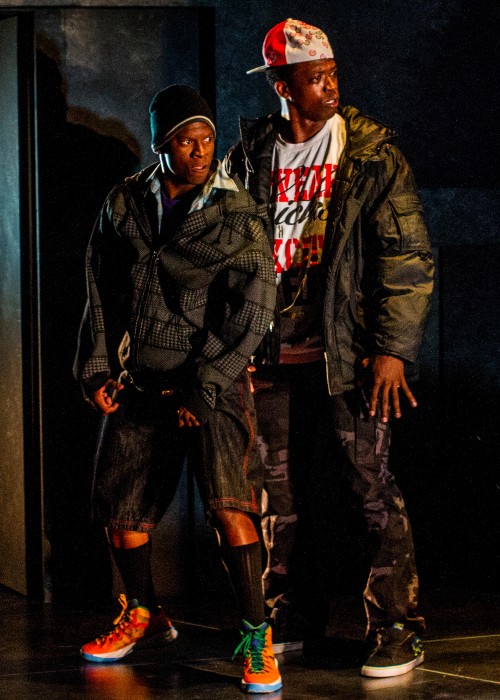 Clearly taboo, derogatory terms for "white people" such as, Cracker, or Honky, which by the way haven't been used in years,  at least not in "color-blind" circles, is just not cool.
You have to admit phonetically, the word honky sounds funny.
Perhaps this is how playwright Greg Kalleres felt when he decided to create a play titled "Honky."
Making its Southern California premiere at the San Diego REPertory Theatre, "Honky" is a hilarious stage play.  Inspired by his experience as a writer of TV commercials, Kalleres' uses comedy to explore power dynamics in the consumerism of sneakers, and marketing to black teens.
The word "Honky" most commonly described as Black vernacular is a term used to negatively describe white people.  Late comedian's Redd Foxx and Richard Pryor would often refer to white characters as "Honky."
Directed by Sam Woodhouse, the 100 minute satire, begins with the shooting death of a young black teenager over a pair of "Sky Max" basketball shoes.
The premise of the play is to address White privilege, exploitation and, interracial relationships using comedic characters to address culture sensitivity.  Kalleres smartly uses conversations and misunderstandings about race, leading the audience to acknowledge what is deemed offensive.
The entire cast is made up of talented actors, with standout performances from Jaque Wilke (Andie) as the humorous, no filter blonde who says whatever comes to her mind and, the versatile DeLeon Dallas who performs two characters as Kid 1 and, a foul mouthed prominent historical figure perceived as Frederick Douglas, who enters in the scene where Davis, played hysterically by James Newcomb, takes Driscoll, a pill invented to cure racism.
A witty take on race relations, "Honky" keeps its audience laughing from start to finish.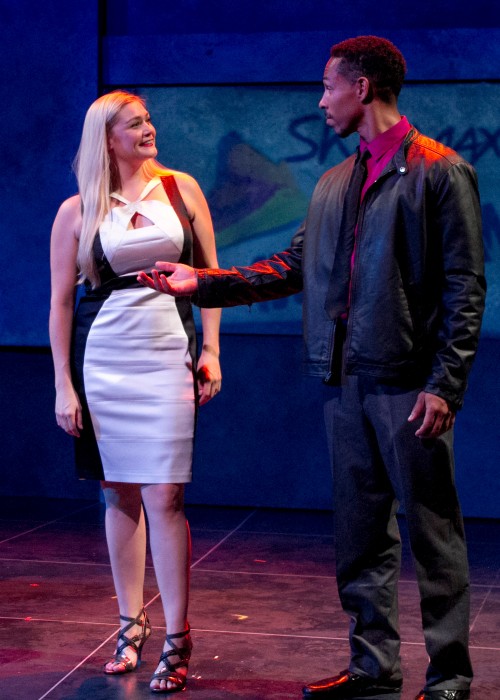 Honky" continues through December 7, at San Diego Repertory Theatre's Lyceum Space , 79 Horton Plaza, San Diego, CA (619) 544-1000, sdrep.org