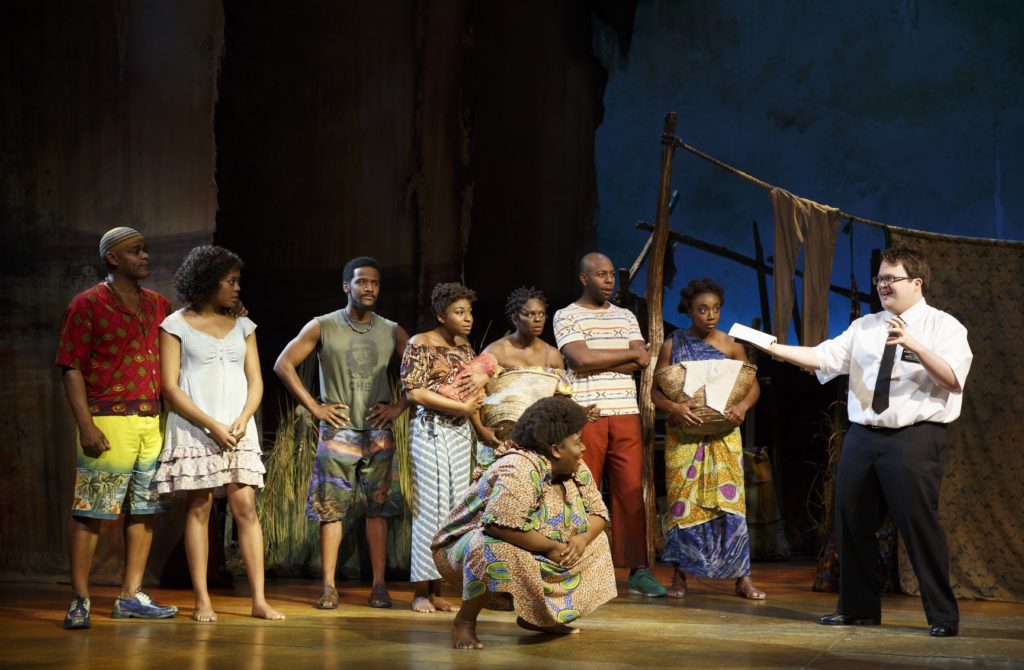 Ensemble cast of "Book of Mormon" Photo credit:  Joan Marcus
When I first decided to check out "The Book of Mormon," I heard these words. "It's offensive. Are you sure you can handle it?"
I thought to myself, 'who me?'  Do I appear to be that much of a prude?  I was advised that if I went to the play, it's imperative that the person who went along with me, is  someone who could handle the offensive language, particularly as it pertains to religion.
My thoughts after being warned is, that any theatre production that wins nine Tony Awards, is worth at least giving it a shot. That said, I handled it just fine, and so did my careful consideration of a friend.  Oh my God, we both agree that the show is extremely funny!
Everything we'd heard about The Book of Mormon is true. It's blasphemous, raunchy, offensive, vulgar and, yes, downright hysterical. And, the talent is incredible!  The singing, the choreographed African rhythmic dance moves, we enjoyed the entire production.
Here's a quick run down. The nine-time Tony Award®-winning, Best Musical is about a pair of Mormon missionaries sent to Uganda, of all places, to convert the citizens to the Mormon religion. The show, which satirizes various Mormon beliefs and practices, is currently enjoying a run at the San Diego Civic Theatre for a limited engagement through July 25-30.
The main focus of the story is two missionaries, played brilliantly by Conner Pierson who is a bit of a nerd and an annoyingly animated loner, while the other played by Gabe Gibbs is one of those privileged preppy types who has his nose turned up on account of his privilege. The preppy Bible devotee was hoping to be sent to Orlando, Florida, so imagine his disappointment when he is sent to a poor African nation with a nerd as his partner. Well, of course, chaos, insanity and raw and offensive hilarity breaks out.
The book, music and lyrics are by South Park creators Trey Parker and Matt Stone and Robert Lopez, the composer of Avenue Q.
The Book of Mormon, which is and isn't about religion, is not for prudes or anyone who is easily offended. If you are a prude or someone easily offended, prepare to let out a gasp, have your mouth drop open in disbelief and pure shock through the entire show.
It's an equal opportunity offender of thrown in-your-face insults to everyone from Mormons to Christians, Blacks, whites, gays, Jews and everyone in between. Most of the laughs come at the expense of Mormons. The creators do a pretty good job in ripping the origins of Mormonism. There are plenty of sex jokes, scrotum maggots and plenty of profanity.  I repeat, nothing and no one is off limits.
"The Book of Mormon" is playing at the San Diego Civic Theatre located at 1100 3rd and B Street, Downtown San Diego.