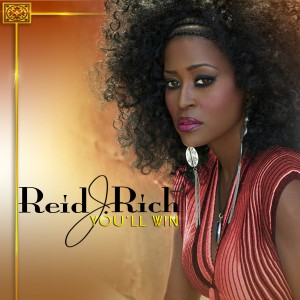 The Chocolate Voice chats with PR Agent turned Gospel Recording Artist Reid J. Rich who is reinventing herself, going for her passion to sing contemporary Christian and inspirational music, with a touch of Pop and Techno.
Long Beach, California native Reid J. Rich first got her start in the music industry when she signed with the Rap/R&B group Three Shades of Brown. This multitalented artist has used the inspiration gained from a lifelong affiliation with the Baptist church to create a solo career in Gospel music. Her new single, "You'll Win," combines nontraditional Gospel with a touch of pop, sending a positive and uplifting message to the airwaves that is sure to leave listeners feeling inspired. We were recently able to have a Chocolate Chat with Rich, and were amazed at her many accomplishments and insights into the music industry.
TCV: You started out singing in church and then went on to perform in the Rap/R&B group Three Shades of Brown. How accepting was your church family in your decision to pursue Rap music?
RR: I was raised a Baptist. Everybody in my church was very supportive. I had been involved in church since a young age, so they knew me, and they knew what I stood for.  Now I am involved with a church that incorporates the art of Gospel music into their services, and it is amazing. I feel that with God by my side, I can accomplish all my dreams.
TCV: How old were you when you started with Three Shades of Brown?
RR: I was in my early twenties. What I got from that experience is that God is amazing. I was just telling my best friend the other day that if God had blessed me and made Three Shades of Brown take off, I would probably not be as committed as I am now because back then I was too young in my mind. Now I see how you can easily get sucked into the industry and get involved with all kinds of drama. You can become a part of a circle you never intended to be a part of. I think God knew that, because he had something great for me to do; he had some people he needed me to reach, and if I had gone that other route, I would have never reached them.
TCV: We read on your website that you used to manage a law firm. How did that experience help you with your music career?
RR: It taught me to pay attention to details, and to ask the necessary questions. Ironically, the firm I worked for did criminal defense and entertainment law. I learned a lot about the entertainment industry just by working in that law firm.
TCV: Tell us about the challenges that come with being both a publicist and an artist.
RR: It is very, very challenging. The biggest challenge for me is representing other artists. I work hard for my clients. The hard part is that some of my clients do not maximize the opportunities I give them. I have been transitioning out of personal PR. I think I have done well in that respect. I have not taken on any new personal clients in the last few years. I really want to take more time to pursue my other passions, which include raising awareness for issues such as homelessness and women in distress. Those issues are very near and dear to my heart. If everybody would just do a little more, we could save countless lives.
TCV: We heard that you unknowingly wrote and recorded tracks produced by mega producer Rob Fusari, who has worked with Grammy Award winning artists such as Beyonce, Lady Gaga and Brittany Spears. How did that happen?
RR: I love to write songs, so I set up a studio in my home and I would bring in vocalists to record the songs I wrote. Then I started soliciting tracks I could write lyrics to. This gentleman was managing Rob Fusari at the time, and I loved the tracks he gave me, so I started to write  songs to them. I didn't care about the names on the tracks, I just started writing the lyrics for them. The lyrics I wrote for those songs are what got me a music rep. One day I was cleaning my house and I ran across the CD, and I wondered if the guy who had made those great tracks had made it big. I Googled him and found out just how huge his success really was, and that he was Rob Fusari!
TCV: Are there any producers you would particularly like to collaborate with?
RR: I would love to work with Israel Houghton. I also love Earnest Pugh. When you talk about praise and worship, he is the name that comes to mind. He's one of my favorites.
TCV: Let's talk about your new single, "You'll Win."
RR: I co-wrote the song with Eric King, who is an up-and coming producer. He is a young guy, and he is just amazing. Eric knows me well, and he knows my thing is encouraging people. I don't care who they are; everybody needs to be encouraged, especially in these tough times. We wanted something that was positive and upbeat. He [King] started the process with the song, and he sent it to me, and I made a few little changes to it. I loved it when I heard it, but I wrote in some new things I was feeling as well.
TCV: How do you find balance between your family life, music career and multiple other endeavors?
RR: It is very difficult. I look at other people and I get encouraged. I see other singers who are on TV and who are very busy and I wonder how they do it. With that in mind, I can't make any excuses for myself. I have to manage my time, and I have to get it done.
You'll Win is available now on iTunes.
To learn more visit Reid at ReidJRich.com, www.facebook.com/reid.johnsonrich