Interesting fact: There are close to 5000 triplets born in the United States each year.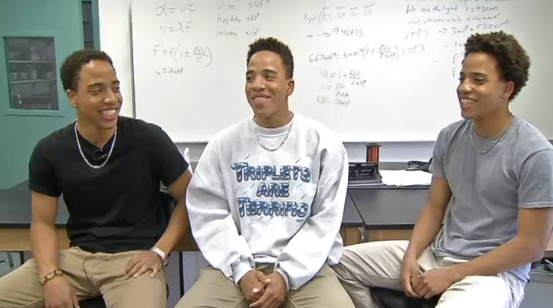 Apparently excellence comes in three's! Well, that's certainly the case for triplets Malik, Ahmad and Khalil Jones. Born brilliant and determined to succeed, the Jones Brothers don't just walk the walk, they talk the talk.
All three seniors of Georgetown Day School in Washington, D.C., the Jones boys are putting their heads together to decide which Ivy League school they want to attend in the fall.
In an NBC4 interview, the brothers tell reporter, Zachary Kiesh that they've narrowed it down to either Columbia University or the University of Pennsylvania.
The trio from Silver Spring, Maryland have attended Georgetown Day School since the 7th grade all carry a 3.7 GPA scoring within a few points of each other on the SAT'S.
Terrific!
Check out the NBC4 interview with the terrific Jones brothers.