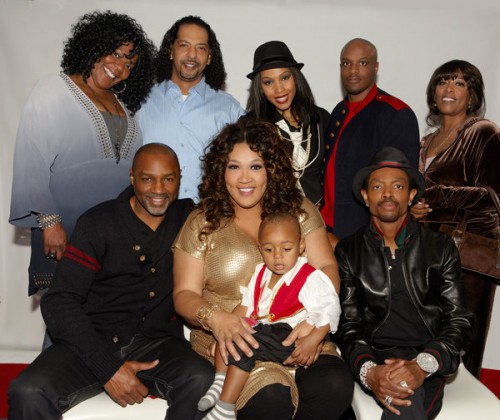 Funnyman Wendell James is the first to admit that he's not a comic.  Those of us who have witnessed his colorful style and over-the-top antics, well, we beg to differ because the man is just plain funny! Make no mistake, Mr. Personality, as he is known throughout Black Hollywood, is well aware that he is hilarious and admits that being funny is one of the reasons why he decided to leave Modesto, California for LA to pursue a career in entertainment.
After a spontaneous move to LA, James landed on his feet and has had doors for many opportunities opened, including a long-lasting friendship with actress and comedienne, Kym Whitley. James, 52, confidently says that his friendship with his Hollywood wife, Whitley, has survived simply because he tells it like it is—straight up!  That being said, The Chocolate Voice was lucky to interview Wendell again, as he got candid about his new role as one of two non-traditional Dads to Kym's two year old son Joshua in the new docu-series,  Raising Whitley, airing on OWN.
TCV:  Tell us about how you became involved with the docu-series Raising Whitley, based on actress and comedian Kym Whitley's life?
Wendell:  Well, because it's true to life. Anybody in Hollywood who knows Kym knows that I really am her Hollywood husband. We share cars, houses and all that kind of stuff.   So, that's how I got involved.  You're shocked to hear that right?
TCV:  Well, it's somewhat shocking. I read that you were close friends, I just didn't know how close.  How long have you known Kym outside of the show? 
Wendell:  We've known each other probably around 10 years.
TCV:  How did the two of you meet?
Wendell: Before coming to Hollywood, I lived in Modesto, CA and I was sitting on my bed, running my company and I said to myself,  'Gee Wendell you're reasonably cute and you're funny, you need to go to Hollywood.'  I left for Hollywood just like that and went looking for a publicist.  At that time I had no experience in entertainment so, I decided to create a clothing line. I met Kym while I was working on a launch party for my clothing line, and said to my publicist, 'I need a hook, a co-host for the party.'  I then asked, 'what about that girl on BET's Oh Drama! Kym Whitley?  I hired her and our friendship took off from there!
TCV:  Was the show, Raising Whitley originally pitched to OWN execs, to include: "The Village" = Kym's friends featuring two dads?
Wendell:  Yes, because even before Kym was approached about adoption there was "The Village."  Kym stumbled onto calling us "The Village."  The people you see on the show are really the villagers – we get together for birthdays and holidays at Kym's house. We argue, fuss, fight and all of that stuff.
TCV:  How would you describe the dynamic within "The Village?"
Wendell:  It's an eclectic group: CEO's, engineer,s and vice presidents of companies. Some of us are over the top, conservatives, and some of us don't know where the hell we are going.  Rumor has it that I'm the messy one but, I say I'm the facilitator.  I say what everybody's thinking but scared to say.  Everybody's scared to make Kym mad, and I just tell it like it is.
TCV:  What was it like growing up in the James household?
Wendell:  I am like a TV show?  In my family, I am the surprise hit of the season.  I left home at 15, and was on the streets, so who would have ever thought that I would amount to anything.  I didn't want to listen to my mother.  You know how it is in Black families when we say,  "If you can't do what I say get out."   I didn't want to listen to what my mother said, so I got out and became a surprise hit.  I received an education, started a business and became an actor.
TCV:  Any plans to have children of your own? 
Wendell:  Girl, I am 52 years old, turning 53 in September—I know I don't look like it but I am. And, I am not Halle Berry!  I will not be 75 years old running around with a 6 month old, not me!
TCV:  (Laughing) Most know of you as a comedian, what would we be surprised to know about Wendell?
Wendell:  I'm funny but I'm not a comic.  For 30 years I have run a business for adults with developmental disabilities dual diagnosed in the Oakland, San Francisco Bay area.
TCV:  Since you have experience being a radio show host and being an executive director of a documentary (Gang Girls), would you say that you are naturally drawn to portraying real life as opposed to fiction? 
Wendell:  Real life is more comical which is what I prefer.  What you see is what you get with me.
TCV:   What other projects are you working on? 
Wendell: A few things I can't talk about, but I will say that I am in talks for a talk show.
TCV:  What has Oprah said about the show?
Wendell:   I haven't seen or heard anything she said, but I know Gayle King tweeted during the show how funny I was. And someone else said everybody should have a Wendell.
TCV:  Before I let you go what advice would you like to share with other non-traditional households?
Wendell:  DON'T BE SCARED TO ASK FOR HELP.  Listen to good advice if you feel it's good.  Make sure your child is surrounded with love from those who share the core values of the Mom.  Kym is really good about that with Joshua (Kym Whitley's 2 year old son).  Joshua probably has more aunties and uncles than he'll ever remember.  He's going to be wealthy and he'll be left in a lot of wills.
Raising Whitley airs on Saturdays, check your local listing on OWN.