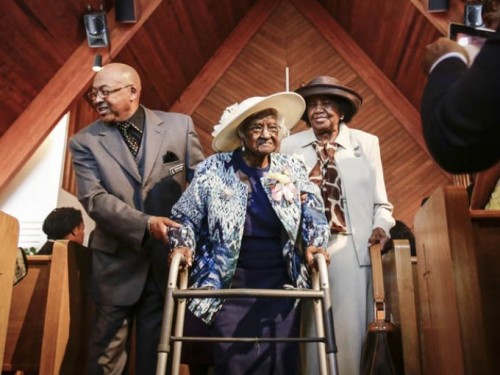 The world's oldest living person, Jeralean Talley has died. More recently in the spotlight on May 23rd for celebrating her 116th birthday, the Detroit Free Press reports that Talley died at her Inkster home on Wednesday night.
"Her prayer was always not to suffer," her longtime friend Michael Kinloch said.
"God certainly answered her prayer," he said.
Talley, deeply religious and a member of New Jerusalem Missionary Baptist Church in Inkster, turned 116 on May 23. Her life spanned parts of three centuries.
She was born in 1899 and lived by this motto: Treat people how you want to be treated.
"Just remember her as being a very beautiful, forgiving person," said her daughter Thelma Holloway, 77.
Read article in its entirety at Detroit Free Press.