(San Diego, CA)  Creativity at its best comes from cool, hip and awesome life experiences, according to filmmaker, artist and entrepreneur Nick Conedera, the creative genius behind the indie film, "SHARP."
Born and raised in San Diego, Nick admits that at age 14, he met his first love filmmaking.  Surrounded by artistic family members (his dad ran his own graphic design business out of the house, and his grandfather – an Italian painter, designer, photographer, engineer, and entrepreneur), Nick was destined to use his natural  born talents to share with the world.
SHARP, a film based on the true story of two men forced to enter the corporate world as salesmen for Cutco cutlery, documents the struggles of individuals hit by the recession of 2008.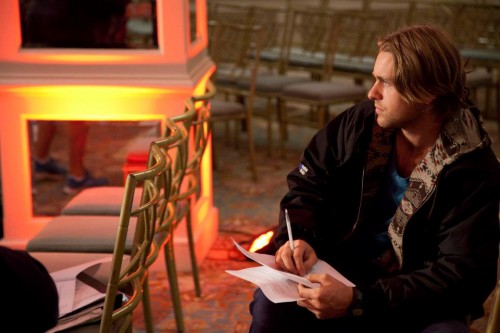 What showcases the film's originality  is, Conedera's ability to integrate a relatable coming of age surf story, with a comedic twist that includes,  dramatic family interactions of a pot-smoking, lazy surfer dude who has to adapt to the corporate world by learning to sell knives to help support his family after his dad loses his job.
"It's a film about the state of our economy, sales skills, and the decline of the 9-5, following your dreams, and how the concept of money is changing with the 18-24 millennial," says Conedera.
The film stars Nicholas Nigro, an up and coming actor (former student at Point Loma Nazarene University in San Diego) who has always had a flair for acting, as evidenced early in his career with his performance as the Wicked Witch of the West in The Wizard of Oz when he was in third grade.  Nigro portrays himself through the character Terrance Withrow, a laid back surfer who is thrust into a job selling cutlery after his father is laid off due to the recession.
Director Conedera and actor Nigro  creatively portray their struggles and manage to share an amazingly humorous story of success through their work with Cutco.  More importantly, both men persevered through the obstacle of financial hardship, and managed to raise $250,000 towards making their inspiring film.
According to Conedera, the goal with the film is to help ONE MILLION  young students and professionals grow into the most confident, professional, SHARPest versions of themselves using film and media to teach the importance of sales skills.
SHARP  premiered at Lido Theater in Newport Beach  on July 28th, and will be coming to iTunes, Netflix, Hulu, Google Play, Amazon Instant, Xbox, PS3, Comcast, and AT&T in January, 2014.
For more information click on SHARP the movie.