By Deah Mitchell Berry
If you're like most Americans, you may be suffering in silence from a prevalent disease known as "hustle-itis". Hustle-itis can strike at any moment, however flareups are most obvious during the summer months. What's causing this illness? America's workaholic culture. 
How many times have you seen the hashtag #teamnosleep or heard someone brag about resting when they're dead. Well, if you are employed by a corporation or organization fulltime then you (hopefully) are accumulating Paid Time Off (PTO) and if you are not taking this benefit you are leaving a considerable amount of hard-earned money on the table every year. According to the US Travel Association, in 2016 the number of unused vacation time reached a 40-year high estimated at 169 million days. In terms of currency this equates to roughly $52.4 billion in lost benefits annually. If this is you, you may be in luck. Hustle-itis is preventable and 100% curable! International vacations are spectacular, but you don't need to spend a fortune to take advantage of a good domestic travel deal. Here are some suggestions for vacations you can take solo, with a partner, on a girls' trip or family time and embrace your inner budget travel-bug. 
Scottsdale, Arizona – Yikes, it may be hotter than Hades in Arizona, but the breathtaking views of rolling red valleys and just a short three-hour drive to the Grand Canyon, this may be worth the heat. Scottsdale also boasts many condo rentals and timeshare properties that offer tremendous savings if you're a family renting someone else's timeshare. These properties typically invite guests to listen to an hour-long (no obligation) sales presentation in exchange for such things as free tours to visit Grand Canyon, and/or gift cards to national chain restaurants. Summertime is the peak season for Grand Canyon so expect crowds, but if you can hold off on visiting until the latter part of summer, not only will the temperatures be a "bit" more bearable but your flights will be cheaper too. 
Boston, Massachusetts – Fare Compare, a website that tracks airfare and accommodations, lists Boston as a top destination to travel during June, July, August. It's not just inexpensive to fly to but it has a ton of historic sites to visit with great prices too! Visit the pier and take in the skyline by boat for only $2. Not to mention if you're visiting ANY coastal city make sure you taste the seafood. It's guaranteed to be delicious and fresh. With so many restaurants competing for your business, you'll likely find great rates there too. A definite "foodie find", Boston is best known for their impeccable clam chowder, lobsters, steamed and fried clams. Make sure you visit the African American National Historic Site in the Beacon Hill neighborhood, to see the history of Boston's 19th century African-American community.  *Tip – although children under 15 are free, federal agency volunteers with more than 250 service hours receive complimentary entrance via the Interagency Pass Program. Visit www.nps.gov  for details. 
Atlanta, Georgia – This exciting city in the Peach State has long been touted the "Black Mecca of the South", but notable corporations have also made ATL home for many years. Visit the CNN Global Headquarters and book a behind-the-scenes studio tour for as little as $12, or check out Centennial Olympic Park and the Fountain of Rings totally free. One very important tip to keep in mind for Atlanta is to rent your hotel or accommodations near the part of town you will be visiting. Don't book a room just because it has a low rate, chances are you may be too far from everything you're attempting to visit. Plan your routes ahead of time or use the MAARTA (public transportation) is an easy and inexpensive way to see the sights. Reserve your ridesharing to visit further destinations that offer intimate looks at notable figures and require no entry fee like Martin Luther King, Jr's birth home tour, or the famed Ebenezer Baptist Church. If you're looking to view some exciting new art exhibits, look no further than Zucot Gallery. It is the largest African-American owned fine art gallery in the Southeast.  Located in the historic Castleberry Hill district of downtown Atlanta
San Juan, Puerto Rico – This Caribbean getaway was hit hard by Hurricane Maria and are actively rebuilding their place back as a top destination! Most of this U.S. island is back operational and desperately in need of the tourism to help get the economy back on track. Summer weather can be hit or miss, but the most expensive tickets are in July and currently only around $400 roundtrip (www.hopper.com) So if your dates are flexible browse the calendar in this app to help you plan your destination. Hotel prices are more reasonable now than in the past. If you're able to spring a bit for the hotel, try booking one of the fabulous resorts outside of San Juan. Plenty of low cost options for you to enjoy without breaking the bank. Buses do not typically run on schedule and do not accept change, although they are a safe option to get around. University of Puerto Rico's Botanical Gardens are free and have plenty of selfie-worthy photo opps, outside of Old Town San Juan. Don't forget to tour the rum distilleries! After all, the pina colada was invented here and no passport is required to feel like you've set foot into a different country! (St. Regis Bahia is an excellent and will be having an extravagant grand re-opening later this year.)  *BONUS: Book a flight to neighboring St. Thomas for a quick day trip getaway! 
Houston, Texas – Houston offers a bit of something for everyone and yet if you happen to get bored, you can visit either Galveston Island or Kemah Beach just a short drive away. Flights are generally below average and there are tons of free activities you can take advantage of. Set sail on a FREE, 90-minute boat tour of the Port of Houston. You'll learn the history of the seaport on this 90-passenger boat. Reservations are required. Witness 250,000 bats emerge at dusk from under the Waugh Drive Bridge, located over Buffalo Bayou between Allen Parkway and Memorial Drive. Dine at some of the local eateries and enjoy a variety of Southern cuisines ranging from soul food to barbeque. Interested in the Arts? Visit the Moody Center, Contemporary Arts Museum, or the renowned Houston Museum of African American Culture. Each are free and open to the public! If you're goal is to visit nonprofit initiatives make sure to tour Houston's Third Ward neighborhood and visit, Project Row Houses. Project Row Houses is a highly acclaimed art and cultural community center consisting of 22 renovated shotgun-style homes and a definite MUST SEE. 
San Diego, California – This Pacific oceanfront city, offers year-round near perfect weather and-comfortably rests to the south of its neighbors Los Angeles and San Francisco and saves you tons more cash than if you'd visited those two. April through October is prime beach weather. Airfare will most likely be the most expensive aspect of this trip, but if you're near a train traveling to San Diego may be a better way to see the city for less. For accommodations the hotels are competitive and average $128 per night. Or if you're really looking for ways to save and don't mind sharing communal area consider a hostel. Although hostels typically appeal to younger crowds some do offer private quarters for families. USA Hostels San Diego recently received good reviews and may be worth researching further if this is more within your budget. A day at the beach isn't the only way to save money, although it may be preferred. Another affordable tourist attraction is the San Diego Harbor Excursion from San Diego to the island of Coronado for $4.25 each way. 
New Orleans, Louisiana – This city offers charm, romance and its own sultry vibes. One step onto the narrow streets and you'll feel as though you've stepped back into time. The people are warm and welcoming, and the food is outstanding. You can even visit some of the convenience stores and gas stations for a delectable po'boy or shrimp special. If you're looking for the best airfare deals during the summer, avoid 4th of July weekend and you should be safe. There's a festival celebrating every food imaginable and plenty of inexpensive things to see and do in this vibrant city. The obvious tourist attractions are of course Bourbon Street, Jackson Square and warm beignets and hot chicory coffee and the famed Café Du Monde. Ride the street car for about $3 per day. Sign a waiver and sample free hot sauces and specialty sauces at Hot Pepper Palace and afterwards grab an inexpensive muffuletta sandwich find a seat and people watch. If you're looking for something outside the regular tourist attractions, visit Studio Be in the Bywater district of New Orleans. A 35,000 square foot warehouse converted into an epic social justice art gallery by artist Brandon Odums is a must-see! 
Deah Mitchell is a freelance writer and culinary instructor who is publishing her first book entitled "Cornbread & Collard Greens: How West African Cuisine and Slavery Influenced Soul Food."When she is not writing, she enjoys planning food-themed events, traveling, reading and spending time with her family and friends. Follow Deah on Instagram @whatdedesays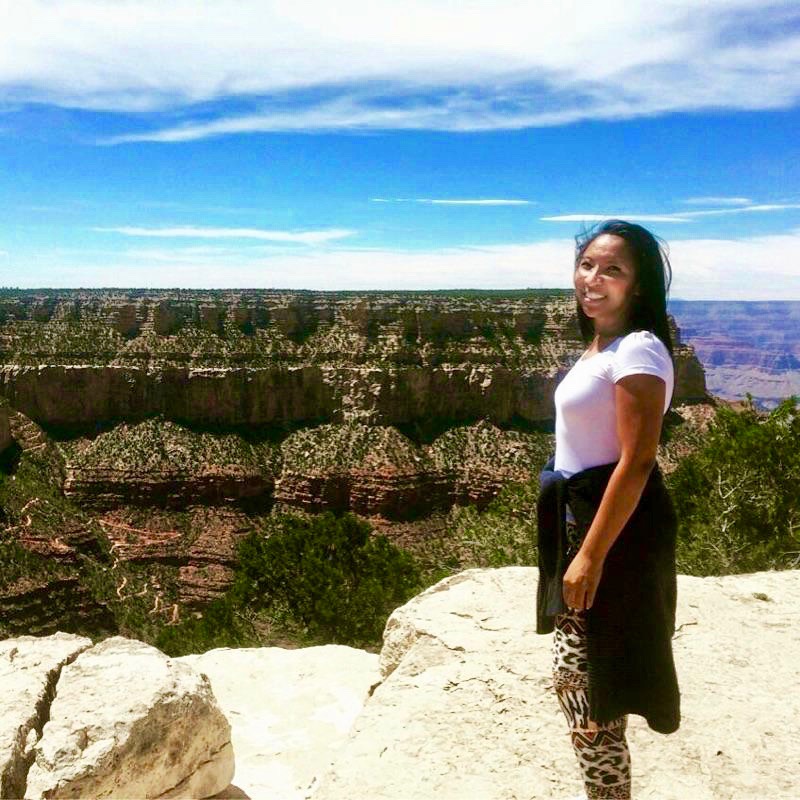 Click here to keep up with us.  Subscribe with The Chocolate Voice!