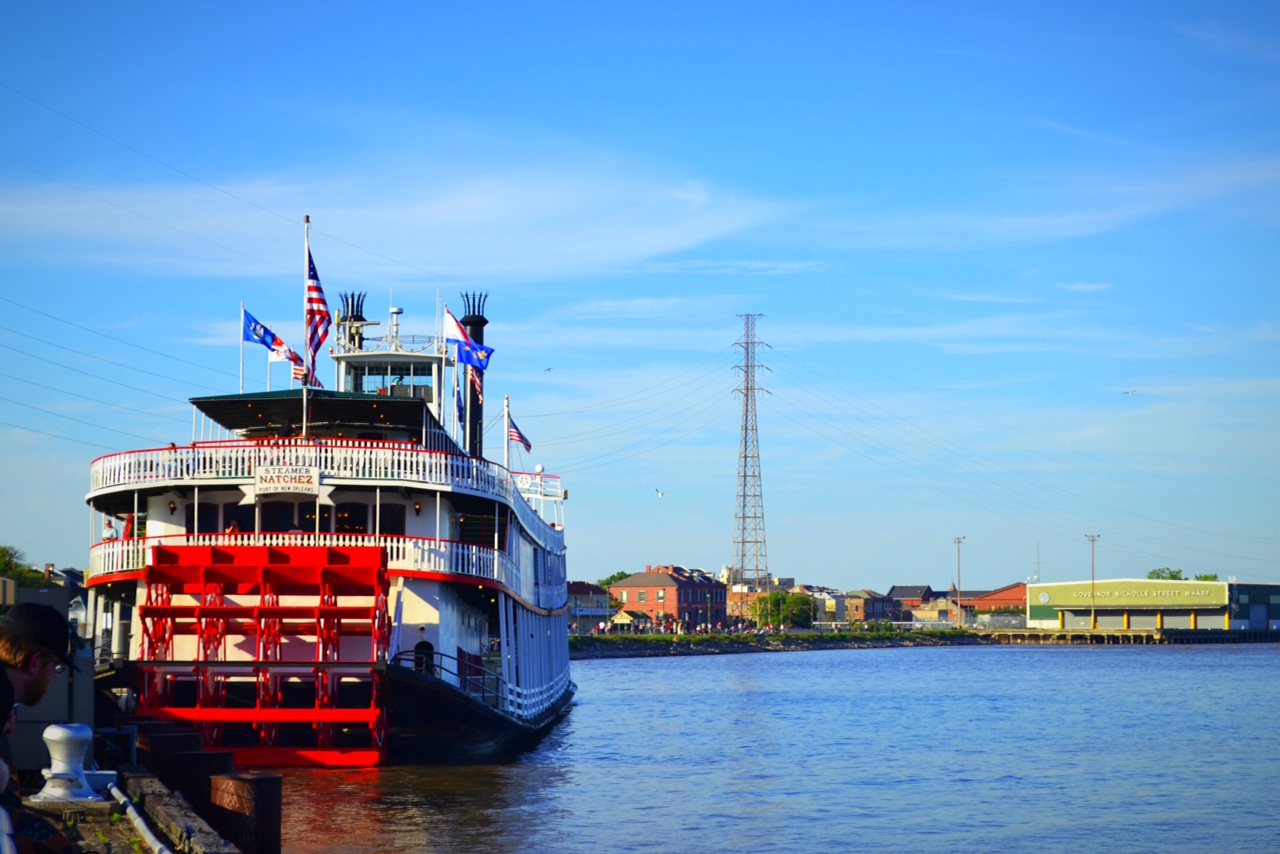 ---
Would you believe that I practically had to force my husband, to go on a three-day trip to New Orleans with me?Well, maybe I tend to exaggerate a bit, but it sure felt like it when I forcefully raised his auction paddle while bidding on this trip at a scholarship fundraiser. I'm not quite sure why on this occasion he held back, seeing that we do enjoy traveling from time to time. My only guess is that, the city of New Orleans just wasn't on his travel to do list. I'll let you in on a little secret, he's really an Island type of guy. I am too, that Island type of girl, but I have gone to the city before, during the Essence music festival, and fell madly in love with the vibrancy of The Big Easy.
So when an all inclusive trip to New Orleans was shouted out – I jumped for joy, and made my husband raise his auction paddle. It was for the kids, and seriously, who wouldn't jump at the chance to visit The Big Easy, at least once in a lifetime?
Our trip was scheduled for the spring, when the temperature is just right. Warm weather, good vibes, festivals, the food and of course being surrounded by music—in what's known as the birthplace of jazz! There's very little not to love about this culturally crazy, intoxicating city, but for some odd reason, my husband just wasn't feeling it.
That said, I've been married to Ron, for 32 years, and he's outgoing and he has a southern charm despite being from California, so I knew that it wouldn't be a problem for him.
And, I was right. Slowly but surely he started to feel more comfortable once we began to explore the city. Actually, we could feel the good vibes the minute we stepped into the mix. We encountered mostly authentic southerners who have that accommodating, easy breezy, layback way about them and before you know it, we fell right in.
There is no denying that the vibe in Nawlins' is infectious and endearing. Don't you just love how this city has so many different names? Nawlins', NOLA and The Big Easy.
When we arrived at our hotel, we were totally caught off guard but pleasantly surprised to learn that the French Quarter Festival was happening the weekend during our stay. Celebrating 33 years, the festival is a free music celebration that takes place every year in April. Jackson Square is packed and the fest includes 1700 local musicians performing on 23 different stages, and over 60 of New Orleans' finest restaurants set up along the streets of the Vieux Carré (French Quarter). Since our hotel was located in the heart of the French Quarter, and with so much going on, there was really no need for us to leave the area, but we did. Remember, we were only in town for three days and by this time with all of the excitement surrounding us, I'm certain that my husband was wishing we could make our visit longer.
The next day, we decided to take a city bus tour. We were mesmerized by the colorful camelback houses and in awe of the rich history of Tremé –arguably the oldest Black neighborhood in America. The neighborhood is also considered to be the origin of the Southern Civil Rights Movement and the birthplace of jazz. During slavery, Faubourg Tremé was home to a large, prosperous, and artistically flourishing community of free black people. This part of the trip seemed to have sparked my husband's interest more so, seeing that he's somewhat of a history buff. He was amazed by all of the contributions that African Americans have had on New Orleans culture. Besides that, he has distant relatives who have lived in the city, but shared little of its rich history.
We toured musician's village, a newer community of homes developed for New Orleans musicians who lost their homes in Hurricane Katrina. The rebuilding of musician's village was a collaborative effort involving Harry Connick, Jr. and Branford Marsalis who teamed up with Habitat for Humanity. The driver pointed out to us that the City of New Orleans takes great pride in taking care of its musicians, who are considered the backbone of the city. During this part of the tour, Ron leaned over to me and whispered,
"New Orleans really cares about music." I said, "They sure do, and I'm grateful."
Being the music lover that I am, the sounds coming from the French Quarter street musicians were really THE highlight for me. After all, the city of New Orleans has produced some of the best and biggest names in music—Louis Armstrong Jr., the Marsalis Family, Trombone Shorty and Harry Connick, Jr. just to name a few.
From taking a daily stroll up and down the vibrant French Quarter, to listening to a five-man jazz set at Preservation Hall, to hearing the up and coming musicians on Frenchmen Street, for me, was simply magical.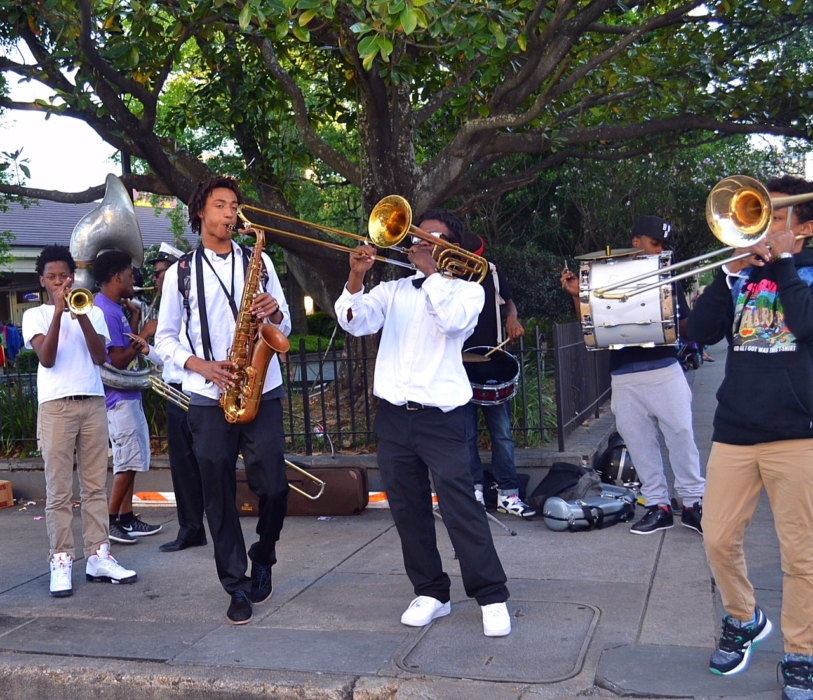 At this point – my husband was fully immersed in the ways of the big easy, maybe because food is simply magical to him. We had our fair share of sampling NOLA's iconic dishes. Shrimp Po'Boy's, Red Beans and Rice, Andouille smoked sausage and bread pudding—Uh-oh! I'm feeling stuffed all over again.
We left the French Quarter and headed over to the lower garden district for fine dining at Commander's Palace, which is best described as an old turquoise palace that is a shrine for food worshippers. I ordered a flavorful Pecan Crusted Gulf Fish, smothered in spiced pecans & crushed corn sauce. For dessert, I had the creole bread pudding soufflé. It was pretty tasty, but not nearly enough, for me.
One more suggestion…before you leave Commander's Palace, do yourself a favor and visit the upstairs powder room. And, don't take anything with you to read, smartphones, nothing. If you do, I promise you, it'll be hours before you come out. It's just that comfortable.
Before our flight left, I dragged my husband on one last walk around the French Quarter. Perhaps it was because he wasn't quite ready to leave just yet? At any rate, we got out and headed straight to Café du Monde for a plate of hot, powdered sugar beignets. You can't leave NOLA without a beignet!
We had a great time in The Big Easy. My husband was pleasantly surprised and despite a few early pushbacks – he couldn't stop talking about the trip. This is why it's important to step out of your comfort zone and experience a new city from time to time. Travel opens up minds, and cultures for us in a way that can only be learned by experience. I'm glad that I was able to experience the sweet sounds, savory tastes and good people with my husband in the Big Easy.