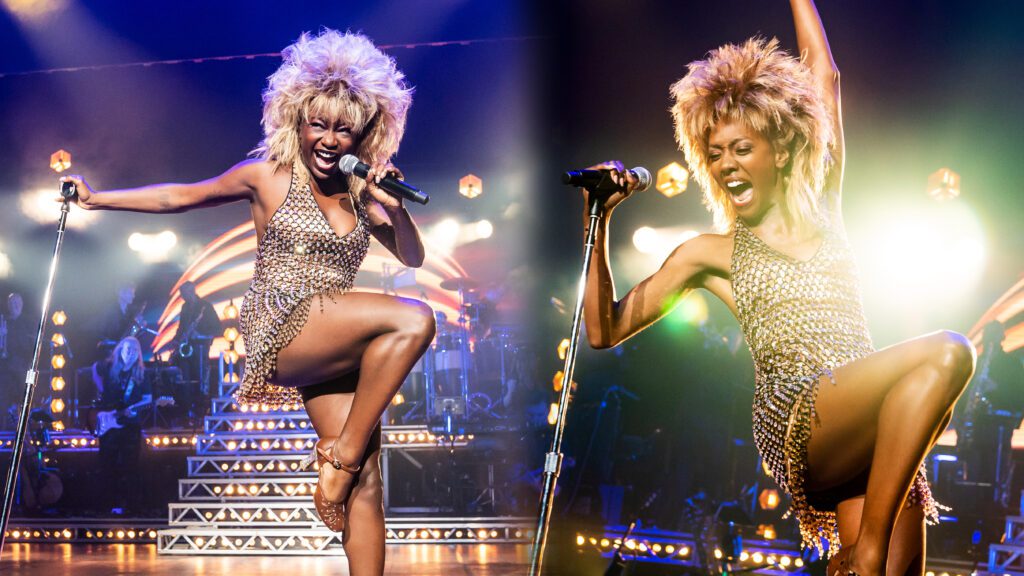 It takes two baby!
Yes it does.
Two actresses are on tour and playing the role of the legendary Tina Turner in the Broadway musical TINA: The Tina Turner Musical.
During the tour, there are eight performances that are two hours and forty five minutes. Each actress will play the lead in four out of the eight. Belting out soul stirring ballads, combined with high energy and unstoppable dance moves which both agree are challenging, but they have stepped it up and are ready to rock n roll.
Sharing the role of Tina Turner on stage are, Naomi Rodgers and Zurin Villanueva. Each performing twenty-one songs in that raw vocal style as we know it from simply the best, the incomparable music legend Tina Turner, who we lost earlier this year. Currently performing at the Pantages Theatre in Los Angeles, to rave reviews, the national tour is headed to San Diego, July 25-30 at the San Diego Civic Theater.
In a phone chat with The Chocolate Voice, we spoke to both actresses at separate times, who explained that role sharing isn't very common in the Broadway community, but in the case of the iconic Tina Turner and the energy that she brings to the stage, both agree that this tour most definitely requires two leads. Keeping that in mind, Tony Award-winning actress Adrienne Warren, who performed in all eight shows on Broadway, took home the Tony for Best Actress in a Musical. Both ladies agree that she earned it.
"This is a superwoman role and she is a beast!"
Rodgers, who's been singing since the age of 12, is a North Carolina native and graduated from New York City's American Musical and Dramatic Academy. She got her start when she landed a role in Hilton Head, South Carolina in a production of the musical "Legally Blonde." Villanueva, Brooklyn born and raised is a Howard University graduate stepped into the role having been professionally trained at Dance Studio of Harlem, LaGuardia High School for the Performing Arts and Howard University, and has performed on Broadway in The Lion King, Mean Girls, Shuffle Along and Clueless.
Read below what the two actresses shared with The Chocolate Voice on what it takes to play the iconic Tina Turner.
---
Why on this tour do you feel that the production called for role sharing vs. having an understudy?
Naomi: To offset the physical demands of being on stage for more than two hours and forty five minutes while performing over 20 songs, in that raw vocal style, yes two leads, please. Putting two Tina's together is the icing on the cake.
Zurin: I think the most reason for role-sharing is the singing. It's rock singing. High impact singing. It's twenty-one songs. No one in musical theater can, and is singing in other known rigorously performed shows 21-songs in a two hour and forty five minute show. It's just to make sure we can give it 1000 percent.
How do you mentally and physically prepare for this role?
Naomi: I prepared for the role by doing my research and understanding who I am, and also understanding Tina, by marrying the two together. Tina told Adrienne who won the Tony, "I don't want you to be like me, I want you to be the essence of me." I honed in on that and who I needed to be as a person to change my mind-set and who I needed to be as a Black woman. That helped me get into the role. And physically, I've always been a firecracker. Somethings are just already in you.
Zurin: By doing the basics. We start out by getting plenty of rest and water. After that, we're most of the way there. We've now built up stamina and our bodies now know what to do. I like to start a dance party in my room. I choose a recording artist great and blast their music during the hour, get the energy flowing and get really pumped! I go out there and have a really good show.
Tina Turner is known for being blessed with the best legs. Can you share your best exercises or, secrets to having great legs?
Naomi: You definitely have to do lunges and you definitely have to sing, "What's Love Got to Do With it, and all of Tina's great songs. You definitely have to hangout with the Beatles, David Bowie and Mick Jagger. You have to do the Tina things and I promise they will come. I like to live by one of my favorite Tina quotes.
"Women should be proud of who they are at any stage in their lives. State of mind is so important, laughter is so important, love is so important."
That's how I get Tina legs, is to think Tina.
Zurin: When I booked the role, I immediately began doing squats just to get my muscles out there. Although, I am blessed with extremely long legs so, I do my relevés and pliés to make sure they pop!
What's your favorite Tina wig look?
Zurin: It's hard to pick but, I'll pick one. When we start "Private Dancer" we wear this beautiful chocolate brown, layered Farrah Fawcett flip wig. Oh my goodness! The color of this wig against our skin! It's so sexy and it looks so good on us. We just look like a million dollars! And, the disco dress. It's a classic silhouette look. We only wear it for one number. I love the way it shingles and both legs are out. It's beaded and it's red. And it's just lovely.
The most challenging part of playing Tina?
Zurin: We're onstage for two hours and forty five minutes. We take a quick break in the very beginning and then off to the end. So, it's a marathon and not a sprint. Doing a show like that as principals, we get full scenes. What's challenging is going from scene to scene and from song to song. No reset, your'e just on. The mental capacity it takes in the beginning was a challenge. But now, we're a well oiled machine.
What did you admire most about Tina?
Zurin: Her sense of humor at any stage of her life. You could always catch her laughing, telling a joke, bringing joy into a space. It was like oxygen for her, even during the abuse.
In playing this role, is there something that you learned about Tina that you didn't already know?
Naomi: Yes. I didn't know that a she was only seventeen years-old when she met Ike and, how long she was with him, 16-years, I was like woah! She was just a baby! That was what made her life fun later on in life, her innocence. The Broadway version shows Tina at her prime.
How did Tina's passing affect your performance?
Naomi: I trusted myself in that I was doing a good job before her passing, and now I feel that her story is an even more important story to tell. We are carrying on the legacy of Ms. Tina Turner.
What's your favorite Tina Song?
Naomi: My favorite song is always changing, right now it's "Nutbush City Limits."
Zurin: My favorite changes, so now it's "I don't wanna fight no more." I'm sitting in myself now and not fighting for my worthiness, the way so many of us do. Fighting for opportunity, fighting to be heard, you just get used to fighting. Especially as women and especially as Black women. I've really been interested in putting down a gavel. What's coming to me is what's coming. I'm not going to worry about it.
If you could ask Tina one question, what would it be?
Naomi: How did you do it? How did you let things not affect you.
What do you to unwind and relax?
Naomi: Relax and be myself. After you get done playing someone who is as real as Tina is for 2.5 hours straight, you have to calm down and get back to being you. Going out with your friends and being with the love of your life, relaxing and watching movies. That's my wind down.
Zurin: Oooh! Let me tell you it's hard. I'm usually buzzing for a couple of hours. At the very least I have lots of energy for two to three hours. So, I usually eat and talk to people. I have so much energy I want to talk to everybody. Unfortunately, most of my people are on the East Coast, so they're asleep when I get out of the show.
Thanks so much for chatting with us ladies! We can't wait to see the show. See you when you get to San Diego!
Zurin: Come with an open heart and open mind. Leave the show feeling invigorated and like anything is possible.
---
TINA – The Tina Turner Musical is making its way to San Diego for a limited engagement from July 25-30, 2023 at the San Diego Civic Theatre, and tickets are on sale now for eight performances at www.broadwaysd.com.