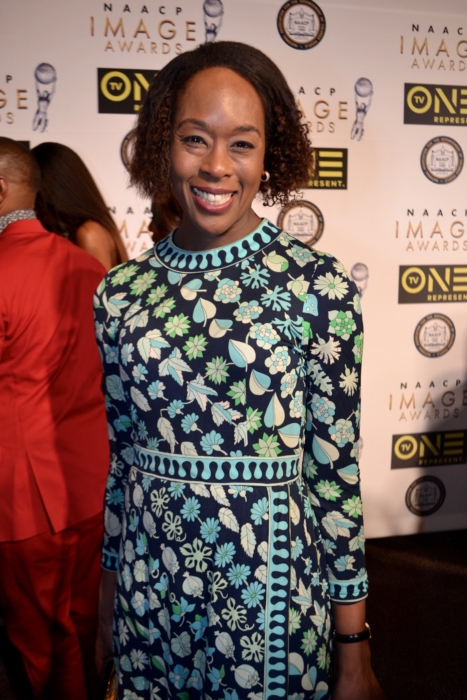 As we kick-off Women's History Month, we'd like to acknowledge writer Margot Lee Shetterly. Margot, is the author of the book based on the film "Hidden Figures,"  which she just happened to sell the movie rights while still working on the book.
Shetterly's book tells the true story of Mary Jackson, Katherine Johnson and Dorothy Vaughan — three of dozens of African-American women who worked for NASA in math, science and computing in the 1950s and '60s.
The book "Hidden Figures," brought to light a little-known but significant piece of African-American history to the masses and went on to become a bestseller. The film turned out as a huge box-office hit, went on to win numerous awards and Academy-award nomination.
We, The Chocolate Voice caught up with Shetterly on the red carpet at the NAACP Image Awards gala  where she told us that "Hidden Figures" was her first book. We disclosed to her that,  sadly, we had never heard of these brilliant woman before the film.
Shetterly, an executive producer and consultant on the film, is the daughter of one of the early black male scientists at the NASA installation near Hampton, Va,  where she grew up. She went to school with Katherine Johnson's daughter.
Quotes by Margo in Star Tribune:
"I grew up in Hampton, Virginia, in the neighborhoods where these women lived, raised families, went to church and worked at NASA's Langley Research Center like my father did. It was all very normal to us — I took it for granted that that's what scientists looked like — regular people who loved their work."

"A lot of times we talk about black people as if being black is all they are. They get up, go to work … and are as complex and interesting and variable as any other group of people. We don't often capture that or write about it. There is so much more to black history, black life than slavery, civil rights and Obama — much more than the firsts and only."
Every one has a story.  The success of "Hidden Figures" is proof.
In 2013, Shetterly founded The Human Computer Project, an organization whose mission is to archive the work of all of the women who worked as computers and mathematicians in the early days of the National Advisory Committee for Aeronautics (NACA) and the National Aeronautics and Space Administration (NASA).
Be sure to check out our social media pages periodically for more photo's celebrating Women's History Month.  And don't forget to follow us!