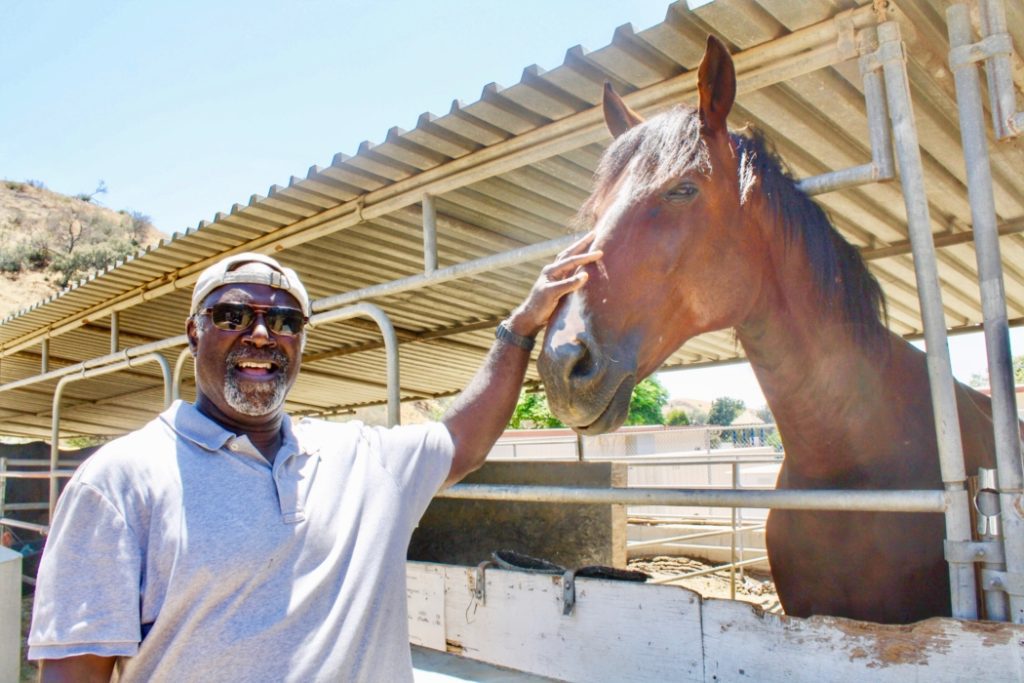 Malcolm "Earl" Robinson
For Los Angeles resident Malcolm "Earl" Robinson, the sport of eventing is something that he got into by accident.  
It all began eighteen years ago, when he suddenly developed an interest in learning how to ride horses because of a film project that he was working on. After several years of riding, and a better understanding of the sport, he finished his script titled THREE DAY,  about an elite USC football player who returns to Compton after he sustains a career-ending injury and tries out a new sport…Eventing.  Through his writing, Robinson finds out that he has more of a connection to the sport than he ever could have imagined. And as we say, the rest is history.
Robinson, a self employed Personal Fitness Trainer was introduced by one of his clients to the sport. She referred him to trainer Gina Economou, a really great trainer as he puts it, who just happens to own Pepperwood Riding Center, in Sun Valley, CA, the space where Robinson trains two to three times per week. 
He admits that oddly, after he'd been training over at Pepperwood for several months, he began to notice that everyone and their horses started disappearing on the weekends. And that's basically how he found out that they were off competing in shows, or what's known as eventing.
Eventing is perhaps best described as an "equestrian triathlon," that involves working with a horse both on the flat and over fences. The three phases are: dressage, endurance (or cross-country), and show jumping.  Everyone who rides and competes is considered an Equestrian.
As for Robinson, who grew up in Tucson, Arizona, he was always into horses. His siblings and the rest of his family as far as he knew, were not.
Then, while attending his father's funeral in St. Louis, he learned something different from his maternal side of the family.
His cousin says, "Dude, it's no big deal for you to be into horses, your mom was into horses.Everybody in Mississippi owns a horse!"
Robinson's mother, who was born and raised in West Point, Mississippi, came from a family that owned at least one or two horses, which was something that Robinson learned five years after her passing.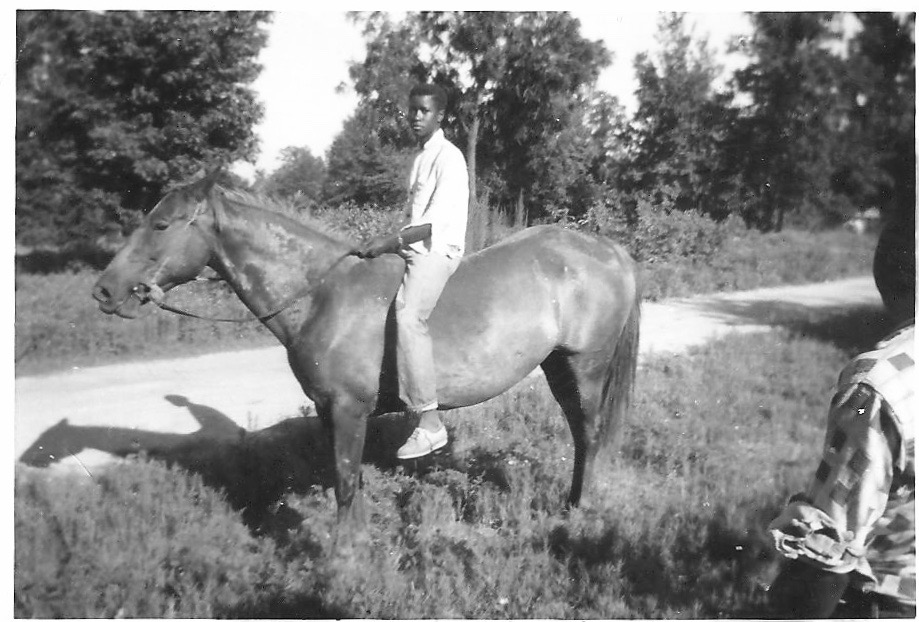 After hearing that from his cousin, it all made sense. Horse riding was in his DNA.
As a child, he recalls fond memories of wanting to be a cowboy.  He spent hours watching Television Westerns like—THE BIG VALLEY  featuring Lou Rawls and the movie DUEL AT DIABLO with Sidney Poitier. 
"Those were the first times I'd ever seen a Black man in a western that wasn't playing a slave."
Ironically, Robinson says that he was always exposed to eventing and competing in animal sports. While studying at Central Arizona College, his roommate, Charlie Sampson was a black Bull Rider from Compton, CA.  For years, the owner of Pepperwood Riding Center has been trying to give Sampson  jump lessons, but he's "afraid," Says Robinson.  By the way, Sampson rides a 2,000 LB Bull!
When we asked Robinson his opinion on why he thinks few blacks are into eventing. His had this to say:
"Eventing is a very expensive sport. Besides a horse (obviously) you pretty much need two of everything for dressage and jumping (cross country and show jumping)…two saddles and pads, two bridles, maintenance and different bits. The cost of traveling is thrown in. And, it's not exactly a known sport in our community."

"But there are those who are representing: Black Reins with Chanel Rhodes, Sheryl North, Mavis Spencer, Paige Johnson, Mayisha Akbar and her Compton Jr. Posse.  In show jumping there's a young man from Florida name Kanyon Walker who competed in eventing at Rebecca Farms (Montana) this past weekend. He also plays football and runs track."
Robinson says that he was fortunate to be able to compete on a horse named Dakota, for a year maybe two before he was retired.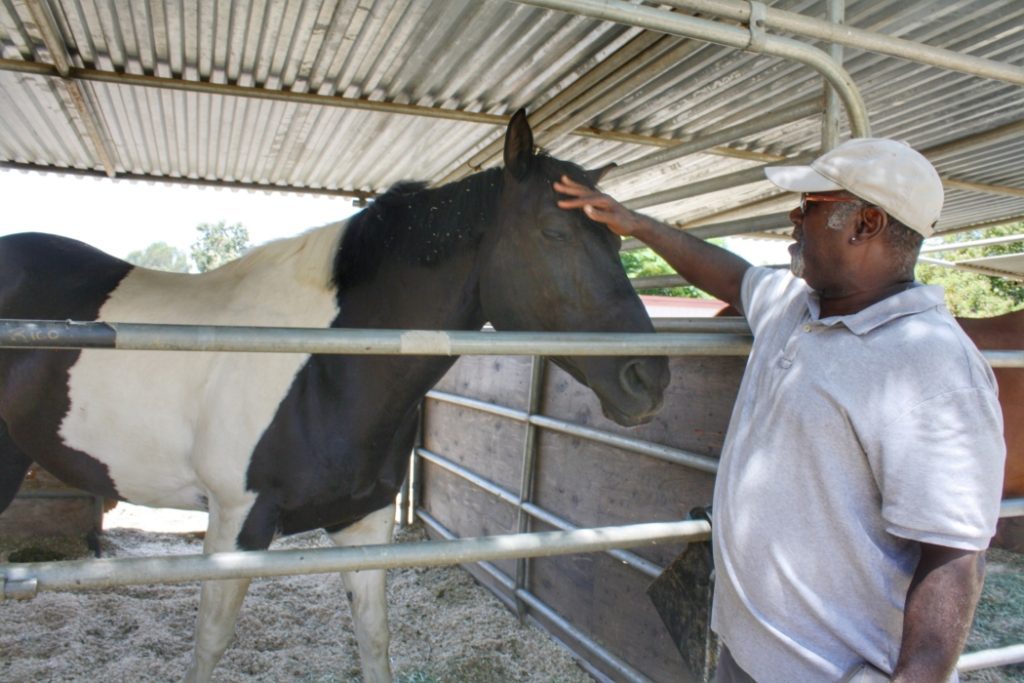 "I love everything about eventing! The packing, the travelling and especially the competing. I would get so worked up that Dakota's owner would tell me "Dude…breathe!"
Currently,  Robinson competes in three day eventing—Dressage, Show Jumping and Cross Country.  He's competed in shows in Temecula (Galway Downs), Santa Ynez (Shepherd Ranch) and  Paso Robles (Twin Rivers). His ultimate goal would be to compete at the Novice level at at Rebecca Farm in Montana but for right now, he's just having a good time being able to ride a horse two days a week.
Clearly, horses are Robinson's passion as he lovingly pats horses and calls out names like, Peanut, Swizzle, Magic and Frank and they all respond to his warm touch.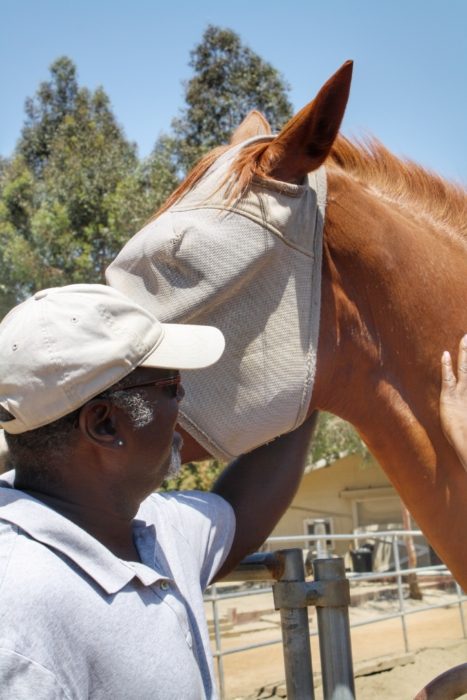 "Yeah, there are some Black people who can ride a horse."
Click here to check out Guinness Compton Cowboys.
---
A few months prior to this interview with Malcolm "Earl" Robinson, I learned through DNA indeed we are cousins on my paternal side.  DNA don't Lie.
By:  Gwen Pierce
Click here to keep up with us.  Subscribe with The Chocolate Voice!