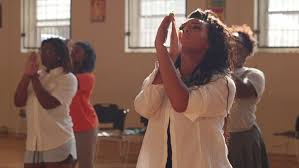 Yes, 2017 Sundance Film Festival winner 'STEP' looks like a film that will have us all emotionally messed up, but, in a good way!
Due out in theaters this summer, Fox Searchlights pictures "STEP,' focuses on three senior members of a step team, known as the "Lethal Ladies" of Baltimore Leadership School for Young Women." An inaugural program developed for young African American women in their senior year of high school (BLSYW),
the film follows the three ladies on a journey of hard work and commitment to creating and developing fierce dance steps, while examining the pressures of relationships, community and home life in inner-city Baltimore.
Hollywood Reporter writes, "Emotionally involving material is the key element to a good human-interest documentary, and Lipitz, a Baltimore native with a background in Broadway producing, has tapped into a great story here of adversity, struggle and elevating achievement."
And, with music featuring: Raphael Saadiq and Laura Karpman, we can't wait to see these queens do their thing!
Directed by Amanda Lipitz, the film stars, Paula Dofat, Cori Grainger and Tayla Solomon.
Check out the trailer! You'll see what we're talking about.