Tween entrepreneur's Madison Star and Mallory Iyana 12 and 11 respectively, have a lot on their plate these days. After successfully pitching their body care products business, Angels and Tomboy's on Shark Tank (episode four of Season 8),  securing a deal with not one, but two Sharks, the charming little sisters from Memphis,Tennessee, have found that between running their thriving business, creating Hip-hop music, homework and extracurricular activities, is well… a lot!
Wise beyond their years, both girls, Madison who proudly carry's the title "Angel," while Mallory the younger of the two is "Tomboy," have impeccable manners. My guess is that growing up down south has a little something to do with it.  Or, perhaps its being raised with a mother who doesn't play. On second thought, my bet is on mama.
Interestingly, Viara, the mother of Madison and Mallory, is the BFF of reality star and R & B recording artists K. Michelle. She currently appears on "K. Michelle: My Life," which airs on VH1. Both K. Michelle and Viara grew up together in Memphis, Tenn.
In a follow up call, The Chocolate voice.com caught up with the two sisters to chat about what it's been like working with the Sharks, how they find time to run their  business, schoolwork, hang out with friends and, what advice do they have for other young entrepreneurs.
Our conversation starts off with just Madison, who had just gotten picked up from school by mom.  Mallory, gets up later and will join us on the call.
TCV: Tell us about the process of being selected to go on Shark Tank?
Madison: Well, I remember when we were making the video to send in to the show. It wasn't really a lot of work putting it together except for editing. It was like… you gotta retake this and you gotta do this over and that one over, things like that. Once we finished, we sent it in and a producer reached out to us.
TCV:  So you didn't have to audition?
Madison:  No ma'am.
TCV: Oh, wow! That's fantastic!
TCV: As I watched you both on T.V. you appeared so comfortable and confident  pitching your business to the Sharks. Where do you think that confidence come from?
Madison: Well, I guess it comes from our mom. She is very confident. And the thing is, mom owned a dance studio where I was really into dance and got to perform on stage in front of a lot of people.
TCV: Well, that will certainly build confidence.
TCV: Was there any particular Shark that you had hoped to work with before getting a deal with Mark Cuban and Daymond Johns?
Madison: Well, we kind of thought Lori was going to get on board because of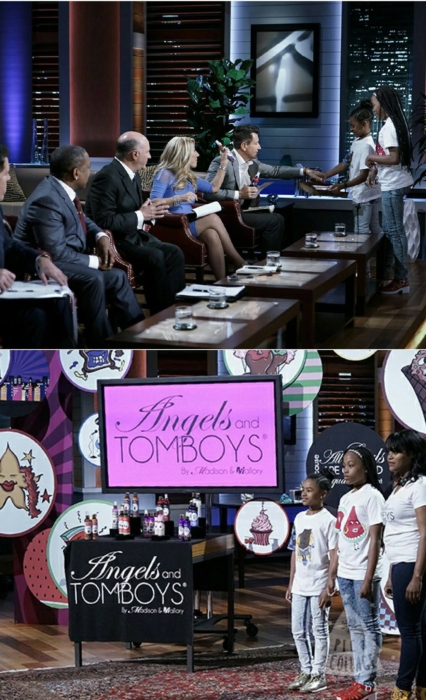 "Girl Power."
TCV: That would have been so cool. But it turned out well for you girls because you ended up getting two Sharks to work with you.
TCV: How has the process been so far working with the Sharks?
Mallory  joins the conversation.
Mallory: It's been a fun and exciting new experience. It's been like a roller coaster. Since we've been working with them, they've given us a lot of tips on how to build our brand. We've receive a lot of emails and a lot of orders.
Madison: And, our website even crashed once!
TCV: What are some of the challenges of being in business at your ages?
Madison: It's hard juggling school trying to keep up good grades and hanging out with friends and things like that because, we also have go and make products.
TCV: Speaking of products, tell us about more about your business Angels and Tomboys?
Madison: We manufacture body care products that we hand make. We ship out to our customers from Memphis.
TCV: How did you come up with the delicious product names?
Madison: The two of us sat down and came up with flavors that we would like and drew the characters that we wanted illustrated on the product labels.
TCV: What's your favorite?
Madison: My favorite is Candy Star Glam, it's my signature scent. My friends at school use up all of my lotion in Gym class.
Mallory: I like southern hot chocolate.
TCV: What are your favorite subjects in school?
Madison: English
Mallory:  Math
TCV: Did you see Hidden Figures?
Madison and Mallory: Yeah, it was a really good movie!
TCV: Tell us how you balance your business with schoolwork and fun?
Madison: We  do our best at balancing school and our extracurricular activities but at the end of the day, school matters most because it's our future.
TCV: What do you like to do for fun?
Mallory:  Hang out with friends, sleep overs.
TCV: I understand that your Mom is also an entrepreneur, do you think it's in your blood?
Madison:  I think it comes from watching our Mom who's an entrepreneur.
TCV: I read where your practicing on music to promote products.
Madison: We have an age appropriate Pop CD out. Mallory plays the Viola and the Drums.
Mallory:  Madison plays piano and dances.
TCV:  Have you already started working with Mr. Cuban and Mr. Johns and how is it going?
Mallory:  The sharks are very involved. They mentor us. We have regular  conference calls where they give us advice and tips on our business.
TCV: What advice would you give up and coming young entrepreneurs like yourselves?
Madison: What ever (vision) you have go for it and don't let anybody tell you that you can't do it.
Mallory: Don't let anybody hold you back. If somebody tries to downgrade you and tells you you can't do this or that, just push them to the side and focus on what you want to do with your life.
Great advise from these two beautiful tween Chocolate queens, who possess every bit of that Black Girl Magic.
For more information on Angels and Tomboys click here to visit the website.