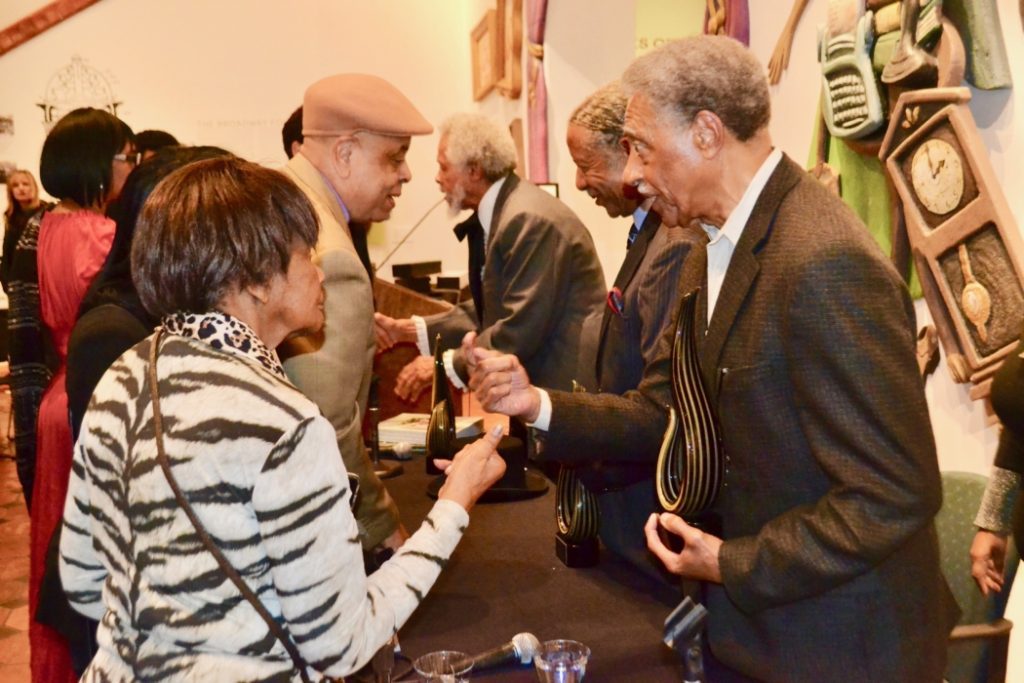 From left to right:  Harold K. Brown, Dr. Willie Morrow and professor Chuck Ambers talk with admirers.
In collaboration with Black San Diego, and San Diego African American Museum of Fine Art, the San Diego History Center held its first annual "Keepers of the Culture event." This event was held honoring local living legends who have left an indelible imprint on the San Diego Community. The standing room only reception was held at the San Diego History Center located in Balboa Park adjacent to the Legacy in Black exhibit featuring the art of African American Artists who are from San Diego, highlighting the historical contributions to the city and beyond.
Legacy In Black  is featured on exhibition through April 15, 2018.
The evening reception celebrated San Diego's iconic living legends Chuck Ambers, Dr. Willie Morrow, Dr. Harold Brown and, the family of Dr. Jack Kimbrough.
Here's a bit of history about the honorees:
Chuck Ambers, a native of Detroit,  and a classmate of Motown's own Diana Ross, told the room that he came to San Diego in 1962, on a basketball scholarship which brought him to Oceanside, California to attend California Western University, which later became U.S. International University.
But, it wasn't until he was teaching sixth grade in the Chula Vista school district that his passion for African history and his wide collection of art truly began.  Amber is the founder and executive educational curator of the  African Museum Casa del Rey Moro, located in Old Town. The museum has been on existence for Twenty years, and is host to thousands and thousands of visitors each year. The museum is a celebration African-Mexican history, something Ambers says is what in part intrigued him about San Diego's rich cultural history.
Dr. Willie Morrow, is a pioneer in the field of African-American hair care. A barber, a self-taught chemist inventor, writer, business owner, historian, and newspaper publisher (San Diego Monitor News). He also developed the blow dryer comb attachment. Here are a just a few more of his many accomplishments: 1962- Morrow carved the first African pick comb in the United States for the Afro.  In 1965, he set up the first Hair Product Lab for formulation and wrote the first Black Barber textbook.
In 1959, Dr. Harold K. Brown, a Pennsylvania native became the first African American to attain administrative rank  at San Diego State University.  During his student years, he became president of the first black fraternity on campus, Kappa Alpha Psi, Inc. chartered in 1951.
In the early 1960s Brown's activism flourished as he headed the local chapter of the Congress of Racial Equality (CORE) and was jailed repeatedly for demonstrating against discriminatory hiring at the Bank of America. He worked as a school teacher, Peace Corps officer, banker, and earned his MBA at Fordham University before returning to SDSU in 1971 as assistant to the vice president which entailed supervision of the new Afro-American Studies program and the Educational Opportunity Program (EOP). Currently retired, he was also Director of Community Economic Development (CED) in the College of Business Administration. Brown has been heavily involved in organizations that have assisted in the economic growth of Southeast San Diego. In 1997 he was elected president of the annual Holiday Bowl football game. Learn about the Harold K. Brown Civil Rights Exhibit at SDSU.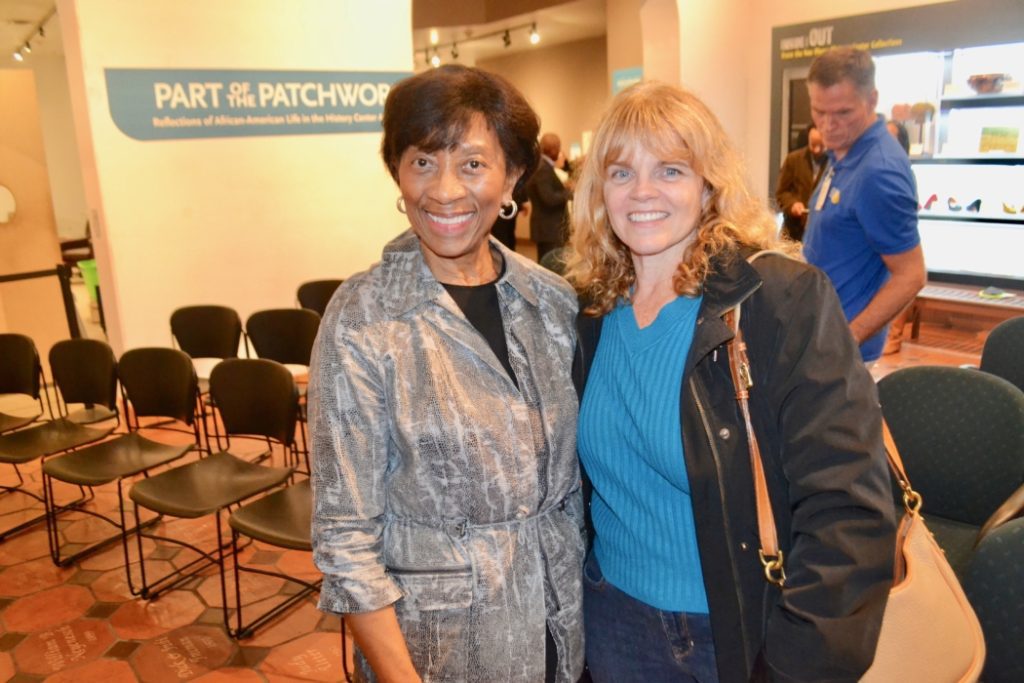 Dr. Jack Kimbrough (1908-1992) one of San Diego's first Black dentists was born on July 26, 1908 in Lexington, Mississippi. Kimbrough became the first Black dentist in San Diego to break ground in many aspects of his profession. He was the first Black dentist to become a member of the San Diego County Dental Society and the Southern California Dental Association. He helped organize the San Diego Clinical Hypnosis Society, which was an organization to promote the use of hypnosis in dentistry. He also organized the San Diego Dental Seminar, offering postgraduate basic science teachings to dental professionals.
Dr. Kimbrough held many other interests and traveling influenced his interests in African art and culture. He ventured extensively and was a student of African and African-American culture and history. His extensive collection of art and Black literature is renowned throughout the United States and many of the autographed first editions are used by San Diego students as an educational source and for research.
The living legends dropped powerful gems of knowledge on the crowd.  Among those include; More collaboration among community groups and, much like the civil rights movement, we need to think in terms of capital as freedom.
More photos below: