(Los Angeles, CA) On Thursday, November 12, Oprah Winfrey Network hosted a tasty press party.
The private event included lifestyle and food journalists, bloggers, national and regional newspapers and magazines, all of whom were invited to a sneak preview of the all-new season of OWN's Saturday lineup of two of the networks most popular show's–"Raising Whitley" and "Welcome to Sweetie Pie's."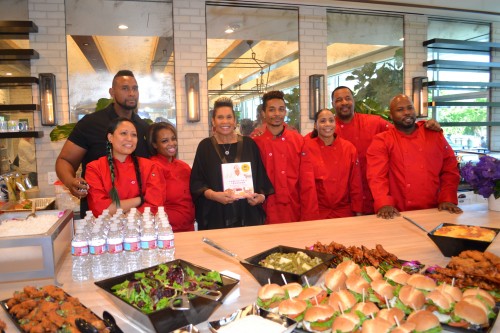 The event show-cased the culinary prowess and collaboration of the mastermind behind  featured docu-series,"Welcome to Sweetie Pie's," starring former back-up singer of the Ikette's (female trio from the 1960's Ike and Tina Turner review), and acclaimed soul food chef and owner of Sweetie Pie's restaurant Robbie Montgomery, and her son Tim Norman.
On an all-new season, Miss Robbie and Tim open up their fifth restaurant in Los Angeles.
Sweetie Pie's graciously catered the event, which was quite a spread featuring–mouthwatering catfish sliders, chicken kabobs, fried chicken, mac n cheese, green beans and potatoes, banana pudding, apple cobbler and more.  Let's just say, the cooks threw down, prompting TCV to ask Tim –Will the restaurant be open for Thanksgiving?  His reply with a sincere look and a smile was, "No.  We want our staff to spend time with their families over the holidays."
Many of the staff that work for the L.A. location, relocated to southern California, from Missouri, including nephew, Charles.
When Miss Robbie was asked about the challenges of having a restaurant in Los Angeles, where the food lifestyle is much more eclectic from the southern cuisine. Her answer was straight and to the point.  "I tried adding "healthy" items to the menu and nobody was ordering. I'm keeping our menu just like it is."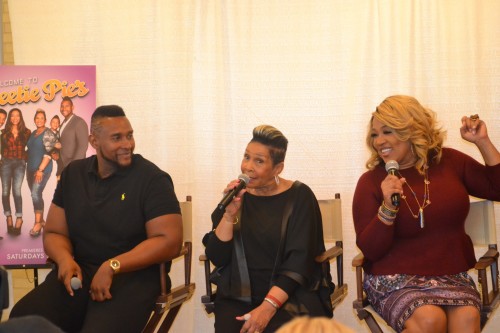 The feisty star of "Welcome to Sweetie Pie's," is certainly a force to be reckoned with. While running several restaurants, Miss Robbie has managed to release a new cookbook  "Sweetie Pie's Cook-book:  Soulful Southern Recipes From My Family To Yours." (Amistad), and brought copies to share.
Also in the studio was actress and comedienne Kym Whitley, star of OWN's original docu-series "Raising Whitley." Whitley shared an update on her young son Joshua, who is beginning to show signs of independence, starting by telling Mommy what he thinks his last name should be.
"The Village" of friends grows and intensifies as help comes to the rescue to assist Kym with her with parenting, while she balances her career with motherhood. 
This season promises to be filled with love and laughter as Whitley and friends collectively raise a child, which none of them know nothing about, including her good friend Wendell.  By the way, Wendell's good friend Omarosa ("The Apprentice"), drops in this season and recruits a love coach to help Wendell find love.
All-new seasons of "Welcome to Sweetie Pie's" and "Raising Whitley" returns Saturday, November 21, on OWN: Oprah Winfrey Network.