Wendell James is a man who clearly understands what living your truth means.  Fashionably animated on and off T.V., one of  his many truths is that he's about as real as they come. 
For two seasons, he's shared his day to day life in front of the camera, portraying himself on OWN's docu-series "Raising Whitley."  James who's the best friend of Whitley, is a part of a community of friends affectionately known as "The Village,"  a close-knit group of eclectic friends who's love and support, help the Emmy-nominated actress/comedienne raise her adorable young son Joshua.
When the hilarious 54-year old is not filming, he pauses for a short breath to put on his Executive Director cap to run a non-profit organization and,  to give back to worthy causes he feels passionate about.
For thirty years he's worked with adults who have developmental disabilities at Adult Educational Technologies, where the mission of the agency is to educate clients about HIV/AIDS.
In recognition of his hard work in giving back, on Saturday, March 28, 2015, Award-winning actress Sheryl Lee Ralph, The DIVA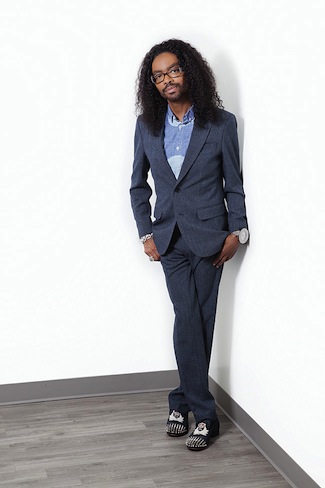 Foundation and Better Brothers Los Angeles will host the inaugural Truth Awards, celebrating openly gay and lesbian African Americans, whose accomplishments have positively impacted the perception of the Black LGBTQ community.
In a lively chat, James checked in with The Chocolate Voice via phone to share his exciting news on being a Truth Award honoree, and to tell the viewers what we can expect to see next season on "Raising Whitley."
Let's start with, what is your truth?
Let me start by saying that truth has nothing to do with sexuality. People in "Hollywood" are always saying, people aren't living their truth, they need to come on out. Truth is; If you don't stand for something, you'll fall for anything. Truth is; you mean what you say, and you say what you mean.
What truths have you learned about yourself while filming OWN's "Raising Whitley?"
Nothing really. Well, by that I mean-– I'm doing nothing, except for being who I am.  What you hear me say, what you hear me do, my mannerisms, that's definitely my reality.
How is young Joshua doing? 
He's 4 now and doing good. When the series "Raising Whitley" returns, you'll get to see his fourth birthday party.  He gets a BIG, BIG, BIG fabulous birthday gift, from a BIG celebrity, and it's not Oprah.
You say you've struggled with your lifestyle choice as it pertains to your religious beliefs.
Yes, I still struggle to this day, with my religious teachings.  I've been in the church, since I was around eight years old. In the Black Baptist Church, in particular, which is what I am (Baptist), their teachings about other sins are as if, the Gay lifestyle trumps all other sins. There's no such thing as a big or little sin. In Gods eyes, a sin is a sin. 
"Tell us how you balance your television career with your passion for giving back?
As the Executive Director of AET, I'm grateful to have a Program Director, and a dedicated staff of 40 people who assists me with running the organization, which consists of visiting and helping with educating clients on independent lifestyles and, AIDS/HIV education.
Let's talk about the upcoming inaugural Truth Awards.   
I'm very excited about receiving the Philanthropy award! It's an honor to be recognized for the work that I do for AIDS/HIV causes. I've sponsored and worked the Red Carpet as  the host of Divas Simply Singing for years. 
About The Truth Awards:
The awards show will be co-hosted by SAG-nominated actress Cocoa Brown (Tyler Perry's "For Better or Worse") and award-winning comedian Sampson McCormick, who recently released his comedy album, "That Bitch Better Be Funny: Live at the Howard Theatre," making history as the first openly gay comic to headline the historic venue in Washington, DC. Special performances by neo-soul artist Rahsaan Patterson and Grammy-nominated singer Angie Fisher as well as choreographer Ken Morris and the debut of his new work, "Brother's Keeper," performed by the Lula Washington Dance Company.  Plus, honoree Darren "Buttah Man" Brin will showcase his comedic prowess as well. The event is sponsored by Gilead, AIDS Healthcare Foundation, and the generous support of businessman and activist Gerard McCallum.
Among the honorees, gay activist Jewel Thais-Williams will receive the Lifetime Achievement Award along with reality star Wendell James, who'll be recognized with the Philanthropy Award. Williams founded the Catch One Night Club in 1972, making it the oldest Black-owned gay and lesbian club in the country
For more information about the Truth Awards, go to www.truthawards.eventbrite.com.