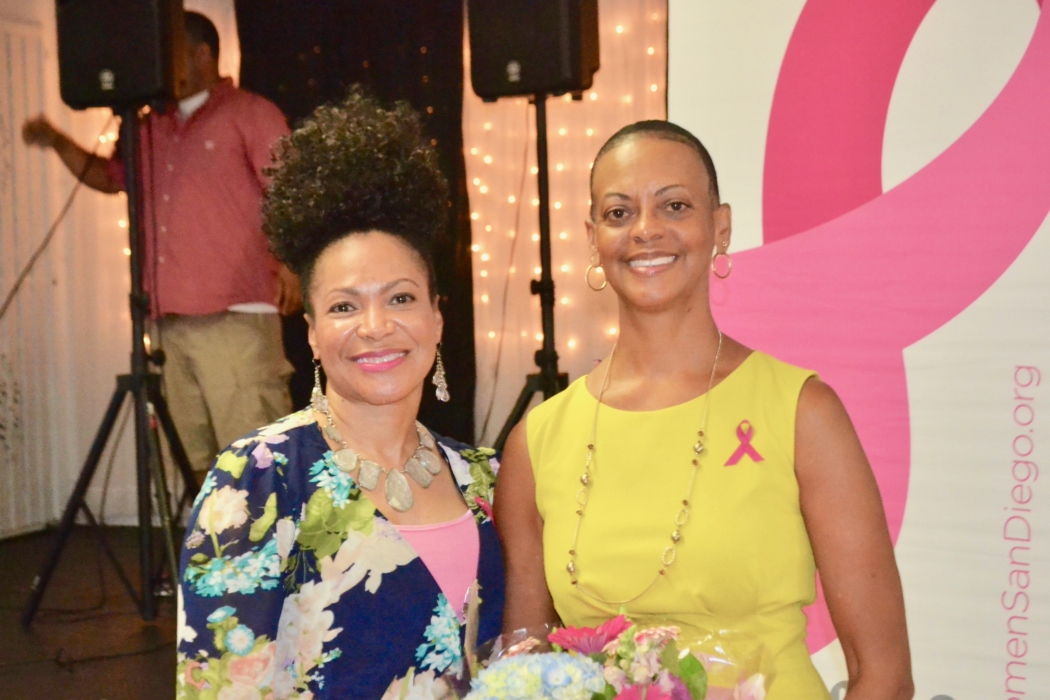 In 2013, Wendy Shurelds heard four dreadful words that completely rocked her world, "You have breast cancer."
Shurelds was in her forties when she was diagnosed with Stage IIB breast cancer.
"Most women, like myself are shocked when they find out that they have the disease and have no family history of breast cancer," said Shurelds.
Even with no family history of the disease, she learned that most women are still at risk.
"The myth of breast cancer as being hereditary is one that continuously needs work,"
says Dr. Suzanne Afflalo, retired physician from Kaiser Permanente.
"Early detection is the key."
And as for black women, the survival rate is 41% lower than other women, due in part to black women getting diagnosed at later stages of the disease.
Research has shown for obvious reasons that people who have breast concerns or a family history should get a mammogram as early as 35, but the recommended age is 40.
"If you come in for an exam at a stage three or four it's too late. If we can just get more women to get over the fear of being screened, we have a fighting chance of saving a life when it's caught early," she says.
Dr. Afflalo, is the creator of and currently runs "A Healthier Me", a six-month lifestyle change program with an innovative approach to improve health behaviors. Through an App, participants can track their diet and exercise progress which can ultimately lead to life changing results.
Shurelds, who is now in remission remains determined to fight the beast (as she puts it) not only for herself, but for other women, and in particular, other black women.Currently, she is Susan G. Komen's Circle of Promise Community Resource Advocate, a California initiative to empower African American women to get information and support to gain access to life saving services.
Since winning her battle with breast cancer, she's also partnered up with Dr. Afflalo, to host monthly community outreach events and fashion shows celebrating survivors.As a team, Afflalo and Shurelds have remained purposeful by empowering San Diego's underserved black and brown communities by hosting educational health events throughout the county, which not only include breast health information and free Mammography screenings, but also healthy eating options, high blood pressure and diabetes testing.
Overall, both women agree that events and outreach programs like Circle of Promise, have been effective. Most recently in October, they hosted an event held at the City of Hope International Church in San Diego, where over 100 participants gathered for music, food, information and access to an onsite mobile bus, which offered free Mammograms. Thanks to their outreach efforts, on the average approximately 20-30 women are getting mammograms per month.
Committed to saving lives, the duo are also co-founders and co-hosts of the "Many Shades of Pink & Black Health Radio program" on KBLKradio.com. A show which was created as a media outreach tool targeted to the Black community for Shurelds to use her voice on behalf of the Pink brand to advocate for breast health, and for Dr. Afflalo to use her expertise to educate on the importance of a healthy lifestyle through self care, in an effort to decrease risk factors in diseases such as cancer, strokes, high blood pressure, heart disease, diabetes, which are among illnesses that are rapidly taking the lives of communities of color at alarming rates.
"If we can save one life, we've done our job. It's rewarding—it makes our heart smile. It is an assignment, and we will continue to do the work no matter how frustrating it gets."
Upcoming events:
Susan G. Komen San Diego's 22nd Annual Race for the Cure is being held on Sunday, Nov 4, at Balboa Park. For more information visit:

KomenSanDiego.org/race
Whole Health Community Health Event is being held on Saturday November 10, 10 am – 5 pm – Big Lots Parking Lot, 1655 Euclid Ave.

For more information contact: Wendy Shurelds at

[email protected]

or (619) 301-0800.
Community Health Fair is being held on Wednesday, December 5 – from 10 am-5pm.

The San Diego Mayor and other dignitaries are expected to attend this event. There will be numerous FREE health services, vendors, fresh produce, farm to table cooking and a host of other healthy options.This event will be held at Educational Cultural Complex 4343 Oceanview Blvd., San Diego, CA.

F

or more information contact: Wendy Shurelds at

[email protected]

or (619) 301-0800.