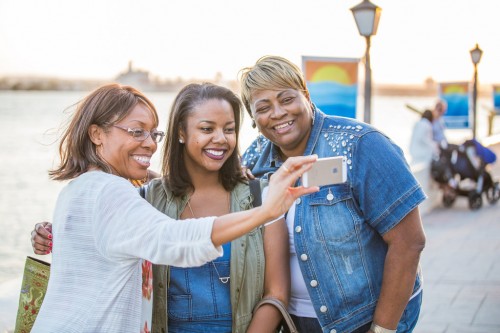 At one of the last funerals that I attended for a loved one, while speaking to a family member these four words came up in conversation–This has to stop!
Speaking to the point that, the only time we see one another, is when someone passes away.
In other words, "Give me my flowers while I still can smell them."
From that brief conversation, it was then suggested that since my mother who just happens to be one of the last living aunts to my cousin's, why not have a birthday or family celebration in her honor.
For the record, our family as a whole enjoys separate celebrations but, not consistently.
Shortly thereafter, I spoke with my mom to get her thoughts on having a celebration in Arizona, which is where she lives.  She suggested my home in San Diego, would be best mainly because of the weather. Her only concern was, would anyone show up considering we've heard complaints from our Texas relatives similar to:
"I'm not going to California! Too many fires and earthquakes."
Lord knows you can't please everyone.
That being said, the wheels were set in motion, and the planning began for a Mitchell family celebration in San Diego, on Labor Day weekend.
We began by posting a save the date announcement on our family Facebook page, followed by a beautifully designed printed invitation.
Next, we followed up by sending out emails and phone calls.  One call in particular was to a cousin in Austin, TX who's mother Jewell, nicknamed "Jew Baby" was turning 85 this year.  Her son, Edward, mentioned that his only concern was that the date was too close to the start of football season. Otherwise, he said they would be there.
You know Texan's and their football (smile).
We made sure to invite our newfound cousins' Rick and Mary Jo Eastes, who we met recently through DNA. Read more on how we found about this side of the family here.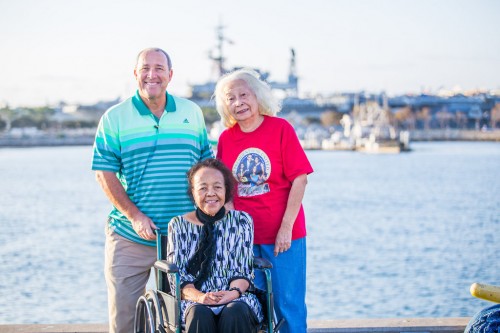 In all of our different ways to get the word out, family members began to get excited. Especially, since some hadn't seen each other in over forty years.  As for others, they we're excited to finally meet for the first time.
The majority of folks traveled by air, train or car from Amarillo, Austin, Dallas and, Houston, Texas. Other's came in from Los Angeles, Visalia and Riverside, CA, Portland, Oregon and Tucson, AZ. 
In total, there were 46 of us who came.
The festivities kicked off on Friday afternoon with a mixer at our home, featuring Mexican food.
You know how we Californian's love our Mexican food!
The menu consisted of; grilled carne and pollo asada taco's and burrito's, complete with all the fixings; guacamole, salsa, rice and beans. We made sure that we had plenty of fruits and, vegetables. For dessert there were cupcakes which, at one point we had to hide from the kid's.
After reconnecting and catching up, we left the house and headed out to Seaport Village for a photo shoot that captured every special moment with love. From the warm hugs and hearty laughter shared among family, his photography created a lifetime of precious memories.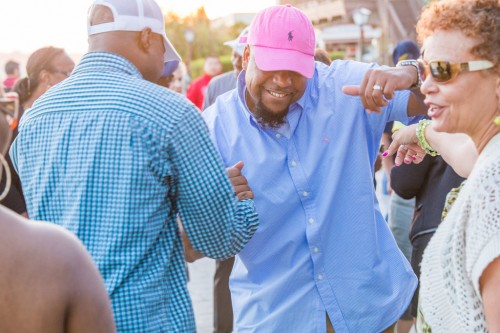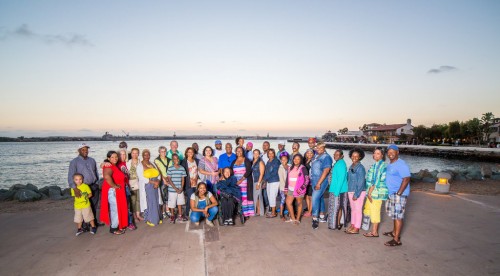 On the next day, Saturday, we continued our celebration with a back yard style BBQ. Our tropical landscaped backyard was transformed beautifully. The small space was put to good use with round tables, dark wooden chairs, and pink flowers as centerpieces with scattered black and white family photo's spread out over the tables, which went perfectly with our theme, "Family is a Gift That Lasts Forever."
Our menu featured delicious entrées and side's including: Jerk Chicken, Hot Links, Hamburgers, baked beans mixed with ground beef, dirty rice, New Orleans berry field salad, boudin crispy Mac n' cheese, balsamic roasted vegetables, potato salad, southern biscuits with honey and butter.  For dessert, we served, peach cobbler with a scoop of Ice Cream, which by the way was a huge hit.  We also served an intricately decorated pink ombre cake.  Let me just say, the cake looked too pretty to eat.  Needless to say, as hard as it was to cut the pretty, we did it. And, it was good!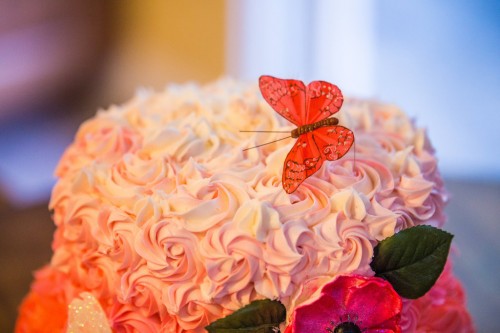 Everything on the menu was delicious!
One of the many highlights was on Saturday, with the presentation of the family tree. The tree printed on vinyl, lists the names of our mostly deceased ancestors: William Savoy, Emily Robinson, Fryston and Priscilla Mitchell and their offspring. Everyone in attendance were the descendants. 
Interestingly, it was not until recent DNA findings and the surface of death certificates, that any of us knew that the names of our great-great-grandparents, were William Savoy or Emily Robinson. We only knew the names of our great grand parent's, Fryston and Priscilla.
We continued our celebration by playing games and getting to know one another.  One game in particular everyone picked a topic out of a jar, and each of us had to remember what that person's favorite thing is.
Our twelve year old cousin, Qwavi, who had never taken a trip out of Texas, showed us all up to prove a point that no one there was smarter than a seventh grader.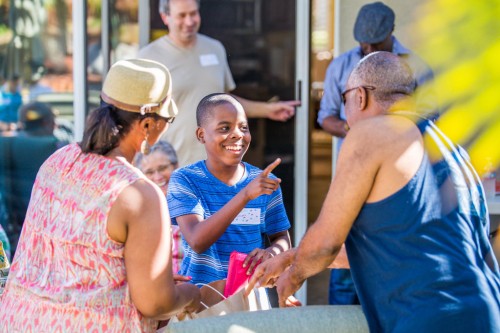 Our next activity, was a presentation by Cousin Jewell, who is one of the eldest living members of our family, the first grandchild of Fryston and Priscilla Mitchell. Jewell, a retired educator, gave us bit's of history on each of our deceased family members, holding up the picture of grandmother Priscilla, who she bares a striking resemblance to. She shared that our great grandfather Fryston, (who there are no photos of) came from Ethiopia. What was most heartwarming was the smile on Jewell's face as she shared the nicknames of aunt's and uncle's–names such as: Pearlee, Toad and Mann, sharing their personalities in such a way that their presence was felt in the backyard.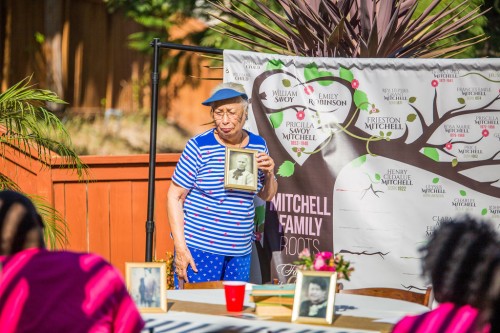 Next up was cousin Rick Eastes, who shared his knowledge about his great-grandfather William Savoy, who through DNA, was discovered to be my great grandmothers father.
Rick, sang a moving Negro spiritual that he learned growing up. While singing, he was overcome with emotion while seeing all of his Black relatives. Faces from people who he may not have ever known, had it not been for DNA.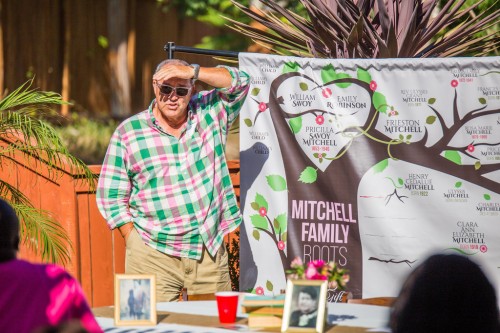 The last to present was my mother, Lula (Mitchell) Hunter who shared the names of her siblings and their significant roles in her upbringing. She shared the painful experience of her mother's death when she was just 12 years-old, and how grateful she was to her deceased brother John, for dropping everything to help her father Henry, raise her, and her brother Bennie (deceased), and little sister Laura who is now in her seventies. 
Following Lula's speech, her niece Donna, the daughter to her brother Bennie who was the last brother to pass away, surprised her with an American flag from her deceased brother Archie, who had served time in the Military.
Everyone, including the youth were attentive and engaged with the presentations.
Following the presentations, the family tree had a few open slots for those who were present to add their names, and the names of family members that weren't listed.
We continued our celebration well into the night, talking, playing cards, dominoes, and even played hand games, with the children. That's when they weren't challenging each other to a Dance-Off.
On the last day, Sunday, we drove up to the mountains to Viejas Casino for brunch.
You can say, the family tried their best to hurt themselves on the food, considering the amazing variety of sweet and savory menu items ranging from prime rib, to succulent crab legs, topping it all off with decadent sweets.
After the Casino, we headed over to beautiful Coronado Island, walked along the beach– sat, chat and relaxed until the sun went down. The perfect ending to a great week-end.
Now that summer's over and, the holidays are just around the corner, I felt inspired to share our family gathering. Simply because, of the importance in celebrating life while we still can. Being with family is truly, a gift that last forever.